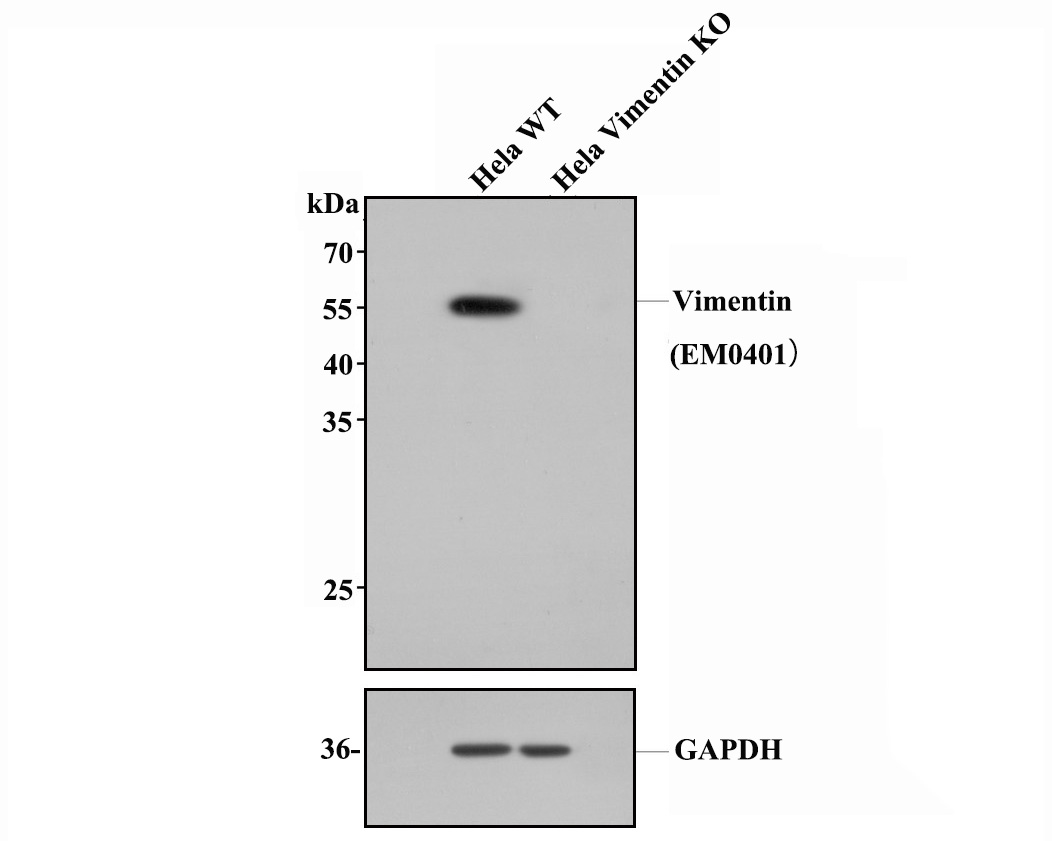 Western blot analysis of Vimentin on different lysates. Proteins were transferred to a PVDF membrane and blocked with 5% BSA in PBS for 1 hour at room temperature. The primary antibody (EM0401, 1/500) was used in 5% BSA at room temperature for 2 hours. Goat Anti-Mouse IgG - HRP Secondary Antibody (HA1006) at 1:20,000 dilution was used for 1 hour at room temperature.
Positive control:
Lane 1: A549 cell lysate
Lane 2: Hela cell lysate
Lane 2: NIH/3T3 cell lysate
Lane 4: Mouse embryonic stem cell lysate
SPECIFICATIONS
Product Name
Vimentin Mouse Monoclonal Antibody [D4-B11] (EM0401)
Immunogen
Synthetic peptide within c-terminal human vimentin.
Positive Control
A549, Hela, NIH/3T3, mouse embryonic stem cell human lung?tissue, human colon carcinoma tissue, human stomach carcinoma tissue, mouse lung tissue
PROPERTIES
Storage Condition
Store at +4C after thawing. Aliquot store at -20C or -80C. Avoid repeated freeze / thaw cycles.
Storage Buffer
1*PBS (pH7.4), 0.2% BSA, 40% Glycerol. Preservative: 0.05% Sodium Azide.
TARGET
SYNONYMS
CTRCT30 antibody; Epididymis luminal protein 113 antibody; FLJ36605 antibody; HEL113 antibody; VIM antibody; VIME_HUMAN antibody; Vimentin antibody
SEQUENCE SIMILARITIES
Belongs to the intermediate filament family.
TISSUE SPECIFICITY
Highly expressed in fibroblasts, some expression in T- and B-lymphocytes, and little or no expression in Burkitt's lymphoma cell lines. Expressed in many hormone-independent mammary carcinoma cell lines.
POST-TRANSLATIONAL MODIFICATION
Filament disassembly during mitosis is promoted by phosphorylation at Ser-55 as well as by nestin (By similarity). One of the most prominent phosphoproteins in various cells of mesenchymal origin. Phosphorylation is enhanced during cell division, at which time vimentin filaments are significantly reorganized. Phosphorylation by PKN1 inhibits the formation of filaments. Phosphorylated at Ser-56 by CDK5 during neutrophil secretion in the cytoplasm. Phosphorylated by STK33. Phosphorylated on tyrosine residues by SRMS.; O-glycosylated during cytokinesis at sites identical or close to phosphorylation sites, this interferes with the phosphorylation status.; S-nitrosylation is induced by interferon-gamma and oxidatively-modified low-densitity lipoprotein (LDL(ox)) possibly implicating the iNOS-S100A8/9 transnitrosylase complex.
FUNCTION
Vimentin plays a significant role in supporting and anchoring the position of the organelles in the cytosol. Vimentin is attached to the nucleus, endoplasmic reticulum, and mitochondria, either laterally or terminally. In essence, vimentin is responsible for maintaining cell shape, integrity of the cytoplasm, and stabilizing cytoskeletal interactions. Vimentin has been shown to eliminate toxic proteins in JUNQ and IPOD inclusion bodies in asymmetric division of asymmetric division of mammalian cell lines. It has been used as a sarcoma tumor marker to identify mesenchyme. Methylation of the vimentin gene has been established as a biomarker of colon cancer and this is being utilized in the development of fecal tests for colon cancer. High levels of DNA methylation in the promotor region have also been associated with markedly decreased survival in hormone positive breast cancers.
CITATIONS
Meng, Y., Hu, X., Li, S., Z...

miR-203 inhibits cell proliferation and ERK pathway in prostate cancer by targeting IRS-1. BMC cancer, 20(1), 1028.