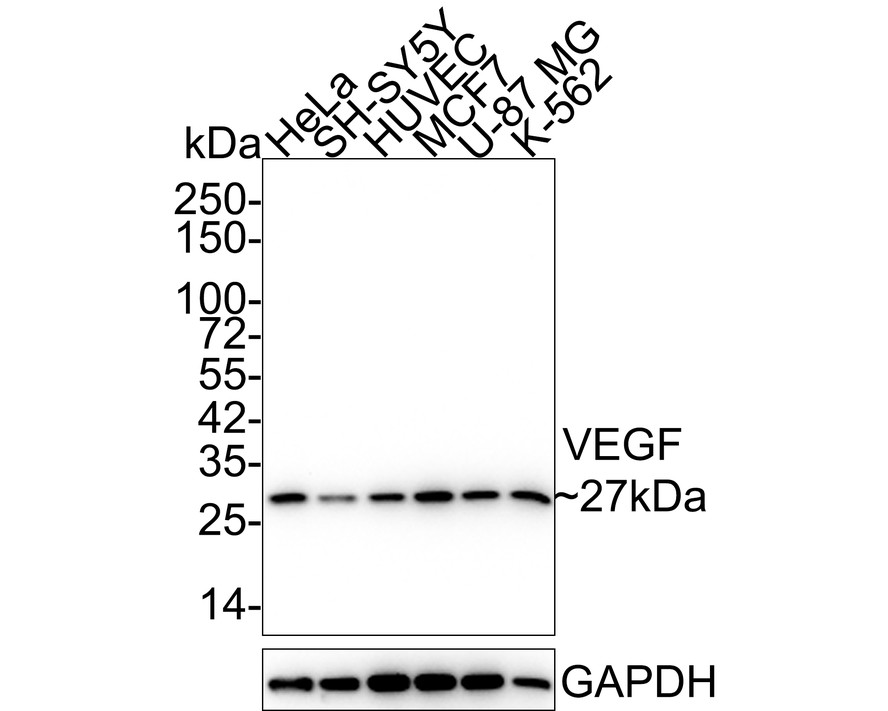 Western blot analysis of VEGF on different cell lysates using anti- VEGF antibody at 1/500 dilution.
Positive control:
Lane 1: Jurkat
Lane 2: Hela
Lane 3: MCF-7
Lane 4: Human brain
SPECIFICATIONS
Product Type
Rabbit polyclonal primary
Product Name
VEGF Rabbit Polyclonal Antibody (ER30607)
Immunogen
Synthetic peptide within n-terminal human vegfa.
Positive Control
MCF-7, Hela, Jurkat, HUVEC, human brain tissue, human lung carcinoma tissue, HepG2.
PROPERTIES
Storage Condition
Store at +4C after thawing. Aliquot store at -20C or -80C. Avoid repeated freeze / thaw cycles.
Storage Buffer
1*PBS (pH7.4), 0.2% BSA, 40% Glycerol. Preservative: 0.05% Sodium Azide.
PURIFICATION
Immunogen affinity purified.
TARGET
SYNONYMS
Folliculostellate cell-derived growth factor antibody; Glioma-derived endothelial cell mitogen antibody; MGC70609 antibody; MVCD1 antibody; Vascular endothelial growth factor A antibody; vascular endothelial growth factor A121 antibody; vascular endothelial growth factor A165 antibody; vascular endothelial growth factor antibody; Vascular permeability factor antibody; VEGF A antibody; Vegf antibody; VEGF-A antibody; VEGF120 antibody; Vegfa antibody; VEGFA_HUMAN antibody; VPF antibody
SEQUENCE SIMILARITIES
Belongs to the PDGF/VEGF growth factor family.
TISSUE SPECIFICITY
Isoform VEGF189, isoform VEGF165 and isoform VEGF121 are widely expressed. Isoform VEGF206 and isoform VEGF145 are not widely expressed. A higher level expression seen in pituitary tumors as compared to the pituitary gland.
FUNCTION
Growth factor active in angiogenesis, vasculogenesis and endothelial cell growth. Induces endothelial cell proliferation, promotes cell migration, inhibits apoptosis and induces permeabilization of blood vessels. Binds to the FLT1/VEGFR1 and KDR/VEGFR2 receptors, heparan sulfate and heparin. NRP1/Neuropilin-1 binds isoforms VEGF-165 and VEGF-145. Isoform VEGF165B binds to KDR but does not activate downstream signaling pathways, does not activate angiogenesis and inhibits tumor growth. Binding to NRP1 receptor initiates a signaling pathway needed for motor neuron axon guidance and cell body migration, including for the caudal migration of facial motor neurons from rhombomere 4 to rhombomere 6 during embryonic development.
CITATIONS
Chen, Xin et al.

SOX5 induces lung adenocarcinoma angiogenesis by inducing the expression of VEGF through STAT3 signaling. | OncoTargets and Therapy [2018]

Tang, Li et al.

Deficiency of DICER reduces the invasion ability of trophoblasts and impairs the pro-angiogenic effect of trophoblast-derived microvesicles. | Journal of Cellular and Molecular Medicine [2020]

Hong Yu

Growth differentiation factor 11 promotes differentiation of MSCs into endothelial-like cells for angiogenesis

Xu, Xiaodong et al.

Upregulation of miRNA-301a-3p promotes tumor progression in gastric cancer by suppressing NKRF and activating NF-κB signaling. | International Journal of Oncology [2020]

Caiqiao Zhang

Effect of dietary N-carbamylglutamate on development of ovarian follicles via enhanced angiogenesis in the chicken.