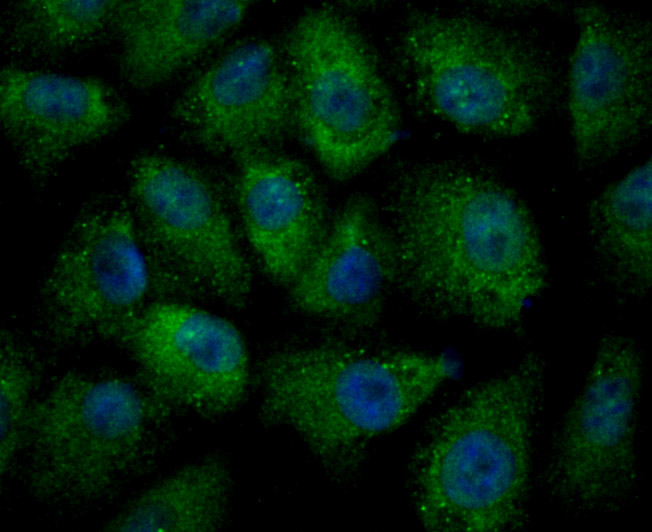 ICC staining ULK1 in A549 cells (green). The nuclear counter stain is DAPI (blue). Cells were fixed in paraformaldehyde, permeabilised with 0.25% Triton X100/PBS.
SPECIFICATIONS
Product Type
Rabbit polyclonal primary
Product Name
ULK1 Rabbit Polyclonal Antibody (ER1706-73)
Immunogen
Recombinant protein within human ulk1 aa 669-954 / 1,050.
Positive Control
A549, MCF-7, SH-SY5Y, rat heart tissue, human kidney tissue, human placenta tissue, mouse skeletal muscle tissue.
PROPERTIES
Storage Condition
Store at +4C after thawing. Aliquot store at -20C or -80C. Avoid repeated freeze / thaw cycles.
Storage Buffer
1*PBS (pH7.4), 0.2% BSA, 50% Glycerol. Preservative: 0.05% Sodium Azide.
PURIFICATION
Protein affinity purified.
TARGET
SYNONYMS
ATG 1 antibody; ATG1 antibody; ATG1 autophagy related 1 homolog antibody; ATG1A antibody; Autophagy related protein 1 homolog antibody; Autophagy-related protein 1 homolog antibody; FLJ38455 antibody; FLJ46475 antibody; hATG1 antibody; KIAA0722 antibody; Serine/threonine protein kinase ULK1 antibody; Serine/threonine protein kinase Unc51.1 antibody; Serine/threonine-protein kinase ULK1 antibody; ULK 1 antibody; ULK1 antibody; ULK1_HUMAN antibody; Unc 51 (C. elegans) like kinase 1 antibody; UNC 51 antibody; Unc 51 like kinase 1 antibody; Unc-51 like kinase 1 (C. elegans) antibody; Unc-51-like kinase 1 antibody; UNC51 antibody; UNC51, C. elegans, homolog of antibody; Unc51.1 antibody
SEQUENCE SIMILARITIES
Belongs to the protein kinase superfamily. Ser/Thr protein kinase family. APG1/unc-51/ULK1 subfamily.
TISSUE SPECIFICITY
Ubiquitously expressed. Detected in the following adult tissues: skeletal muscle, heart, pancreas, brain, placenta, liver, kidney, and lung.
POST-TRANSLATIONAL MODIFICATION
Autophosphorylated. Phosphorylated under nutrient-rich conditions; dephosphorylated during starvation or following treatment with rapamycin. Under nutrient sufficiency, phosphorylated by MTOR/mTOR, disrupting the interaction with AMPK and preventing activation of ULK1 (By similarity). In response to nutrient limitation, phosphorylated and activated by AMPK, leading to activate autophagy.; Acetylated by KAT5/TIP60 under autophagy induction, promoting protein kinase activity.
FUNCTION
ULK1 and ULK2 (for UNC-51-like kinase) encode similar amino-terminal serine/threonine kinase domains, a proline/serine-rich (PS) domain, and a species conserved carboxyl-terminal domain. Both share homology with the UNC-51 kinase from Caenorhabditis elegans and the APG1 kinase in yeast, which are involved in axonal extension and growth, and autophagy, respectively. ULK1 maps to human chromosome 12q24.3 and is ubiquitously expressed. ULK2, also widely expressed, maps to mouse chromosome 11B1.3 and is expected to have a similar molecular weight as ULK1 in human. ULK1 and ULK2 are thought to auto-phosphorylate the PS domain in vitro, and the significant homology among vertebrates suggest that ULK1 and ULK2 are involved in the regulation of fundamental biological processes (1,2,6).