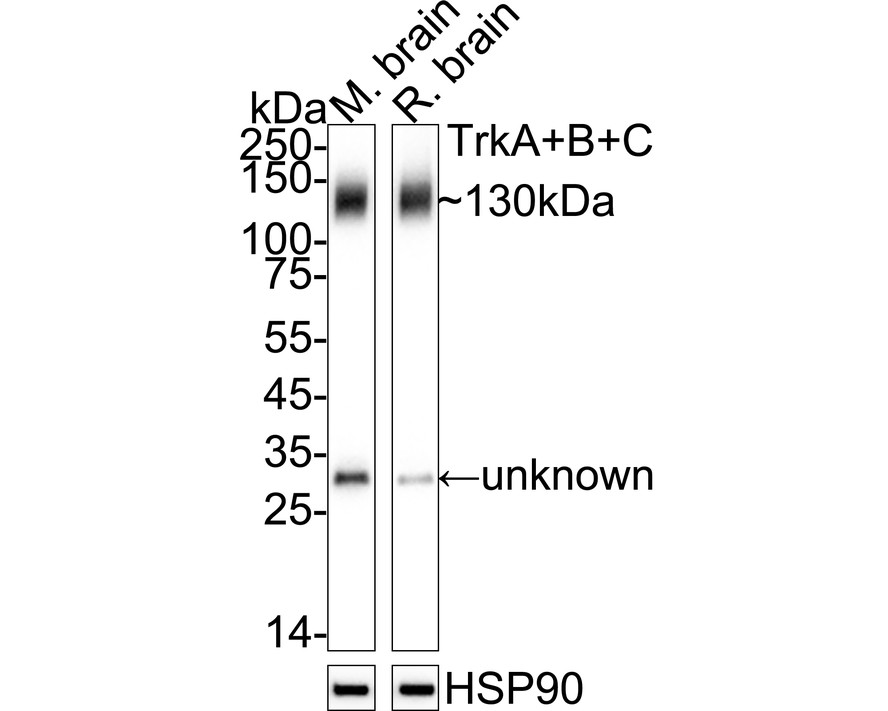 Western blot analysis of TrkA+B+C on different lysates using anti-TrkA+B+C antibody at 1/1,000 dilution.
Positive control:
Lane 1: Rat brain
Lane 2: Mouse brain
SPECIFICATIONS
Product Type
Recombinant Rabbit monoclonal primary
Product Name
TrkA+B+C Recombinant Rabbit Monoclonal Antibody [JJ084-04] (ET1701-16)
Positive Control
N2A, SH-SY-5Y, rat brain tissue, mouse liver tissue, mouse brain tissue.
PROPERTIES
Storage Condition
Store at +4C after thawing. Aliquot store at -20C or -80C. Avoid repeated freeze / thaw cycles.
Storage Buffer
1*TBS (pH7.4), 0.05% BSA, 40% Glycerol. Preservative: 0.05% Sodium Azide.
TARGET
SYNONYMS
BDNF/NT-3 growth factors receptor antibody; gp140trk antibody; GP145-TrkB antibody; GP145-TrkC antibody; High affinity nerve growth factor receptor antibody; MTC antibody; Neurotrophic tyrosine kinase receptor type 1 antibody; Neurotrophic tyrosine kinase receptor type 2 antibody; Neurotrophic tyrosine kinase receptor type 3 antibody; NT-3 growth factor receptor antibody; NTRK1 antibody; NTRK2 antibody; NTRK3 antibody; p140-TrkA antibody; TRK antibody; Trk-A antibody; Trk-B antibody; Trk-C antibody; TRK1-transforming tyrosine kinase protein antibody; TRKA antibody; TRKB antibody; TrkB tyrosine kinase antibody; TRKC antibody; TrkC tyrosine kinase antibody; Tropomyosin-related kinase A antibody; Tropomyosin-related kinase B antibody; Tyrosine kinase receptor A antibody; Tyrosine kinase receptor antibody
SEQUENCE SIMILARITIES
Belongs to the protein kinase superfamily. Tyr protein kinase family. Insulin receptor subfamily.
TISSUE SPECIFICITY
Isoform TrkA-I is found in most non-neuronal tissues. Isoform TrkA-II is primarily expressed in neuronal cells. TrkA-III is specifically expressed by pluripotent neural stem and neural crest progenitors.
POST-TRANSLATIONAL MODIFICATION
Ligand-mediated autophosphorylation. Interaction with SQSTM1 is phosphotyrosine-dependent. Autophosphorylation at Tyr-496 mediates interaction and phosphorylation of SHC1.; N-glycosylated. Isoform TrkA-I and isoform TrkA-II are N-glycosylated.; Ubiquitinated. Undergoes polyubiquitination upon activation; regulated by NGFR. Ubiquitination by NEDD4L leads to degradation. Ubiquitination regulates the internalization of the receptor (By similarity).
SUBCELLULAR LOCATION
Membrane, Endosome membrane.
FUNCTION
The family of Trk receptor tyrosine kinases consists of TrkA, TrkB, and TrkC. While the sequence of these family members is highly conserved, they are activated by different neurotrophins: TrkA by NGF, TrkB by BDNF or NT4, and TrkC by NT3. In the adult nervous system, the Trk receptors regulate synaptic strength and plasticity. TrkA regulates proliferation and is important for development and maturation of the nervous system. Point mutations, deletions, and chromosomal rearrangements (chimeras) cause ligand-independent receptor dimerization and activation of TrkA. TrkA is activated in many malignancies including breast, ovarian, prostate, and thyroid carcinomas. TrkB is overexpressed in tumors such as neuroblastoma, prostate adenocarcinoma and pancreatic ductal adenocarcinoma. In neuroblastomas overexpression of TrkB correlates with unfavorable disease outcome when autocrine loops signaling tumor survival are potentiated by additional overexpression of brain-derived neurotrophic factor (BDNF). An alternatively spliced truncated TrkB isoform lacking the kinase domain is overexpressed in Wilms' tumors and this isoform may act as a dominant-negative to TrkB signaling. Altered TrkC expression and corresponding gene mutations are seen in various forms of cancer, with increased expression a positive prognostic indicator in patients with medulloblastoma.