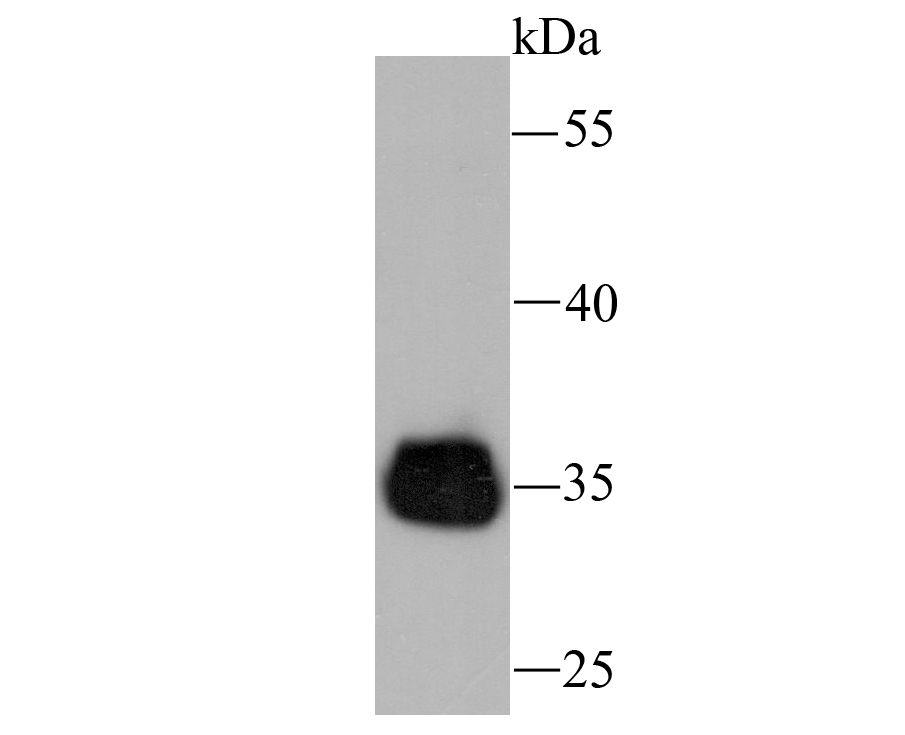 Western blot analysis of tim3 on 293T cell lysate using anti-Tim3 antibody at 1/100 dilution.
SPECIFICATIONS
Product Name
Tim3 Mouse Monoclonal Antibody [1E6] (EM1701-18)
Immunogen
Recombinant protein with human tim3 1-89 / 301.
Positive Control
293T, human tonsil tisssue, human lung cancer tissue, human spleen tissue, Daudi.
PROPERTIES
Storage Condition
Store at +4C after thawing. Aliquot store at -20C or -80C. Avoid repeated freeze / thaw cycles.
Storage Buffer
1*PBS (pH7.4), 0.2% BSA, 50% Glycerol. Preservative: 0.05% Sodium Azide.
MOLECULAR WEIGHT
33 kDa (Predicted band size)
TARGET
SYNONYMS
CD366 antibody; FLJ14428 antibody; HAVcr-2 antibody; Havcr2 antibody; HAVR2_HUMAN antibody; Hepatitis A virus cellular receptor 2 antibody; Kidney injury molecule 3 antibody; KIM 3 antibody; KIM3 antibody; T cell immunoglobulin and mucin domain containing 3 antibody; T cell immunoglobulin mucin 3 antibody; T-cell immunoglobulin and mucin domain-containing protein 3 antibody; T-cell immunoglobulin mucin family member 3 antibody; T-cell immunoglobulin mucin receptor 3 antibody; T-cell membrane protein 3 antibody; Tim 3 antibody; TIM-3 antibody; TIM3 antibody; TIMD-3 antibody; TIMD3 antibody
SEQUENCE SIMILARITIES
Belongs to the immunoglobulin superfamily. TIM family.
TISSUE SPECIFICITY
Expressed in T-helper type 1 (Th1) lymphocytes. Expressed on regulatory T (Treg) cells after TCR stimulation. Expressed in dendritic cells and natural killer (NK) cells. Expressed in epithelial tissues. Expression is increased on CD4+ and CD8+ T-cells in chronic hepatitis C virus (HCV) infection. In progressive HIV-1 infection, expression is up-regulated on HIV-1-specific CD8 T-cells.
POST-TRANSLATIONAL MODIFICATION
O-glycosylated with core 1 or possibly core 8 glycans.; Phosphorylated on tyrosine residues; modestly increased after TCR/CD28 stimulation. Can be phosphorylated in the cytoplasmatic domain by FYN (By similarity). Phosphorylation at Tyr-265 is increased by stimulation with ligand LGALS9.
FUNCTION
Cell surface receptor implicated in modulating innate and adaptive immune responses. Generally accepted to have an inhibiting function. Reports on stimulating functions suggest that the activity may be influenced by the cellular context and/or the respective ligand. Regulates macrophage activation. Inhibits T-helper type 1 lymphocyte (Th1)-mediated auto- and alloimmune responses and promotes immunological tolerance. In CD8+ cells attenuates TCR-induced signaling, specifically by blocking NF-kappaB and NFAT promoter activities resulting in the loss of IL-2 secretion. The function may implicate its association with LCK proposed to impair phosphorylation of TCR subunits, and/or LGALS9-dependent recruitment of PTPRC to the immunological synapse.