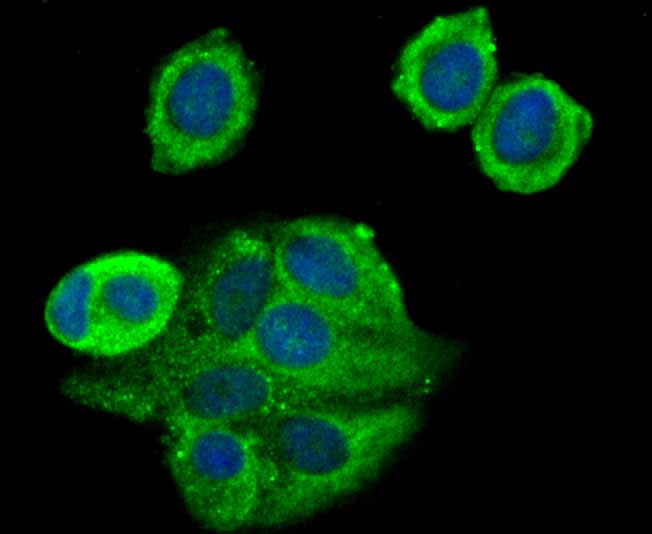 ICC staining TAK1 in MCF-7 cells (green). The nuclear counter stain is DAPI (blue). Cells were fixed in paraformaldehyde, permeabilised with 0.25% Triton X100/PBS.
SPECIFICATIONS
Product Type
Rabbit polyclonal primary
Product Name
TAK1 Rabbit Polyclonal Antibody (ER1802-90)
Immunogen
Synthetic peptide within human tak1 aa 560 to the c-terminus.
Positive Control
MCF-7, N2A, SH-SY-5Y, rat brain tissue, human breast tissue, mouse prostate tissue, K562.
PROPERTIES
Storage Condition
Store at +4C after thawing. Aliquot store at -20C. Avoid repeated freeze / thaw cycles.
Storage Buffer
1*PBS (pH7.4), 0.2% BSA, 50% Glycerol. Preservative: 0.05% Sodium Azide.
PURIFICATION
Peptide affinity purified.
TARGET
SYNONYMS
M3K7_HUMAN antibody; MAP3K 7 antibody; Map3k7 antibody; MEKK7 antibody; Mitogen activated protein kinase kinase kinase 7 antibody; Mitogen-activated protein kinase kinase kinase 7 antibody; TAK1 antibody; TGF beta activated kinase 1 antibody; TGF-beta-activated kinase 1 antibody; TGF1a antibody; Transforming growth factor beta activated kinase 1 antibody; Transforming growth factor-beta-activated kinase 1 antibody
SEQUENCE SIMILARITIES
Belongs to the protein kinase superfamily. STE Ser/Thr protein kinase family. MAP kinase kinase kinase subfamily.
TISSUE SPECIFICITY
Isoform 1A is the most abundant in ovary, skeletal muscle, spleen and blood mononuclear cells. Isoform 1B is highly expressed in brain, kidney and small intestine. Isoform 1C is the major form in prostate. Isoform 1D is the less abundant form.
POST-TRANSLATIONAL MODIFICATION
Association with TAB1/MAP3K7IP1 promotes autophosphorylation at Ser-192 and subsequent activation. Association with TAB2/MAP3K7IP2, itself associated with free unanchored Lys-63 polyubiquitin chain, promotes autophosphorylation and subsequent activation of MAP3K7. Dephosphorylation at Ser-192 by PPM1B/PP2CB and at Thr-187 by PP2A and PPP6C leads to inactivation.; 'Lys-48'-linked polyubiquitination at Lys-72 is induced by TNFalpha, and leads to proteasomal degradation. Undergoes 'Lys-48'-linked polyubiquitination catalyzed by ITCH (By similarity). Requires 'Lys-63'-linked polyubiquitination for autophosphorylation and subsequent activation. 'Lys-63'-linked ubiquitination does not lead to proteasomal degradation. Deubiquitinated by CYLD, a protease that selectively cleaves 'Lys-63'-linked ubiquitin chains. Deubiquitinated by Y.enterocolitica YopP.; (Microbial infection) Cleaved and inactivated by the proteases 3C of coxsackievirus A16 and human enterovirus D68, allowing the virus to disrupt TRAF6-triggered NF-kappa-B induction.
FUNCTION
Several serine/threonine protein kinases have been implicated as intermediates in signal transduction pathways. These include ERK/MAP kinases, ribosomal S6 kinase (Rsk) and Raf-1. Raf-1 is a protein with intrinsic kinase activity towards serine/ threonine residues and that is widely expressed in many tissue types and cell lines. Raf-1 activation is dependent on the small molecular weight GTPase Ras, but the means by which this activation occurs is poorly understood. Two proteins putatively involved in this process are Ksr-1 and Tak1. Ksr-1 (kinase sup-pressor of Ras) is a novel Raf-related protein kinase whose function is required for Ras signal transduction. Whether Ksr-1 lies directly downstream of Ras or acts in a parallel pathway is not yet known. Tak1 (TGFβ-activated kinase) has been shown to participate in the activation of the MAP kinase family in response to TGFβ stimulation.