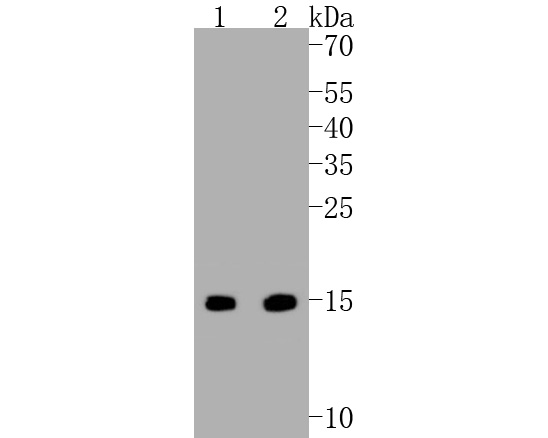 Western blot analysis of Survivin on different lysates. Proteins were transferred to a PVDF membrane and blocked with 5% BSA in PBS for 1 hour at room temperature. The primary antibody (ET1602-43, 1/500) was used in 5% BSA at room temperature for 2 hours. Goat Anti-Rabbit IgG - HRP Secondary Antibody (HA1001) at 1:5,000 dilution was used for 1 hour at room temperature.
Positive control:
Lane 1: L929 cell lysate
Lane 2: F9 cell lysate
SPECIFICATIONS
Product Type
Recombinant Rabbit monoclonal primary
Product Name
Survivin Recombinant Rabbit Monoclonal Antibody [SR44-02] (ET1602-43)
Immunogen
Full length recombinant protein within mouse survivin.
Positive Control
L929 cell lysate, F9 cell lysate, rat spleen tissue, mouse testis tissue, mouse colon tissue, mouse spleen tissue.
PROPERTIES
Storage Condition
Store at +4C after thawing. Aliquot store at -20C or -80C. Avoid repeated freeze / thaw cycles.
Storage Buffer
1*TBS (pH7.4), 0.05% BSA, 40% Glycerol. Preservative: 0.05% Sodium Azide.
PURIFICATION
Protein A affinity purified.
TARGET
SYNONYMS
API4 antibody; Apoptosis inhibitor 4 antibody; Apoptosis inhibitor survivin antibody; Apoptosis inhibitor4 antibody; Baculoviral IAP repeat containing 5 antibody; Baculoviral IAP repeat containing protein 5 antibody; Baculoviral IAP repeat-containing protein 5 antibody; BIRC 5 antibody; BIRC5 antibody; BIRC5_HUMAN antibody; EPR 1 antibody; IAP4 antibody; Survivin variant 3 alpha antibody; SVV antibody; TIAP antibody
SEQUENCE SIMILARITIES
Belongs to the IAP family.
POST-TRANSLATIONAL MODIFICATION
Ubiquitinated by the Cul9-RING ubiquitin-protein ligase complex, leading to its degradation. Ubiquitination is required for centrosomal targeting.; Acetylation at Lys-129 results in its homodimerization, while deacetylation promotes the formation of monomers which heterodimerize with XPO1/CRM1 which facilitates its nuclear export. The acetylated form represses STAT3 transactivation. The dynamic equilibrium between its acetylation and deacetylation at Lys-129 determines its interaction with XPO1/CRM1, its subsequent subcellular localization, and its ability to inhibit STAT3 transactivation.; In vitro phosphorylation at Thr-117 by AURKB prevents interaction with INCENP and localization to mitotic chromosomes. Phosphorylation at Thr-48 by CK2 is critical for its mitotic and anti-apoptotic activities. Phosphorylation at Thr-34 by CDK15 is critical for its anti-apoptotic activity.
SUBCELLULAR LOCATION
Cytoplasm, Nucleus, Chromosome, Midbody.
FUNCTION
The baculovirus protein p35 inhibits virally-induced apoptosis of invertebrate and mammalian cells and may function to impair the clearing of virally infected cells by the immune system of the host. This is accomplished at least in part by the ability of p35 to block both TNF- and FAS-mediated apoptosis through the inhibition of the ICE family of serine proteases. Two mammalian homologs of baculovirus p35, referred to as inhibitor of apoptosis protein (IAP) 1 and 2, share an amino-terminal baculovirus IAP repeat (BIR) motif and a carboxy-terminal RING finger. Although the c-IAPs do not directly associate with the TNF receptor (TNF-R), they efficiently block TNF-mediated apoptosis through their interaction with the downstream TNF-R effectors, TRAF1 and TRAF2. Additional IAP family members include ILP (for IAP-like protein) and survivin. ILP inhibits activated caspase-3, leading to the resistance of FAS-mediated apoptosis. Survivin (also designated TIAP) is expressed during the G2/M phase of the cell cycle and associates with microtubules of the mitotic spindle. Increased caspase-3 activity is detected when a disruption of survivin-microtubule interactions occurs.