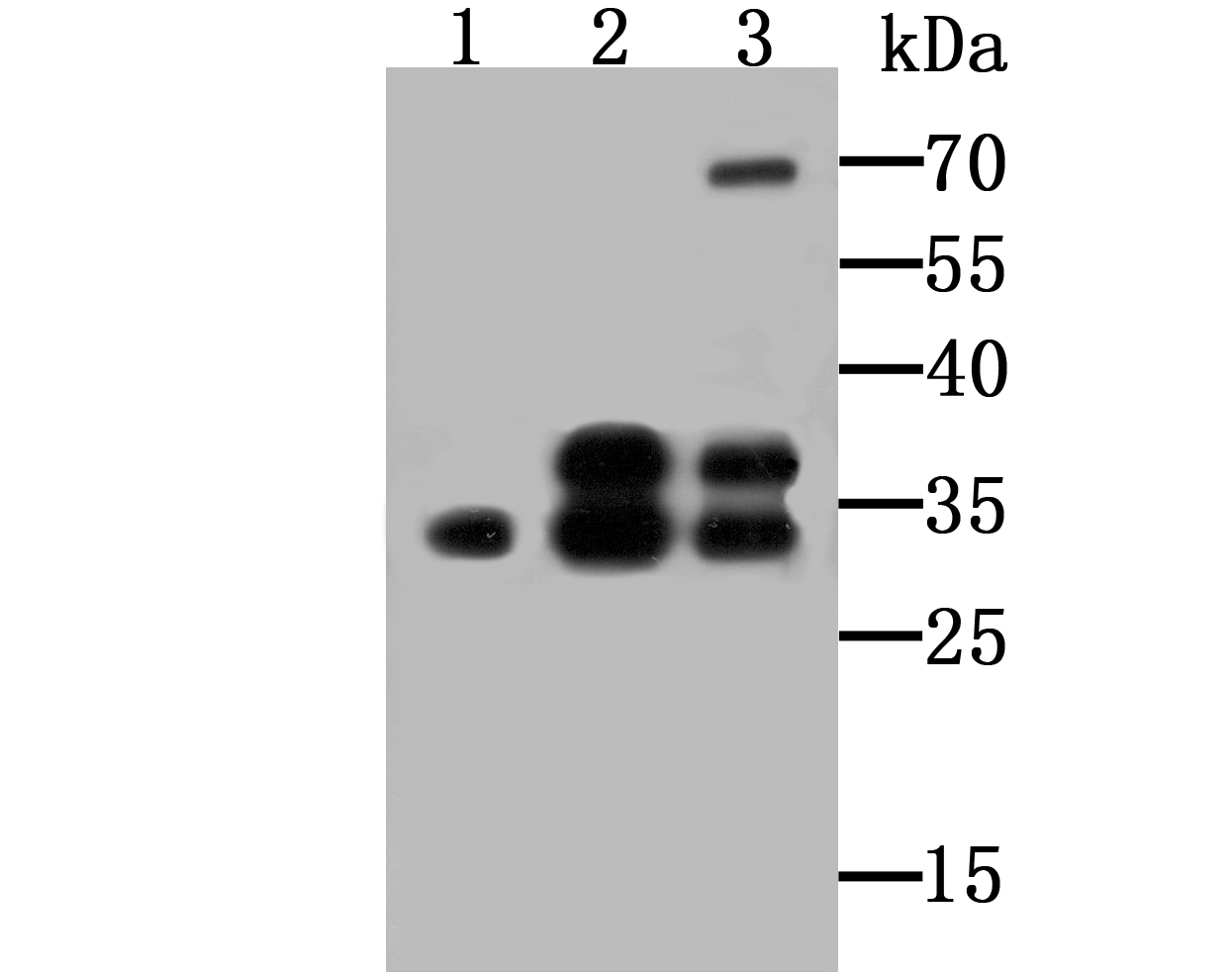 Western blot analysis of SNAI1 on different lysates using anti-SNAI1 antibody at 1/500 dilution.
Positive control:
Lane 1: Human kidney tissue
Lane 2: SiHa
Lane 3: K562
SPECIFICATIONS
Product Type
Rabbit polyclonal primary
Product Name
SNAIL Rabbit Polyclonal Antibody (ER1706-22)
Immunogen
Synthetic peptide within human snail aa 1-49/264.
Positive Control
Human kidney tissue, SiHa, K562, HUVEC, LOVO, human tonsil tissue, human liver cancer tissue, mouse testis tissue.
PROPERTIES
Storage Condition
Store at +4C after thawing. Aliquot store at -20C or -80C. Avoid repeated freeze / thaw cycles.
Storage Buffer
1*PBS (pH7.4), 0.2% BSA, 50% Glycerol. Preservative: 0.05% Sodium Azide.
PURIFICATION
Immunogen affinity purified.
MOLECULAR WEIGHT
29 kDa, additional band 35 kDa
TARGET
SYNONYMS
dJ710H13.1 antibody;Protein sna antibody;Protein snail homolog 1 antibody;Protein snail homolog antibody;SLUGH2 antibody;SNA antibody;Sna protein antibody;SNAH antibody;SNAI antibody;snai1 antibody;SNAI1_HUMAN antibody;Snail 1 homolog antibody;Snail 1 zinc finger protein antibody;SNAIL antibody;Snail family transcriptional repressor 1 antibody;Snail homolog 1 (Drosophila) antibody;SNAIL, Drosophila, homolog of, 1 antibody;SNAIL1 antibody;Zinc finger protein SNAI1 antibody
SEQUENCE SIMILARITIES
Belongs to the snail C2H2-type zinc-finger protein family.
TISSUE SPECIFICITY
Expressed in a variety of tissues with the highest expression in kidney. Expressed in mesenchymal and epithelial cell lines.
POST-TRANSLATIONAL MODIFICATION
Phosphorylated by GSK3B. Once phosphorylated, it becomes a target for BTRC ubiquitination. Phosphorylation by CSNK1E, probably at Ser-104, provides the priming site for the subsequent phosphorylation by GSK3B, probably at Ser-100 and Ser-96. Phosphorylation by PAK1 may modulate its transcriptional activity by promoting increased accumulation in the nucleus. Phosphorylation at Ser-11 and Ser-92 positively regulates its functions in induction of EMT and cell survival, respectively. Phosphorylation by LATS2, upon mitotic stress, oncogenic stress or Hippo pathway activation, occurs in the nucleus and promotes nuclear retention and stabilization of total cellular protein level.; Ubiquitinated on Lys-98, Lys-137 and Lys-146 by FBXL14 and BTRC leading to degradation. BTRC-triggered ubiquitination requires previous GSK3B-mediated SNAI1 phosphorylation. Ubiquitination induced upon interaction with NOTCH1 or TP53/p53 is mediated by MDM2.; O-GlcNAcylation at Ser-112 is enhanced in hyperglycaemic conditions, it opposes phosphorylation by GSK3B, and stabilizes the protein.; ADP-ribosylation by PARP1 increases protein half-life and may be involved in TGFB-induced SNAI1 up-regulation.
FUNCTION
The Snail family of developmental regulatory proteins is a group of widely conserved zinc-finger proteins that regulate transcription and include the mammalian proteins SLUG, SNAI 1, the human homolog of Drosophila SNAIL, and Smuc. SNAI 1 and SLUG are expressed in placenta and adult heart, liver, and skeletal muscle. SNAI 1, and the corresponding mouse homolog Sna, each contain three classic zinc fingers and one atypical zinc finger, while SLUG contains five zinc finger regions and a transcriptional repression domain at the amino terminus, which enables SLUG to act as a negative regulator of gene expression. SLUG is implicated in the generation and migration of neural crest cells in human embryos and also contributes to limb bud development. In addition, SLUG also constitutes a cellular anti-apoptotic transcription factor that effectively prevents apoptosis in murine pro-B cells deprived of IL-3. The Snail-related gene from murine skeletal muscle cells, Smuc, is highly expressed in skeletal muscle and thymus and can, likewise, repress gene transcription. Smuc preferentially associates with CAGGTG and CACCTG E-box motifs (CANNTG) on DNA and involves the five putative DNA-binding zinc finger domains at the C-terminal region of Smuc.
CITATIONS
Kong, Lingyu et al.

Qigesan inhibits esophageal cancer cell invasion and migration by inhibiting Gas6/Axl-induced epithelial-mesenchymal transition. | Aging [2020]

Zhou, J., Li, R., Liu, Q., ...

Blocking 5-LO pathway alleviates renal fibrosis by inhibiting the epithelial-mesenchymal transition. Biomedicine & pharmacotherapy = Biomedecine & pharmacotherapie, 138, 111470.

He, Y., Wang, X., Lu, W., Z...

PGK1 contributes to tumorigenesis and sorafenib resistance of renal clear cell carcinoma via activating CXCR4/ERK signaling pathway and accelerating glycolysis