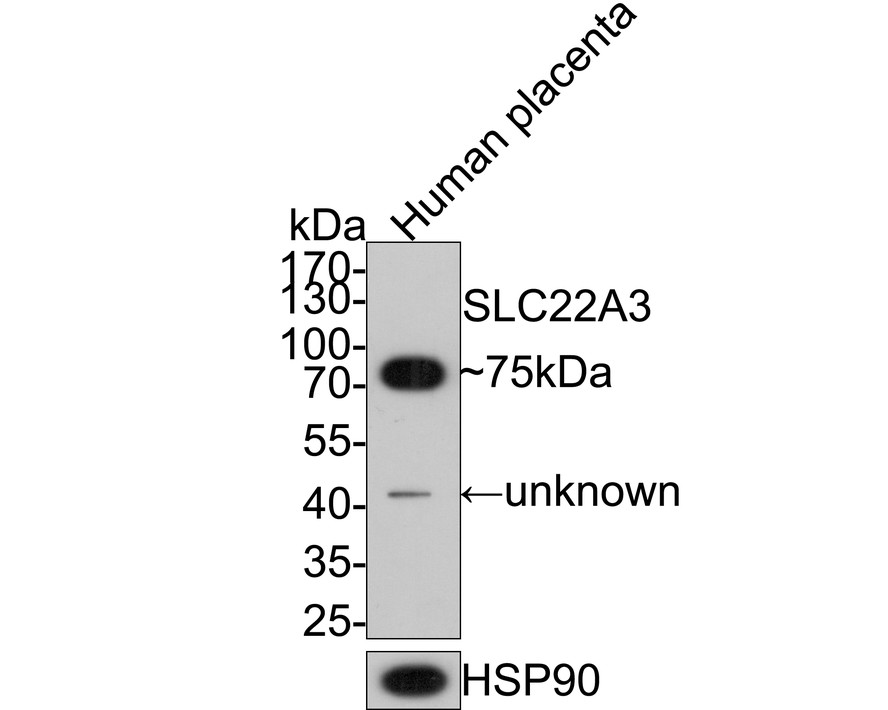 Western blot analysis of SLC22A3 on human placenta tissue lysates. Proteins were transferred to a PVDF membrane and blocked with 5% BSA in PBS for 1 hour at room temperature. The primary antibody (ET7110-35, 1/2000) was used in 5% BSA at room temperature for 2 hours. Goat Anti-Rabbit IgG - HRP Secondary Antibody (HA1001) at 1:5,000 dilution was used for 1 hour at room temperature.
SPECIFICATIONS
Product Type
Recombinant Rabbit monoclonal primary
Product Name
SLC22A3 Recombinant Rabbit Monoclonal Antibody [JE53-70] (ET7110-35)
Immunogen
Synthetic peptide within c terminal human slc22a3/oct3.
Positive Control
Human placenta tissue lysates, human colon carcinoma tissue, A549.
PROPERTIES
Storage Condition
Store at +4C after thawing. Aliquot store at -20C. Avoid repeated freeze / thaw cycles.
Storage Buffer
1*TBS (pH7.4), 0.05% BSA, 40% Glycerol. Preservative: 0.05% Sodium Azide.
PURIFICATION
Protein A affinity purified.
MOLECULAR WEIGHT
Predicted band size 61 kDa.
TARGET
SYNONYMS
EMT antibody; EMT organic cation transporter 3 antibody; EMTH antibody; Extraneuronal monoamine transporter antibody; OCT 3 antibody; OCT3 antibody; Orct 3 antibody; Orct3 antibody; Organic cation transporter 3 antibody; S22A3_HUMAN antibody; SLC22 A3 antibody; SLC22A 3 antibody; Slc22a3 antibody; Solute carrier family 22 (extraneuronal monoamine transporter) member 3 antibody; Solute carrier family 22 (organic cation transporter) member 3 antibody; Solute carrier family 22 member 3 antibody
SEQUENCE SIMILARITIES
Belongs to the major facilitator (TC 2.A.1) superfamily. Organic cation transporter (TC 2.A.1.19) family.
TISSUE SPECIFICITY
Expressed in placenta, skeletal muscle, prostate, aorta, liver, fetal lung, salivary gland, adrenal gland, kidney and brain cortex. No expression detected in spleen.
FUNCTION
Solute carrier family 22 member 3 (SLC22A3) also known as the organic cation transporter 3 (OCT3) or extraneuronal monoamine transporter (EMT) is a protein that in humans is encoded by the SLC22A3 gene. Polyspecific organic cation transporters in the liver, kidney, intestine, and other organs are critical for elimination of many endogenous small organic cations as well as a wide array of drugs and environmental toxins. This gene is one of three similar cation transporter genes located in a cluster on chromosome 6. The encoded protein contains twelve putative transmembrane domains and is a plasma integral membrane protein. OCT3 is widely distributed in brain tissue. It is not yet completely clear whether its location is primarily neuronal or glial. Organic cation transporter 3 is a polyspecific transporter whose transport is independent of sodium. Known substrates for transport include: histamine, serotonin, norepinephrine, dopamine and MPP+. Capacity for transport and affinity for these substrates may vary between rat and human isoforms however. ransport activity of OCT3 is inhibited by recreational and pharmaceutical drugs, including MDMA, phencyclidine (PCP), MK-801, amphetamine, methamphetamine and cocaine. Transport is also inhibited by the chemical decynium-22 and physiological concentrations of corticosterone and cortisol. Ki values for decynium-22 and corticosterone inhibition of OCT3 transport are respectively 10 and 100 times lower than Ki values of OCT1 and OCT2.