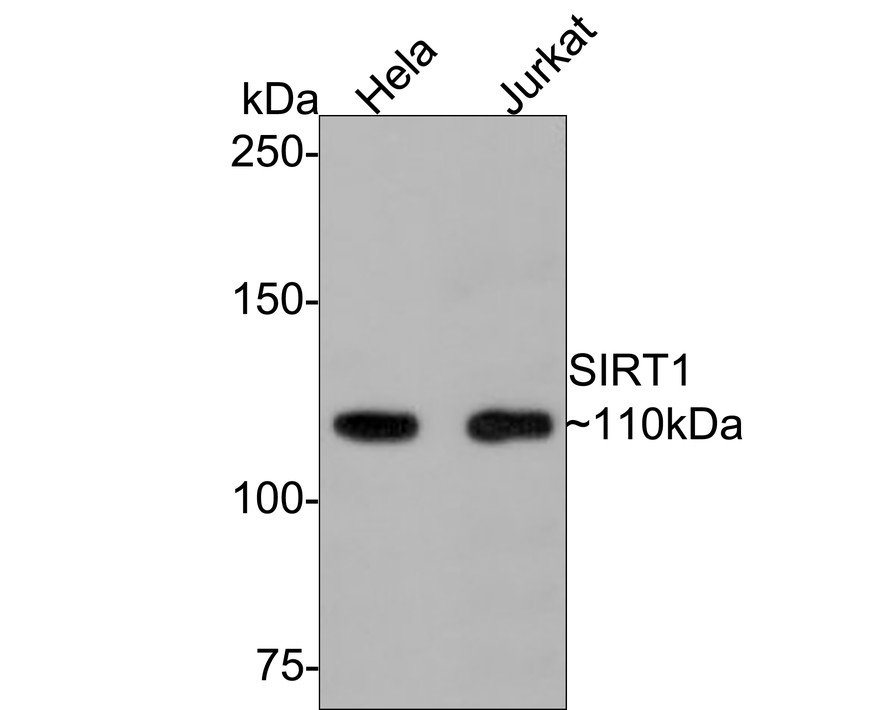 Western blot analysis of SIRT1 on different cell lysates using anti- SIRT1 antibody at 1/1000 dilution.
Positive control:
Lane 1: Hela
Lane 2: F9
Lane 3: Jurkat
SPECIFICATIONS
Product Type
Rabbit polyclonal primary
Product Name
SIRT1 Rabbit Polyclonal Antibody (ER130811)
Immunogen
Synthetic peptide within human sirt1 aa 698-747 / 747.
Positive Control
Hela, F9, Jurkat, human lung carcinoma tissue, human colon carcinoma tissue
PROPERTIES
Storage Condition
Store at +4C after thawing. Aliquot store at -20C or -80C. Avoid repeated freeze / thaw cycles.
Storage Buffer
1*PBS (pH7.4), 0.2% BSA, 40% Glycerol. Preservative: 0.05% Sodium Azide.
PURIFICATION
Peptide affinity purified
TARGET
SYNONYMS
75SirT1 antibody; hSIR2 antibody; hSIRT1 antibody; HST2, S. cerevisiae, homolog of antibody; NAD dependent deacetylase sirtuin 1 antibody; NAD dependent protein deacetylase sirtuin 1 antibody; OTTHUMP00000198111 antibody; OTTHUMP00000198112 antibody; Regulatory protein SIR2 homolog 1 antibody; SIR1_HUMAN antibody; SIR2 antibody; SIR2 like 1 antibody; SIR2 like protein 1 antibody; SIR2, S.cerevisiae, homolog-like 1 antibody; SIR2-like protein 1 antibody; SIR2ALPHA antibody; SIR2L1 antibody; Sirt1 antibody; SirtT1 75 kDa fragment antibody; Sirtuin (silent mating type information regulation 2 homolog) 1 (S. cerevisiae) antibody; Sirtuin 1 antibody; Sirtuin type 1 antibody
SEQUENCE SIMILARITIES
Belongs to the sirtuin family. Class I subfamily.
POST-TRANSLATIONAL MODIFICATION
Methylated on multiple lysine residues; methylation is enhanced after DNA damage and is dispensable for deacetylase activity toward p53/TP53.; Phosphorylated. Phosphorylated by STK4/MST1, resulting in inhibition of SIRT1-mediated p53/TP53 deacetylation. Phosphorylation by MAPK8/JNK1 at Ser-27, Ser-47, and Thr-530 leads to increased nuclear localization and enzymatic activity. Phosphorylation at Thr-530 by DYRK1A and DYRK3 activates deacetylase activity and promotes cell survival. Phosphorylation by mammalian target of rapamycin complex 1 (mTORC1) at Ser-47 inhibits deacetylation activity. Phosphorylated by CaMK2, leading to increased p53/TP53 and NF-kappa-B p65/RELA deacetylation activity (By similarity). Phosphorylation at Ser-27 implicating MAPK9 is linked to protein stability. There is some ambiguity for some phosphosites: Ser-159/Ser-162 and Thr-544/Ser-545.; Proteolytically cleaved by cathepsin B upon TNF-alpha treatment to yield catalytic inactive but stable SirtT1 75 kDa fragment (75SirT1).; S-nitrosylated by GAPDH, leading to inhibit the NAD-dependent protein deacetylase activity.; Acetylated at various Lys residues. Deacetylated via an autocatalytic mechanism. Autodeacetylation at Lys-238 promotes its protein deacetylase activity.
FUNCTION
SirT1, the mammalian ortholog of Sir2, is a nuclear protein implicated in the regulation of many cellular processes, including apoptosis, cellular senescence, endocrine signaling, glucose homeostasis, aging, and longevity. Targets of SirT1 include acetylated p53, p300, Ku70, forkhead (FoxO) transcription factors, PPARγ, and the PPARγ coactivator-1α (PGC-1α) protein. Deacetylation of p53 and FoxO transcription factors represses apoptosis and increases cell survival. SirT1 deacetylase activity is inhibited by nicotinamide and activated by resveratrol.
CITATIONS
Wang, D., Geng, M., Gan, D....

Effect of resveratrol on mouse ovarian vitrification and transplantation. Reproductive biology and endocrinology : RB&E, 19(1), 54.

Luo, P., Yan, H., Chen, X.,...

s-HBEGF/SIRT1 circuit-dictated crosstalk between vascular endothelial cells and keratinocytes mediates sorafenib-induced hand-foot skin reaction that can be reversed by nicotinamide. Cell research, 30(9), 779–793.