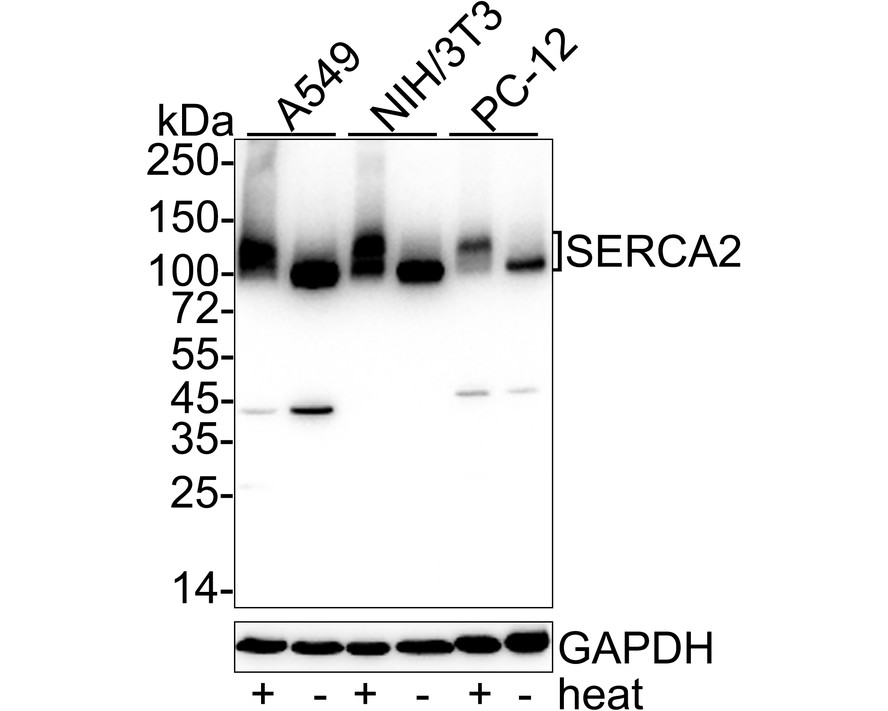 ICC staining of SERCA2 in A549 cells (red). Formalin fixed cells were permeabilized with 0.1% Triton X-100 in TBS for 10 minutes at room temperature and blocked with 1% Blocker BSA for 15 minutes at room temperature. Cells were probed with the primary antibody (ET1703-01, 1/50) for 1 hour at room temperature, washed with PBS. Alexa Fluor®594 Goat anti-Rabbit IgG was used as the secondary antibody at 1/1,000 dilution. The nuclear counter stain is DAPI (blue).
SPECIFICATIONS
Product Type
Recombinant Rabbit monoclonal primary
Product Name
SERCA2 Recombinant Rabbit Monoclonal Antibody [JM10-20] (ET1703-01)
Immunogen
Synthetic peptide within human serca2 aa 999-1042 / 1042.
Positive Control
A549, Hela, MCF-7, human tonsil tissue, human kidney tissue, mouse skeletal muscle tissue, mouse skin tissue, human liver carcinoma tissue, mouse kidney tissue, mouse heart tissue.
PROPERTIES
Storage Condition
Store at +4C after thawing. Aliquot store at -20C or -80C. Avoid repeated freeze / thaw cycles.
Storage Buffer
1*TBS (pH7.4), 0.05% BSA, 40% Glycerol. Preservative: 0.05% Sodium Azide.
PURIFICATION
Protein A affinity purified.
TARGET
SYNONYMS
AT2A2_HUMAN antibody; Atp2a2 antibody; ATP2B antibody; ATPase Ca++ transporting cardiac muscle slow twitch 2 antibody; Calcium pump 2 antibody; Calcium-transporting ATPase sarcoplasmic reticulum type antibody; Calcium-transporting ATPase sarcoplasmic reticulum type slow twitch skeletal muscle isoform antibody; Cardiac Ca2+ ATPase antibody; DAR antibody; DD antibody; Endoplasmic reticulum class 1/2 Ca(2+) ATPase antibody; MGC45367 antibody; Sarcoplasmic/endoplasmic reticulum calcium ATPase 2 antibody; SERCA 2 antibody; SERCA2 antibody; serca2a antibody; slow twitch skeletal muscle isoform antibody; SR Ca(2+)-ATPase 2 antibody
SEQUENCE SIMILARITIES
Belongs to the cation transport ATPase (P-type) (TC 3.A.3) family. Type IIA subfamily.
TISSUE SPECIFICITY
Isoform 1 is widely expressed in smooth muscle and nonmuscle tissues such as in adult skin epidermis, with highest expression in liver, pancreas and lung, and intermediate expression in brain, kidney and placenta. Also expressed at lower levels in heart and skeletal muscle. Isoforms 2 and 3 are highly expressed in the heart and slow twitch skeletal muscle. Expression of isoform 3 is predominantly restricted to cardiomyocytes and in close proximity to the sarcolemma. Both isoforms are mildly expressed in lung, kidney, liver, pancreas and placenta. Expression of isoform 3 is amplified during monocytic differentiation and also observed in the fetal heart.
POST-TRANSLATIONAL MODIFICATION
Nitrated under oxidative stress. Nitration on the two tyrosine residues inhibits catalytic activity.
SUBCELLULAR LOCATION
Endoplasmic reticulum membrane, Sarcoplasmic reticulum membrane.
FUNCTION
ATP dependent calcium pumps are responsible, in part, for the maintenance of low cytoplasmic free calcium concentrations. The ATP pumps that reside in intracellular organelles are encoded by a family of structurally related enzymes, termed the sarcoplasmic or endoplasmic reticulum calcium (SERCA) ATPases. The sarcoplasmic reticulum of striated muscle is a specialized intracellular membrane system that plays a critical role in the contraction and relaxation of muscle. The SERCAs mediate Ca2+ uptake into intracellular stores. SERCA-mediated Ca2+ uptake induces and maintains muscular relaxation. The SERCA1 gene is exclusively expressed in type II (fast) skeletal muscle. The SERCA2 gene is subject to tissue-dependent processing which is responsible for the generation of the SERCA2a muscle-specific form expressed in type I (slow) skeletal, cardiac and smooth muscle, and the SERCA2b isoform expressed in all cell types. The SERCA3 gene is not as well characterized and is found in non-muscle cells. SERCA2 plays an important part in regulating cardiac contractile function. SERCA3 is an isoform expressed in several cell types including platelets, lymphoid cells and mast cells. SERCA1, SERCA2 and SERCA3 all undergo alternative splicing.