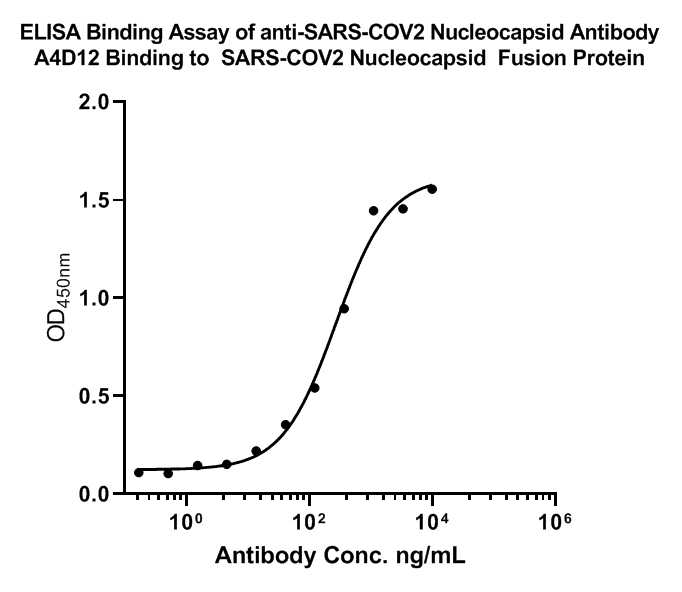 The binding activity of EM1902-21 with SARS-CoV-2 Recombinant Nucleocapsid protein.
Immobilized SARS-CoV-2 nucleocapsid protein at 1 μg/ml overnight at 4℃. Then blocked with 1% BSA for 1 hour at 37℃, and incubated with the primary antibody (EM1902-21) for 1 hour at 25℃. The EC50 of EM1902-21 is 271.3 ng/ml.
SPECIFICATIONS
Product Name
SARS-CoV-2 Nucleocapsid Protein Mouse Monoclonal Antibody [A4D12] (EM1902-21)
Immunogen
Recombinant sars-cov-2 nucleocapsid protein.
Positive Control
ELISA: Recombinant SARS-CoV-2 Nucleocapsid Protein. WB: N-terminal His tag-tagged SARS-CoV-2 Nucleocapsid protein and inactivated native SARS-CoV-2 lysate.
PROPERTIES
Storage Condition
Store at +4C after thawing. Aliquot store at -20C. Avoid repeated freeze / thaw cycles.
PURIFICATION
Protein G affinity purified.
TARGET
PROTEIN NAME
SARS-CoV-2 Nucleocapsid Protein
SYNONYMS
SARS-CoV-2 Nucleocapsid Protein antibody; SARS-CoV-2 NP antibody; nucleocapsid protein antibody; novel coronavirus N Protein antibody; novel coronavirus Nucleocapsid Protein antibody; 2019-nCoV Nucleoprotein antibody; 2019-nCoV N antibody; 2019nCoV N antibody; 2019-nCoV N Protein antibody; 2019 peak N Protein antibody; 2019-nCoV nucleocapsid protein antibody
SEQUENCE SIMILARITIES
Belongs to the betacoronavirus nucleocapsid protein family.
POST-TRANSLATIONAL MODIFICATION
ADP-ribosylated. The ADP-ribosylation is retained in the virion during infection.; Phosphorylated on serine and threonine residues.
SUBCELLULAR LOCATION
Virion, Host endoplasmic reticulum-Golgi intermediate compartment, Host Golgi apparatus.
FUNCTION
Coronaviruses are enveloped viruses with a positive-sense RNA genome and with a nucleocapsid of helical symmetry. Coronavirus nucleoproteins localize to the cytoplasm and the nucleolus, a subnuclear structure, in both virus-infected primary cells and in cells transfected with plasmids that express N protein. Coronavirus N protein is required for coronavirus RNA synthesis, and has RNA chaperone activity that may be involved in template switch. Nucleocapsid protein is a most abundant protein of coronavirus. During virion assembly, N protein binds to viral RNA and leads to formation of the helical nucleocapsid. Nucleocapsid protein is a highly immunogenic phosphoprotein also implicated in viral genome replication and in modulating cell signaling pathways. Because of the conservation of N protein sequence and its strong immunogenicity, the N protein of coronavirus is chosen as a diagnostic tool.