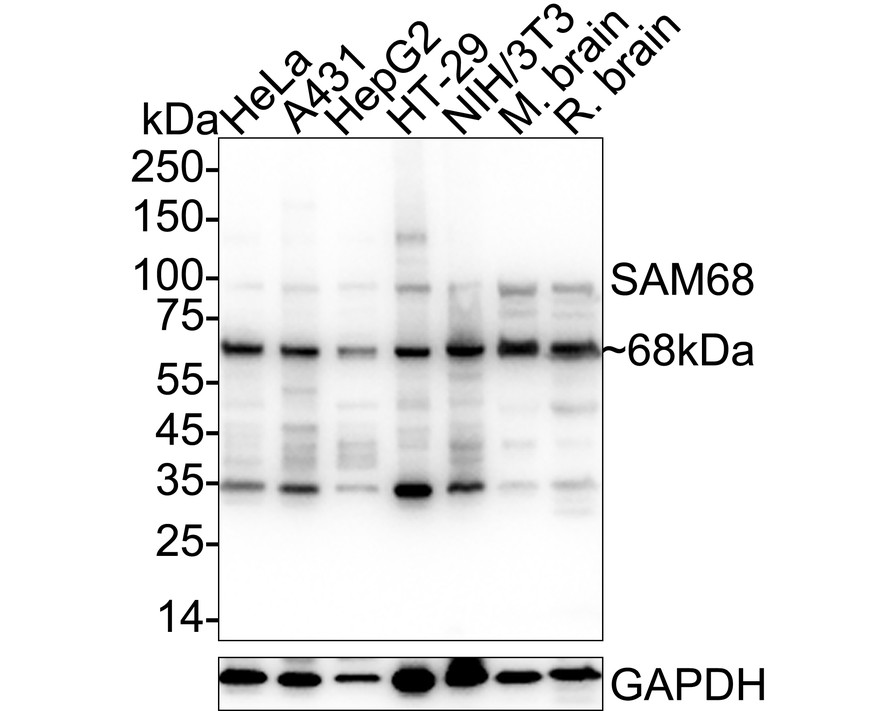 Western blot analysis of SAM68 on different lysates. Proteins were transferred to a PVDF membrane and blocked with 5% BSA in PBS for 1 hour at room temperature. The primary antibody (ET7109-52, 1/1000) was used in 5% BSA at room temperature for 2 hours. Goat Anti-Rabbit IgG - HRP Secondary Antibody (HA1001) at 1:5,000 dilution was used for 1 hour at room temperature.
Positive control:
Lane 1: SHSY-5Y cell lysate
Lane 2: Mouse brain tissue lysate
SPECIFICATIONS
Product Type
Recombinant Rabbit monoclonal primary
Product Name
SAM68 Recombinant Rabbit Monoclonal Antibody [JE47-15] (ET7109-52)
Immunogen
Synthetic peptide within c terminal human sam68.
Positive Control
SHSY-5Y, mouse brain tissue, A431, F9, HepG2, human liver cancer tissue, human colon cancer tissue, human stomach cancer tissue.
PROPERTIES
Storage Condition
Store at +4C after thawing. Aliquot store at -20C. Avoid repeated freeze / thaw cycles.
Storage Buffer
1*TBS (pH7.4), 0.05% BSA, 40% Glycerol. Preservative: 0.05% Sodium Azide.
TARGET
SYNONYMS
FLJ34027 antibody; GAP associated tyrosine phosphoprotein p62 antibody; GAP-associated tyrosine phosphoprotein p62 antibody; KH domain containing RNA binding signal transduction associated 1 antibody; KH domain-containing antibody; KHDR1_HUMAN antibody; Khdrbs1 antibody; p21 Ras GTPase activating protein associated p62 antibody; p21 Ras GTPase-activating protein-associated p62 antibody; p62 antibody; p68 antibody; RNA-binding antibody; Sam68 antibody; signal transduction-associated protein 1 antibody; Src associated in mitosis 68 kDa protein antibody; Src-associated in mitosis 68 kDa protein antibody
SEQUENCE SIMILARITIES
Belongs to the KHDRBS family.
TISSUE SPECIFICITY
Ubiquitously expressed in all tissue examined. Isoform 1 is expressed at lower levels in brain, skeletal muscle, and liver whereas isoform 3 is intensified in skeletal muscle and in liver.
DEVELOPMENTAL STAGE
Isoform 3 is only expressed in growth-arrested cells.
POST-TRANSLATIONAL MODIFICATION
Tyrosine phosphorylated by several non-receptor tyrosine kinases including LCK, FYN and JAK3. Also tyrosine phosphorylated by the non-receptor tyrosine kinase SRMS in an EGF-dependent manner. Negatively correlates with ability to bind RNA but required for many interactions with proteins. Phosphorylation by PTK6 negatively regulates its RNA binding ability. Phosphorylation by PTK6 at Tyr-440 dictates the nuclear localization of KHDRBS1. Phosphorylation at Tyr-387 disrupts interaction with APC. Phosphorylation at tyrosine residues by FYN inverts activity on modulation of BCL2L1 alternative splicing.; Acetylated. Positively correlates with ability to bind RNA.; Arginine methylation is required for nuclear localization. Also can affect interaction with other proteins. Inhibits interaction with Src-like SH3 domains, but not interaction with WW domains of WBP4/FBP21 AND FNBP4/FBP30.
SUBCELLULAR LOCATION
Cytoplasm. Membrane. Nucleus.
FUNCTION
Recruited and tyrosine phosphorylated by several receptor systems, for example the T-cell, leptin and insulin receptors. Once phosphorylated, functions as an adapter protein in signal transduction cascades by binding to SH2 and SH3 domain-containing proteins. Role in G2-M progression in the cell cycle. Represses CBP-dependent transcriptional activation apparently by competing with other nuclear factors for binding to CBP. Also acts as a putative regulator of mRNA stability and/or translation rates and mediates mRNA nuclear export. Positively regulates the association of constitutive transport element (CTE)-containing mRNA with large polyribosomes and translation initiation. According to some authors, is not involved in the nucleocytoplasmic export of unspliced (CTE)-containing RNA species. RNA-binding protein that plays a role in the regulation of alternative splicing and influences mRNA splice site selection and exon inclusion. Binds to RNA containing 5'-[AU]UAA-3' as a bipartite motif spaced by more than 15 nucleotides. Binds poly(A). Can regulate CD44 alternative splicing in a Ras pathway-dependent manner. In cooperation with HNRNPA1 modulates alternative splicing of BCL2L1 by promoting splicing toward isoform Bcl-X(S), and of SMN1. Can regulate alternative splicing of NRXN1 and NRXN3 in the laminin G-like domain 6 containing the evolutionary conserved neurexin alternative spliced segment 4 (AS4) involved in neurexin selective targeting to postsynaptic partners.