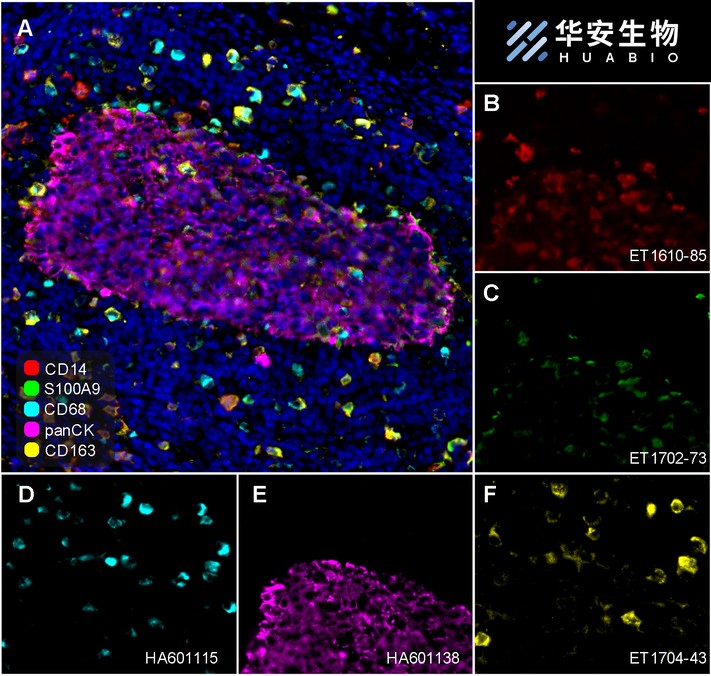 ICC staining of S100A9 in A549 cells (red). Formalin fixed cells were permeabilized with 0.1% Triton X-100 in TBS for 10 minutes at room temperature and blocked with 10% negative goat serum for 15 minutes at room temperature. Cells were probed with the primary antibody (ET1702-73, 1/50) for 1 hour at room temperature, washed with PBS. Alexa Fluor®594 conjugate-Goat anti-Rabbit IgG was used as the secondary antibody at 1/1,000 dilution. The nuclear counter stain is DAPI (blue).
SPECIFICATIONS
Product Type
Recombinant Rabbit monoclonal primary
Product Name
S100A9 Recombinant Rabbit Monoclonal Antibody [JF096-8] (ET1702-73)
Immunogen
Synthetic peptide within human s100a9 aa 1-42 / 114.
Positive Control
A549, Hela, HepG2, human tonsil tissue, human lung cancer tissue, human liver cancer tissue, human spleen tissue, human breast carcinoma tissue
PROPERTIES
Storage Condition
Store at +4C after thawing. Aliquot store at -20C or -80C. Avoid repeated freeze / thaw cycles.
Storage Buffer
1*TBS (pH7.4), 0.05% BSA, 40% Glycerol. Preservative: 0.05% Sodium Azide.
TARGET
SYNONYMS
Leukocyte L1 complex heavy chain antibody; 60B8AG antibody; CAGB antibody; Calgranulin B antibody; Calgranulin-B antibody; Calprotectin L1H subunit antibody; CFAG antibody; CGLB antibody; Cystic fibrosis antigen B antibody; L1AG antibody; Leukocyte L1 complex heavy chain antibody; LIAG antibody; MAC387 antibody; MIF antibody; Migration inhibitory factor related protein 14 antibody; Migration inhibitory factor-related protein 14 antibody; MRP 14 antibody; MRP-14 antibody; MRP14 antibody; Myeloid-related protein 14 antibody; NIF antibody; OTTHUMP00000015331 antibody; p14 antibody; Protein S100-A9 antibody; S100 A9 antibody; S100 calcium binding protein A9 antibody; S100 calcium binding protein A9 calgranulin B antibody; S100 calcium-binding protein A9 antibody; S100A9 antibody; S10A9_HUMAN antibody
SEQUENCE SIMILARITIES
Belongs to the S-100 family.
TISSUE SPECIFICITY
Calprotectin (S100A8/9) is predominantly expressed in myeloid cells. Except for inflammatory conditions, the expression is restricted to a specific stage of myeloid differentiation since both proteins are expressed in circulating neutrophils and monocytes but are absent in normal tissue macrophages and lymphocytes. Under chronic inflammatory conditions, such as psoriasis and malignant disorders, also expressed in the epidermis. Found in high concentrations at local sites of inflammation or in the serum of patients with inflammatory diseases such as rheumatoid, cystic fibrosis, inflammatory bowel disease, Crohn's disease, giant cell arteritis, cystic fibrosis, Sjogren's syndrome, systemic lupus erythematosus, and progressive systemic sclerosis. Involved in the formation and deposition of amyloids in the aging prostate known as corpora amylacea inclusions. Strongly up-regulated in many tumors, including gastric, esophageal, colon, pancreatic, bladder, ovarian, thyroid, breast and skin cancers.
POST-TRANSLATIONAL MODIFICATION
Phosphorylated. Phosphorylation inhibits activation of tubulin polymerization.; S-nitrosylation of Cys-3 is implicated in LDL(ox)-induced S-nitrosylation of GAPDH at 'Cys-247' through a transnitrosylase mechanism involving a iNOS-S100A8/9 complex.
SUBCELLULAR LOCATION
Secreted, Cytoplasm, Cell membrane.
FUNCTION
The family of EF-hand type Ca2+-binding proteins includes Calbindin (previously designated vitamin D-dependent Ca2+-binding protein), S-100α and β, Calgranulin A (also designated MRP8), Calgranulin B (also designated MRP14) and Calgranulin C (S-100 like protein), and the parvalbumin family members, including parvalbumin α and parvalbumin β (also designated oncomodulin). Calbindin, S-100 proteins and parvalbumin proteins are each expressed in neural tissues. In addition, S-100α and β are present in a variety of other tissues, and Calbindin is present in intestine and kidney. Parvalbumin α is also found in fast-contracting/relaxing skeletal muscle fibers and parvalbumin β is found in many tumor tissues as well as in the organ of Corti. Calbindin, S-100 proteins and parvalbulmins have all been detected in leydig cells and testis. These proteins are thought to play a role in hormone production and spermatogenesis. Calgranulin is expressed in macrophages and epithelial cells.
CITATIONS
Zheng, Xi et al.

A circulating extracellular vesicles-based novel screening tool for colorectal cancer revealed by shotgun and data-independent acquisition mass spectrometry. | Journal of Extracellular Vesicles [2020]