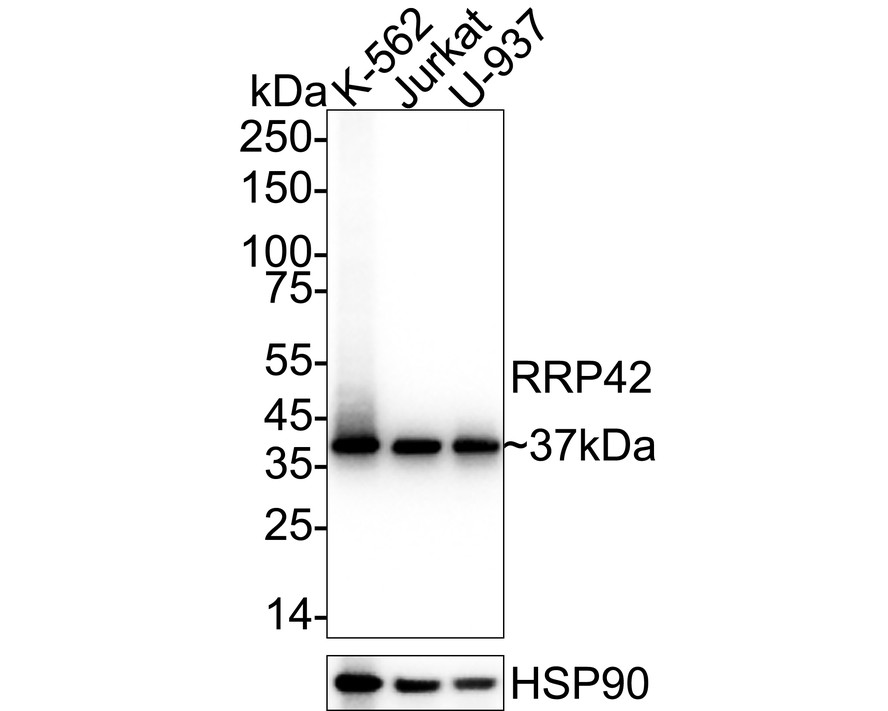 Western blot analysis of RRP42 on different lysates. Proteins were transferred to a PVDF membrane and blocked with 5% BSA in PBS for 1 hour at room temperature. The primary antibody (ET7111-13, 1/1,000) was used in 5% BSA at room temperature for 2 hours. Goat Anti-Rabbit IgG - HRP Secondary Antibody (HA1001) at 1:5,000 dilution was used for 1 hour at room temperature.
Positive control:
Lane 1: K562 cell lysate
Lane 2: Jurkat cell lysate
Lane 3: U937 cell lysate
SPECIFICATIONS
Product Type
Recombinant Rabbit monoclonal primary
Product Name
RRP42 Recombinant Rabbit Monoclonal Antibody [JE55-72] (ET7111-13)
Immunogen
Synthetic peptide within c-terminal human rrp42.
Positive Control
K562 cell lysate, Jurkat cell lysate, U937 cell lysate, zebrafish tissue lysates, human colon carcinoma tissue, human esophagus tissue, human skin tissue, human prostate carcinoma tissue.
PROPERTIES
Storage Condition
Store at +4Á¾ after thawing. Aliquot store at -20Á¾. Avoid repeated freeze / thaw cycles.
Storage Buffer
1*TBS (pH7.4), 0.05% BSA, 40% Glycerol. Preservative: 0.05% Sodium Azide.
PURIFICATION
Protein A affinity purified.
TARGET
SYNONYMS
EAP1 antibody; EXOS7_HUMAN antibody; Exosc7 antibody; Exosome complex component RRP42 antibody; Exosome complex exonuclease RRP42 antibody; Exosome component 7 antibody; FLJ26543 antibody; hRrp42p antibody; KIAA0116 antibody; p8 antibody; Ribosomal RNA processing protein 42 antibody; Ribosomal RNA-processing protein 42 antibody; RRP42 antibody; Rrp42p antibody
FUNCTION
Non-catalytic component of the RNA exosome complex which has 3'->5' exoribonuclease activity and participates in a multitude of cellular RNA processing and degradation events. In the nucleus, the RNA exosome complex is involved in proper maturation of stable RNA species such as rRNA, snRNA and snoRNA, in the elimination of RNA processing by-products and non-coding 'pervasive' transcripts, such as antisense RNA species and promoter-upstream transcripts (PROMPTs), and of mRNAs with processing defects, thereby limiting or excluding their export to the cytoplasm. The RNA exosome may be involved in Ig class switch recombination (CSR) and/or Ig variable region somatic hypermutation (SHM) by targeting AICDA deamination activity to transcribed dsDNA substrates. In the cytoplasm, the RNA exosome complex is involved in general mRNA turnover and specifically degrades inherently unstable mRNAs containing AU-rich elements (AREs) within their 3' untranslated regions, and in RNA surveillance pathways, preventing translation of aberrant mRNAs. It seems to be involved in degradation of histone mRNA. The catalytic inactive RNA exosome core complex of 9 subunits (Exo-9) is proposed to play a pivotal role in the binding and presentation of RNA for ribonucleolysis, and to serve as a scaffold for the association with catalytic subunits and accessory proteins or complexes.