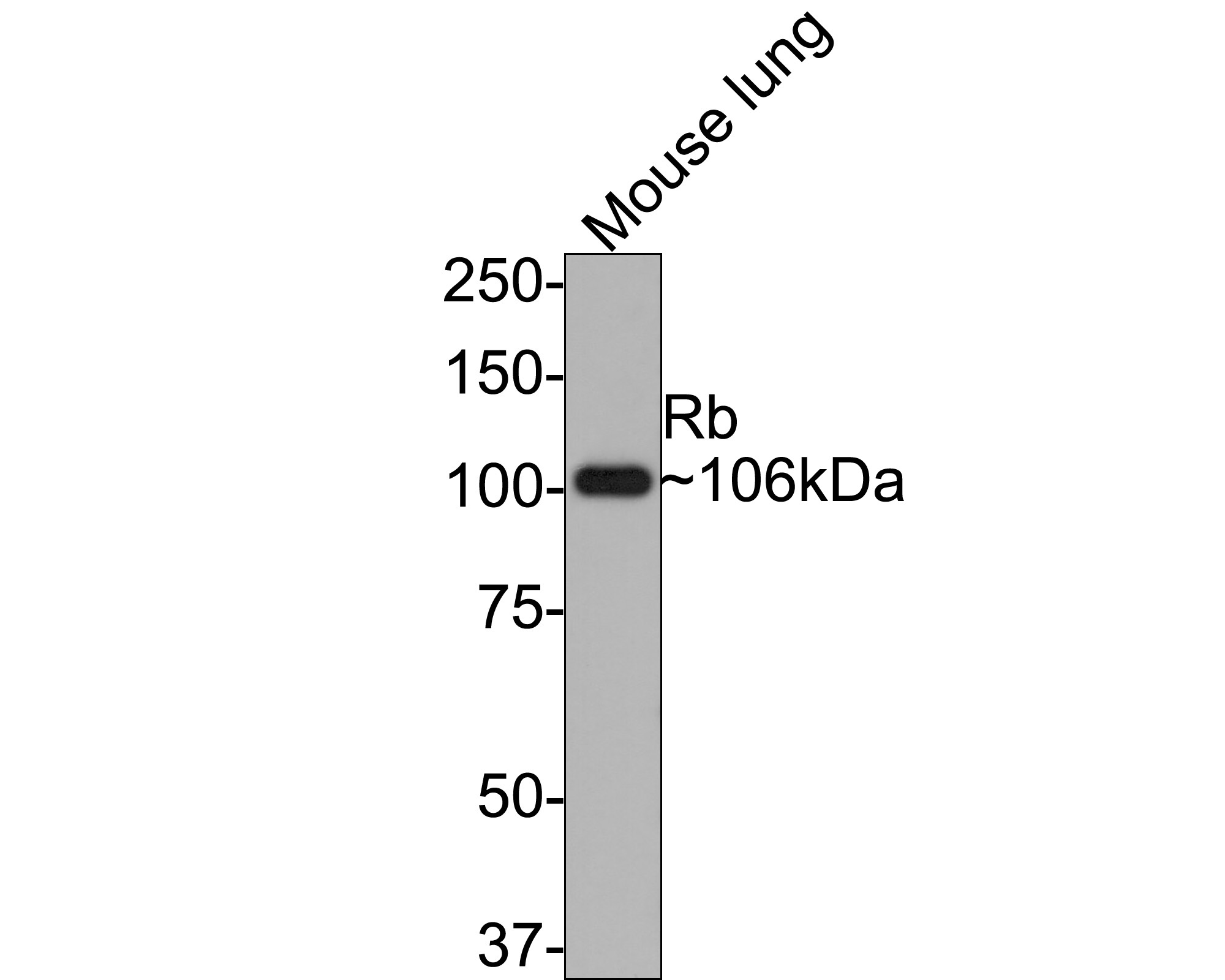 Western blot analysis of Rb on mouse lung tissue lysates. Proteins were transferred to a PVDF membrane and blocked with 5% BSA in PBS for 1 hour at room temperature. The primary antibody (ET1607-9, 1/500) was used in 5% BSA at room temperature for 2 hours. Goat Anti-Rabbit IgG - HRP Secondary Antibody (HA1001) at 1:5,000 dilution was used for 1 hour at room temperature.
SPECIFICATIONS
Product Type
Recombinant Rabbit monoclonal primary
Product Name
Rb Recombinant Rabbit Monoclonal Antibody [SY63-03] (ET1607-9)
Positive Control
Mouse lung tissue lysates, SW480, human spleen tissue, human breast carcinoma tissue.
PROPERTIES
Storage Condition
Store at +4C after thawing. Aliquot store at -20C or -80C. Avoid repeated freeze / thaw cycles.
Storage Buffer
1*TBS (pH7.4), 0.05% BSA, 40% Glycerol. Preservative: 0.05% Sodium Azide.
PURIFICATION
Protein A affinity purified.
TARGET
SYNONYMS
Exon 17 tumor GOS561 substitution mutation causes premature stop antibody; GOS563 exon 17 substitution mutation causes premature stop antibody; OSRC antibody; Osteosarcoma antibody; p105-Rb antibody; P105RB antibody; PP105 antibody; pp110 antibody; PPP1R130 antibody; pRb antibody; Prepro retinoblastoma associated protein antibody; Protein phosphatase 1 regulatory subunit 130 antibody; Rb antibody; RB transcriptional corepressor 1 antibody; RB_HUMAN antibody; RB1 antibody; RB1 gene antibody; Retinoblastoma 1 antibody; Retinoblastoma suspectibility protein antibody; Retinoblastoma-associated protein antibody
SEQUENCE SIMILARITIES
Belongs to the retinoblastoma protein (RB) family.
TISSUE SPECIFICITY
Expressed in the retina. Expressed in foreskin keratinocytes (at protein level).
POST-TRANSLATIONAL MODIFICATION
Phosphorylated by CDK6 and CDK4, and subsequently by CDK2 at Ser-567 in G1, thereby releasing E2F1 which is then able to activate cell growth. Dephosphorylated at the late M phase. SV40 large T antigen, HPV E7 and adenovirus E1A bind to the underphosphorylated, active form of pRb. Phosphorylation at Thr-821 and Thr-826 promotes interaction between the C-terminal domain C and the Pocket domain, and thereby inhibits interactions with heterodimeric E2F/DP transcription factor complexes. Dephosphorylated at Ser-795 by calcineruin upon calcium stimulation. CDK3/cyclin-C-mediated phosphorylation at Ser-807 and Ser-811 is required for G0-G1 transition. Phosphorylated by CDK1 and CDK2 upon TGFB1-mediated apoptosis (By similarity).; N-terminus is methylated by METTL11A/NTM1 (By similarity). Monomethylation at Lys-810 by SMYD2 enhances phosphorylation at Ser-807 and Ser-811, and promotes cell cycle progression. Monomethylation at Lys-860 by SMYD2 promotes interaction with L3MBTL1.; Acetylated during keratinocyte differentiation. Acetylation at Lys-873 and Lys-874 regulates subcellular localization. Can be deacetylated by SIRT1.
FUNCTION
Pediatric cancer retinoblastoma and the formation of other human tumors can be attributed to mutations in the retinoblastoma tumor suppressor gene. The retinoblastoma tumor suppressor gene product, known as Rb or pRb, regulates differentiation, apoptosis and cell cycle control by coordinating the cell cycle, at G1/S, with transcriptional machinery that includes the heterodimeric E2F family. During G1, cyclin D (D1, D2, D3)-dependent kinase-mediated phosphorylation of Rb at Ser 795 marks the conversion of Rb from a transcriptionally repressive, hypophosphorylated state to an inactive, phosphorylated state, which may be sustained through mitosis by differential phosphorylation of up to 16 putative serine or threonine residues, including Ser 249/Thr 252, Thr 373, Thr 356, Ser 780, Ser 807/Ser 811 and Thr 821/Thr 826. Hypophosphorylated Rb represses the transcription of genes controlling cell cycle through direct protein-protein interactions, by binding and inactivating the promoters of transcription factors, and through recruitment of histone deacetylase, which deacetylates promoter regions and enhances nucleosome formation, thereby masking transcription enhancing cis elements.