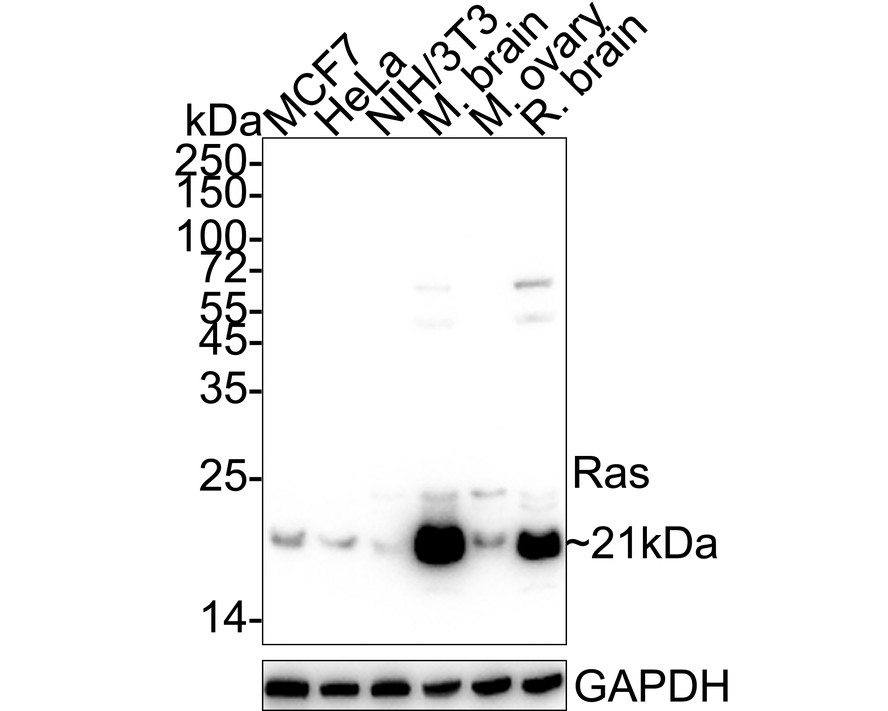 Western blot analysis of Ras on different cell lysates using anti-Ras antibody at 1/1000 dilution.
Positive control:
Lane 1: PC12
Lane 2: MCF-7
Lane 3: 293T
Lane 4: Mouse brain
Lane 5: Mouse intestine
Lane 6: Rat brain
SPECIFICATIONS
Product Type
Rabbit polyclonal primary
Product Name
Ras Rabbit Polyclonal Antibody (ER40115)
Immunogen
Synthetic peptide within n-terminal human ras.
Positive Control
PC12, MCF-7, 293T, Hela, HepG2, mouse brain tissue, mouse intestines tissue, rat brain tissue, human kidney tissue, mouse kidney tissue, mouse small intestine tissue, mouse pancreas tissue, rat kidney tissue, rat small intestine tissue, human liver cancer tissue.
PROPERTIES
Storage Condition
Store at +4C after thawing. Aliquot store at -20C or -80C. Avoid repeated freeze / thaw cycles.
Storage Buffer
1*PBS (pH7.4), 0.2% BSA, 40% Glycerol. Preservative: 0.05% Sodium Azide.
PURIFICATION
Peptide affinity purified
TARGET
SYNONYMS
C-BAS/HAS antibody; c-H-ras antibody; C-HA-RAS1 antibody; CTLO antibody; GTPase HRas antibody; GTPase KRas antibody; GTPase NRas antibody; H-Ras-1 antibody; H-RASIDX antibody; Ha-Ras antibody; HAMSV antibody; HRAS antibody; HRAS1 antibody; K RAS2A antibody; K RAS2B antibody; K RAS4A antibody; K RAS4B antibody; K-RAS antibody; KRAS antibody; KRAS1 antibody; KRAS2 antibody; N-RAS antibody; N-terminally processed antibody; NRAS antibody; NRAS1 antibody; p21ras antibody; RASH_HUMAN antibody; RASH1 antibody; RASK2 antibody; Transforming protein p21 antibody; v Ha ras Harvey rat sarcoma viral oncogene homolog antibody; v Ki ras2 Kirsten rat sarcoma viral oncogene homolog antibody; v ras neuroblastoma RAS viral oncogene homolog antibody
SEQUENCE SIMILARITIES
Belongs to the small GTPase superfamily. Ras family.
POST-TRANSLATIONAL MODIFICATION
Palmitoylated by the ZDHHC9-GOLGA7 complex. Depalmitoylated by ABHD17A, ABHD17B and ABHD17C. A continuous cycle of de- and re-palmitoylation regulates rapid exchange between plasma membrane and Golgi.; Acetylation at Lys-104 prevents interaction with guanine nucleotide exchange factors (GEFs).; Ubiquitinated by the BCR(LZTR1) E3 ubiquitin ligase complex at Lys-170 in a non-degradative manner, leading to inhibit Ras signaling by decreasing Ras association with membranes.; Phosphorylation at Ser-89 by STK19 enhances NRAS-association with its downstream effectors.
SUBCELLULAR LOCATION
Cytoplasmic side, cell membrane, lipid-anchor, golgi apparatus membrane
FUNCTION
Ras superfamily is a protein superfamily of small GTPases, which are all related, to a degree, to the Ras protein subfamily (the key human members of which are KRAS, NRAS, and HRAS). Receptor tyrosine kinases and G protein-coupled receptors activate Ras, which then stimulates the Raf-MEK-MAPK pathway. GTPase-activating proteins (GAP) normally facilitate the inactivation of Ras. However, research studies have shown that in 30% of human tumors, point mutations in Ras prevent the GAP-mediated inhibition of this pathway. The most common oncogenic Ras mutation found in tumors is Gly12 to Asp12 (G12D), which prevents Ras inactivation, possibly by increasing the overall rigidity of the protein. This antibody is predicted to react with H-Ras, N-Ras and K-Ras.
CITATIONS
Qiu, Qiang et al.

Targeting glutaminase1 and synergizing with clinical drugs achieved more promising antitumor activity on multiple myeloma. | Oncotarget [2019]

Shen, Junyi et al.

Loss of FoxA2 accelerates neoplastic changes in the intrahepatic bile duct partly via the MAPK signaling pathway. | Aging [2019]