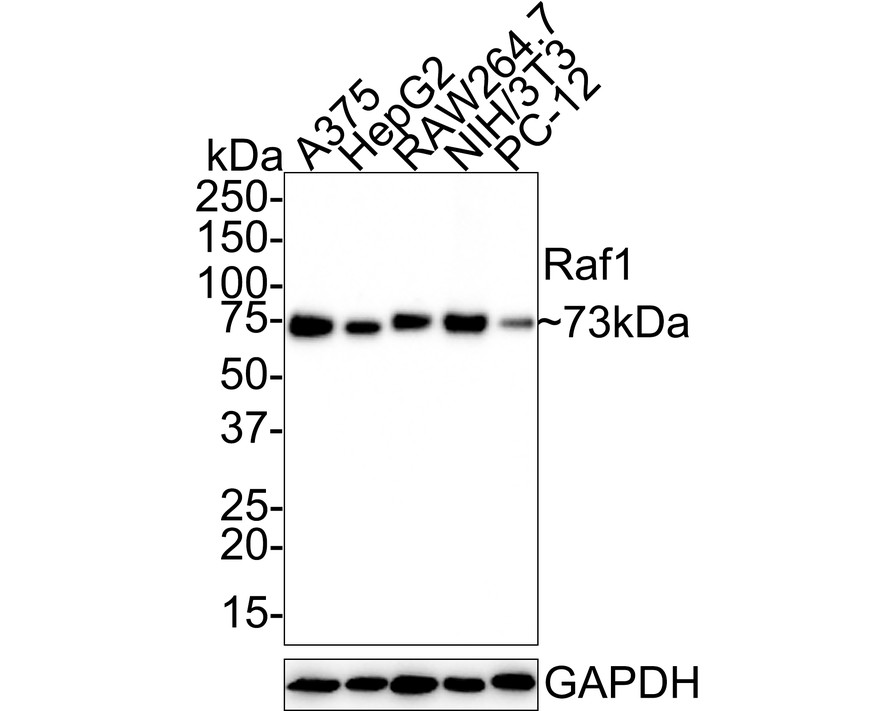 Western blot analysis of Raf1 on HepG2 cells lysates using anti-Raf1 antibody at 1/1,000 dilution.
SPECIFICATIONS
Product Type
Recombinant Rabbit monoclonal primary
Product Name
Raf1 Recombinant Rabbit Monoclonal Antibody [JJ086-06] (ET1701-21)
PROPERTIES
Storage Condition
Store at +4C after thawing. Aliquot store at -20C or -80C. Avoid repeated freeze / thaw cycles.
Storage Buffer
1*TBS (pH7.4), 0.05% BSA, 40% Glycerol. Preservative: 0.05% Sodium Azide.
TARGET
SYNONYMS
c Raf antibody; C-raf antibody; C-Raf proto-oncogene, serine/threonine kinase antibody; CMD1NN antibody; Craf 1 transforming gene antibody; cRaf antibody; Craf1 transforming gene antibody; EC 2.7.11.1 antibody; kinase Raf1 antibody; Murine sarcoma 3611 oncogene 1 antibody; NS5 antibody; Oncogene MIL antibody; Oncogene RAF1 antibody; OTTHUMP00000160218 antibody; OTTHUMP00000207813 antibody; OTTHUMP00000209389 antibody; Protein kinase raf 1 antibody; Proto-oncogene c-RAF antibody; Raf 1 antibody; Raf 1 proto oncogene serine/threonine kinase antibody; RAF antibody; Raf proto oncogene serine/threonine protein kinase antibody; RAF proto-oncogene serine/threonine-protein kinase antibody; RAF-1 antibody; RAF1 antibody; RAF1_HUMAN antibody; Similar to murine leukemia viral (V-raf-1) oncogene homolog 1 antibody; TRANSFORMING REPLICATION-DEFECTIVE MURINE RETROVIRUS 3611-MSV antibody; v raf 1 murine leukemia viral oncogene homolog 1 antibody; v-raf murine sarcoma viral oncogene homolog 1 antibody; v-raf-1 murine leukemia viral oncogene-like protein 1 antibody; vraf1 murine leukemia viral oncogene homolog 1 antibody
SEQUENCE SIMILARITIES
Belongs to the protein kinase superfamily. TKL Ser/Thr protein kinase family. RAF subfamily.
TISSUE SPECIFICITY
In skeletal muscle, isoform 1 is more abundant than isoform 2.
POST-TRANSLATIONAL MODIFICATION
Phosphorylation at Thr-269, Ser-338, Tyr-341, Thr-491 and Ser-494 results in its activation. Phosphorylation at Ser-29, Ser-43, Ser-289, Ser-296, Ser-301 and Ser-642 by MAPK1/ERK2 results in its inactivation. Phosphorylation at Ser-259 induces the interaction with YWHAZ and inactivates kinase activity. Dephosphorylation of Ser-259 by the complex containing protein phosphatase 1, SHOC2 and M-Ras/MRAS relieves inactivation, leading to stimulate RAF1 activity. Phosphorylation at Ser-338 by PAK1 and PAK5 and Ser-339 by PAK1 is required for its mitochondrial localization. Phosphorylation at Ser-621 in response to growth factor treatment stabilizes the protein, possibly by preventing proteasomal degradation. Phosphorylation at Ser-289, Ser-296, Ser-301, Ser-338 and Ser-621 are somehow linked to the methylation potential of cells. Treatment of cells with HGF in the presence of the methylation inhibitor 5'-methylthioadenosine (MTA) results in increased phosphorylation at Ser-338 and Ser-621 and decreased phosphorylation at Ser-296, Ser-301 and Ser-338. Dephosphorylation at Ser-338 by PPP5C results in an activity decrease.; Methylated at Arg-563 in response to EGF treatment. This modification leads to destabilization of the protein, possibly through proteasomal degradation.
SUBCELLULAR LOCATION
Cytoplasm, Cell membrane, Mitochondrion, Nucleus.
FUNCTION
Several serine/threonine protein kinases have been implicated as intermediates in signal transduction pathways. These include ERK/MAP kinases, ribosomal S6 kinase (Rsk)and Raf-1. Raf-1 is a cytoplasmic protein with intrinsic serine/threonine activity. It is broadly expressed in nearly all cell lines tested to date and is the cellular homolog of v-Raf, the product of the transforming gene of the 3611 strain of murine sarcoma virus. The unregulated kinase activity of the v-Raf protein has been associated with transformation and mitogenesis while the activity of Raf-1 is normally suppressed by a regulatory N-terminal domain. Raf-1 is activated in response to activation of a variety of tyrosine kinase receptors as well as in response to pp60v-Src expression. There is accumulating evidence that Ras p21 may play a role in activation of Raf-1 and may play the role of the messenger from membrane tyrosine kinases to Raf-1.