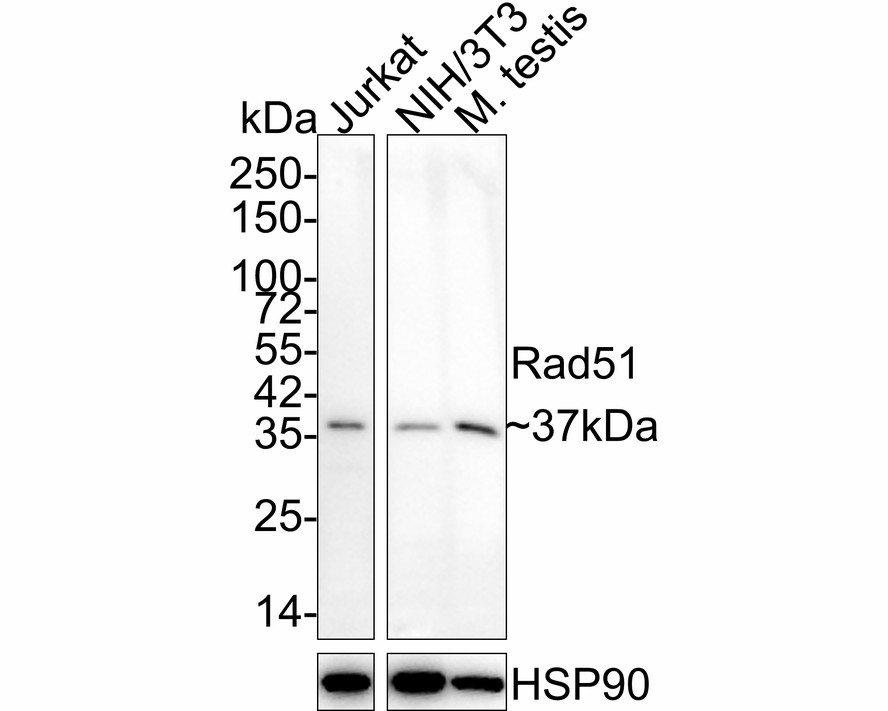 Western blot analysis of Rad51 on different lysates. Proteins were transferred to a PVDF membrane and blocked with 5% BSA in PBS for 1 hour at room temperature. The primary antibody (ET1705-96, 1/500) was used in 5% BSA at room temperature for 2 hours. Goat Anti-Rabbit IgG - HRP Secondary Antibody (HA1001) at 1:200,000 dilution was used for 1 hour at room temperature.
Positive control:
Lane 1: Mouse testis tissue lysate
Lane 2: Jurkat cell lysate
SPECIFICATIONS
Product Type
Recombinant Rabbit monoclonal primary
Product Name
Rad51 Recombinant Rabbit Monoclonal Antibody [JM54-26] (ET1705-96)
Immunogen
Synthetic peptide within human rad51 aa 1-50 / 339.
Positive Control
Mouse testis tissue lysates, Hela, LOVO, PANC-1, rat epididymis tissue, human placenta tissue, mouse testis tissue, Jurkat.
PROPERTIES
Storage Condition
Store at +4C after thawing. Aliquot store at -20C or -80C. Avoid repeated freeze / thaw cycles.
Storage Buffer
1*TBS (pH7.4), 0.05% BSA, 40% Glycerol. Preservative: 0.05% Sodium Azide.
PURIFICATION
Protein A affinity purified.
TARGET
SYNONYMS
BRCA1/BRCA2 containing complex, subunit 5 antibody; BRCC 5 antibody; BRCC5 antibody; DNA repair protein RAD51 homolog 1 antibody; DNA repair protein rhp51 antibody; FANCR antibody; hRAD51 antibody; HsRAD51 antibody; HsT16930 antibody; MRMV2 antibody; Rad 51 antibody; RAD51 antibody; RAD51 homolog (RecA homolog, E. coli) (S. cerevisiae) antibody; RAD51 homolog A antibody; RAD51 homolog antibody; RAD51 recombinase antibody; RAD51, S. cerevisiae, homolog of antibody; RAD51_HUMAN antibody; RAD51A antibody; RECA antibody; RecA like protein antibody; RecA, E. coli, homolog of antibody; Recombination protein A antibody
SEQUENCE SIMILARITIES
Belongs to the RecA family. RAD51 subfamily.
TISSUE SPECIFICITY
Highly expressed in testis and thymus, followed by small intestine, placenta, colon, pancreas and ovary. Weakly expressed in breast.
POST-TRANSLATIONAL MODIFICATION
Ubiquitinated by the SCF(FBH1) E3 ubiquitin ligase complex, regulating RAD51 subcellular location and preventing its association with DNA. Ubiquitinated by RFWD3 in response to DNA damage: ubiquitination leads to degradation by the proteasome, promoting homologous recombination.; Phosphorylated. Phosphorylation of Thr-309 by CHEK1 may enhance association with chromatin at sites of DNA damage and promote DNA repair by homologous recombination. Phosphorylation by ABL1 inhibits function.
SUBCELLULAR LOCATION
Mitochondrion matrix, Nucleus, centrosome, Cytoplasm, perinuclear region, Chromosome.
FUNCTION
Rad51 (RECA, BRCC5) interacts with BRCA1 and BRCA2 to influence subcellular localization and cellular response to DNA damage. BRCA2 inactivation may be a key event leading to genomic instability and tumorigenesis from deregulation of Rad51. Rad52 forms a heptameric ring that binds single-stranded DNA ends and catalyzes DNA-DNA interaction necessary for the annealing of complementary strands. Rad52 can interact with Rad51. Rad54A of the DEAD-like helicase superfamily binds to double-strand DNA and induces a DNA topological change, which is thought to facilitate homologous DNA pairing and stimulate DNA recombination. Rad54B of the DEAD-like helicase superfamily binds to double-stranded DNA and displays ATPase activity in the presence of DNA. Rad54B is abundant in testis and spleen, and mutations of this gene occur in primary lymphoma and colon cancer. MRE11 (meiotic recombination 11, ATLD, HNGS1) is a nuclear 3′-5′ exonuclease/endonuclease that associates with Rad50 and influences homologous recombination, telomere length maintenance, and DNA double-strand break repair. MRE11 is most abundant in proliferating tissues.
CITATIONS
Zhao, M., Wang, Y., Jia,......

Zhao, M., Wang, Y., Jia, X., Liu, W., Zhang, X., & Cui, J. (2021). The effect of ochratoxin A on cytotoxicity and glucose metabolism in human esophageal epithelium Het-1A cells. Toxicon : official journal of the International Society on Toxinology, 198, 80–92.