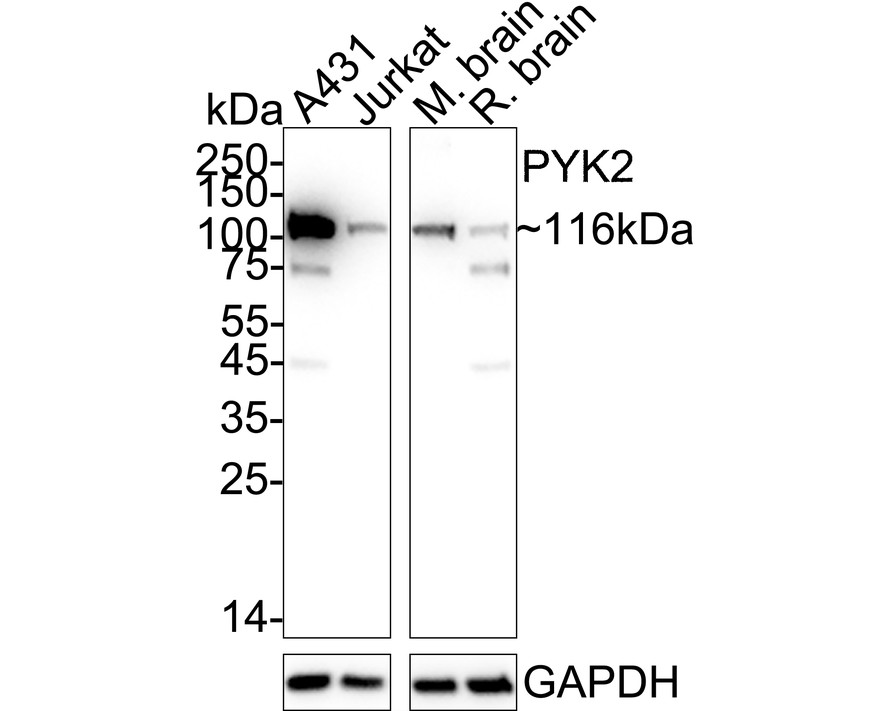 Western blot analysis of PYK2 on mouse brain tissue lysates. Proteins were transferred to a PVDF membrane and blocked with 5% BSA in PBS for 1 hour at room temperature. The primary antibody (ET1610-82, 1/500) was used in 5% BSA at room temperature for 2 hours. Goat Anti-Rabbit IgG - HRP Secondary Antibody (HA1001) at 1:5,000 dilution was used for 1 hour at room temperature.
SPECIFICATIONS
Product Type
Recombinant Rabbit monoclonal primary
Product Name
PYK2 Recombinant Rabbit Monoclonal Antibody [SC06-15] (ET1610-82)
Immunogen
Synthetic peptide within n-terminal human pyk2.
Positive Control
Mouse brain tissue lysates, Hela, SHG-44, SH-SY5Y, human tonsil tissue, human spleen tissue, human kidney tissue, mouse brain tissue, mouse kidney tissue.
PROPERTIES
Storage Condition
Store at +4C after thawing. Aliquot store at -20C or -80C. Avoid repeated freeze / thaw cycles.
Storage Buffer
1*TBS (pH7.4), 0.05% BSA, 40% Glycerol. Preservative: 0.05% Sodium Azide.
PURIFICATION
Protein A affinity purified.
TARGET
SYNONYMS
CADTK antibody; CAK-beta antibody; CAKB antibody; CAKbeta antibody; Calcium regulated non receptor proline rich tyrosine kinase antibody; Calcium-dependent tyrosine kinase antibody; Cell adhesion kinase beta antibody; E430023O05Rik antibody; EC 2.7.10.2 antibody; FADK 2 antibody; FADK2 antibody; FAK2 antibody; FAK2_HUMAN antibody; Focal adhesion kinase 2 antibody; MGC124628 antibody; PKB antibody; Proline-rich tyrosine kinase 2 antibody; Protein kinase B antibody; Protein Tyrosine Kinase 2 Beta antibody; Protein-tyrosine kinase 2-beta antibody; PTK antibody; PTK2B antibody; PTK2B protein tyrosine kinase 2 beta antibody; PYK2 antibody; RAFTK antibody; RAFTK2 antibody; Related adhesion focal tyrosine kinase antibody
SEQUENCE SIMILARITIES
Belongs to the protein kinase superfamily. Tyr protein kinase family. FAK subfamily.
TISSUE SPECIFICITY
Most abundant in the brain, with highest levels in amygdala and hippocampus. Low levels in kidney (at protein level). Also expressed in spleen and lymphocytes.
POST-TRANSLATIONAL MODIFICATION
Phosphorylated on tyrosine residues in response to various stimuli that elevate the intracellular calcium concentration; this activation is indirect and may be mediated by production of reactive oxygen species (ROS). Tyr-402 is the major autophosphorylation site, but other kinases can also phosphorylate Tyr-402. Autophosphorylation occurs in trans, i.e. one subunit of the dimeric receptor phosphorylates tyrosine residues on the other subunit. Phosphorylation at Tyr-402 promotes interaction with SRC and SRC family members, leading to phosphorylation at Tyr-579; Tyr-580 and Tyr-881. Phosphorylation at Tyr-881 is important for interaction with GRB2. Phosphorylated on tyrosine residues upon activation of FGR and PKC. Recruitment by NPHP1 to cell matrix adhesions initiates Tyr-402 phosphorylation. In monocytes, adherence to substrata is required for tyrosine phosphorylation and kinase activation. Angiotensin II, thapsigargin and L-alpha-lysophosphatidic acid (LPA) also induce autophosphorylation and increase kinase activity. Phosphorylation by MYLK promotes ITGB2 activation and is thus essential to trigger neutrophil transmigration during lung injury. Dephosphorylated by PTPN12.
SUBCELLULAR LOCATION
Cell membrane, Nucleus, Cytoplasm, perinuclear region, focal adhesion, lamellipodium, cell cortex.
FUNCTION
Focal adhesion kinase (FAK) was initially identified as a substrate for the intrinsic protein tyrosine kinase activity of Src-encoded pp60. The deduced amino acid sequence of FAK p125 has shown it to be a cytoplasmic protein tyrosine kinase whose sequence and structural organization are unique compared to other protein families described. A putative new member of the FAK family, designated PYK2 (proline-rich tyrosine kinase 2), exhibits 61% sequence identity with FAK over its kinase domain. PYK2 (also designated CAKb or RAFTK) is highly expressed in the central nervous system. Activation of the kinase leads to modulation of ion channel function and the activation of the MAPK signaling pathway. PYK2 is rapidly phosphorylated on tyrosine residues in response to stimuli that increase intracellular calcium levels and compounds that activate members of the PKC family of kinases, such as phorbol esters.