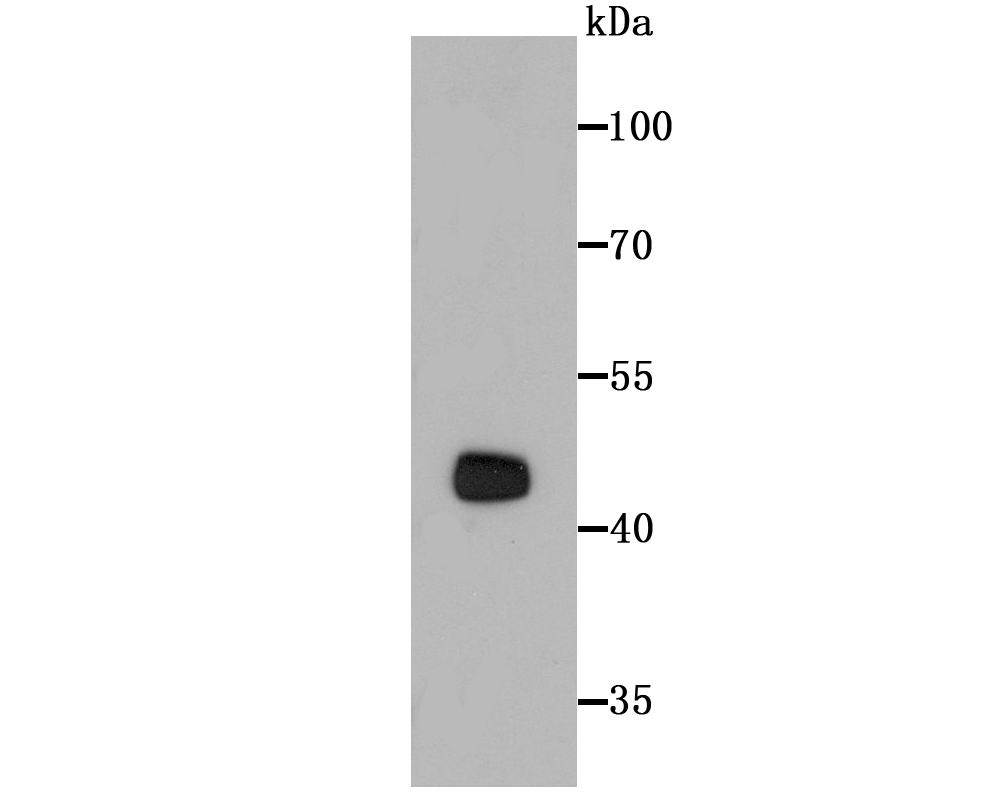 Western blot analysis of PTEN on MCF-7 cell lysates using anti-PTEN antibody at 1/500 dilution.
SPECIFICATIONS
Product Type
Rabbit polyclonal primary
Product Name
PTEN Rabbit Polyclonal Antibody (ER1706-51)
Immunogen
Recombinant protein within human pten aa 70-268.
Positive Control
MCF-7, Hela, HUVEC, SH-SY5Y, human thyroid gland tissue, human spleen tissue, mouse brain tissue.
PROPERTIES
Storage Condition
Store at +4C after thawing. Aliquot store at -20C or -80C. Avoid repeated freeze / thaw cycles.
Storage Buffer
1*PBS (pH7.4), 0.2% BSA, 50% Glycerol. Preservative: 0.05% Sodium Azide.
PURIFICATION
Protein affinity purified.
TARGET
SYNONYMS
10q23del antibody; BZS antibody; DEC antibody; GLM2 antibody; MGC11227 antibody; MHAM antibody; MMAC1 antibody; MMAC1 phosphatase and tensin homolog deleted on chromosome 10 antibody; Mutated in multiple advanced cancers 1 antibody; Phosphatase and tensin homolog antibody; Phosphatase and tensin like protein antibody; Phosphatidylinositol 3,4,5-trisphosphate 3-phosphatase and dual-specificity protein phosphatase PTEN antibody; Pten antibody; PTEN_HUMAN antibody; PTEN1 antibody; TEP1 antibody
SEQUENCE SIMILARITIES
Belongs to the PTEN phosphatase protein family.
TISSUE SPECIFICITY
Expressed at a relatively high level in all adult tissues, including heart, brain, placenta, lung, liver, muscle, kidney and pancreas.
POST-TRANSLATIONAL MODIFICATION
Constitutively phosphorylated by CK2 under normal conditions. Phosphorylated in vitro by MAST1, MAST2, MAST3 and STK11. Phosphorylation results in an inhibited activity towards PIP3. Phosphorylation can both inhibit or promote PDZ-binding. Phosphorylation at Tyr-336 by FRK/PTK5 protects this protein from ubiquitin-mediated degradation probably by inhibiting its binding to NEDD4. Phosphorylation by ROCK1 is essential for its stability and activity. Phosphorylation by PLK3 promotes its stability and prevents its degradation by the proteasome.; Monoubiquitinated; monoubiquitination is increased in presence of retinoic acid. Deubiquitinated by USP7; leading to its nuclear exclusion. Monoubiquitination of one of either Lys-13 and Lys-289 amino acid is sufficient to modulate PTEN compartmentalization. Ubiquitinated by XIAP/BIRC4.
SUBCELLULAR LOCATION
Nucleus. Cytoplasm. Secreted.
FUNCTION
As human tumors progress to advanced stages, one genetic alteration that occurs at high frequency is a loss of heterozygosity (LOH) at chromosome 10q23. Mapping of homozygous deletions on this chromosome led to the isolation of the PTEN gene, also designated MMAC1 (for mutated in multiple advanced cancers) and TEP1. This candidate tumor suppressor gene exhibits a high frequency of mutations in human glioblastomas and is also mutated in other cancers, including sporadic brain, breast, kidney and prostate cancers. PTEN has been associated with Cowden disease, an autosomal dominant cancer predisposition syndrome. The PTEN gene product is a putative protein tyrosine phosphatase that is localized to the cytoplasm and shares extensive homology with the cytoskeletal proteins tensin and auxilin. Gene transfer studies have indicated that the phosphatase domain of PTEN is essential for growth suppression of glioma cells.