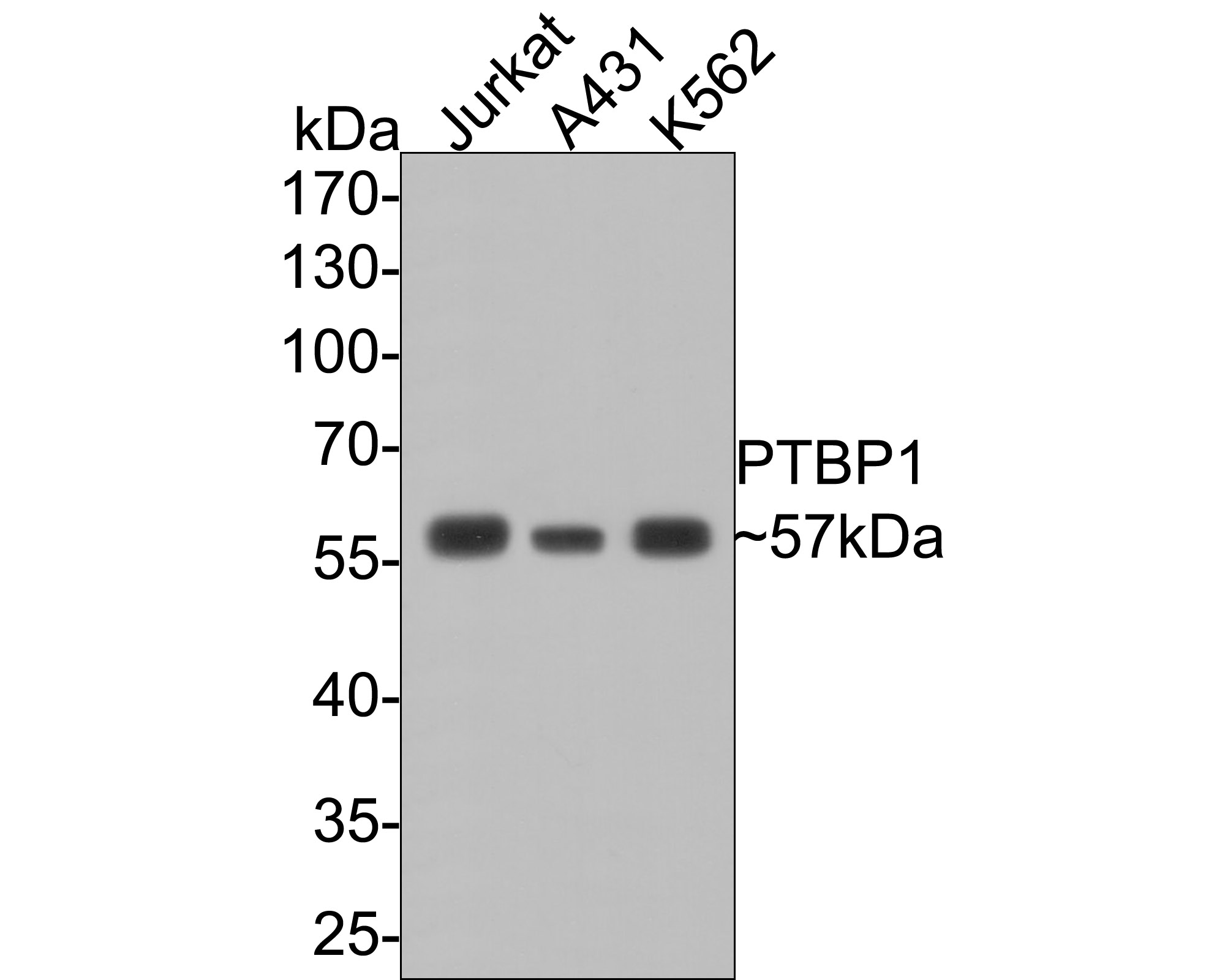 Western blot analysis of PTBP1 on different cell lysates using anti-PTBP1 antibody at 1/5,000 dilution.
Positive control:
Lane 1: Jurkat
Lane 2: A431
Lane 3: K562
SPECIFICATIONS
Product Name
PTBP1 Mouse Monoclonal Antibody [9A1] (EM1701-63)
Immunogen
Recombinant protein within human ptbp1 aa 320-550.
Positive Control
Jurkat, A431, K562, rat testis tissue, human tonsil tissue, human colon cancer tissue, human kidney tissue, 293T, A549, SW480, K562.
PROPERTIES
Storage Condition
Store at +4C after thawing. Aliquot store at -20C. Avoid repeated freeze / thaw cycles.
Storage Buffer
1*PBS (pH7.4), 0.2% BSA, 50% Glycerol. Preservative: 0.05% Sodium Azide.
TARGET
SYNONYMS
57 kDa RNA binding protein PPTB 1 antibody; 57 kDa RNA-binding protein PPTB-1 antibody; Heterogeneous nuclear ribonucleoprotein I antibody; Heterogeneous Nuclear Ribonucleoprotein Polypeptide I antibody; hnRNP I antibody; HNRNP-I antibody; HNRNPI antibody; HNRPI antibody; MGC10830 antibody; MGC8461 antibody; Polypyrimidine tract binding protein (heterogeneous nuclear ribonucleoprotein I) antibody; Polypyrimidine Tract Binding Protein 1 antibody; Polypyrimidine tract binding protein antibody; Polypyrimidine tract-binding protein 1 antibody; pPTB antibody; PTB 1 antibody; PTB 2 antibody; PTB 3 antibody; PTB 4 antibody; PTB antibody; PTB T antibody; PTB1 antibody; PTB2 antibody; PTB3 antibody; PTB4 antibody; PTBP 1 antibody; PTBP1 antibody; PTBP1_HUMAN antibody; PTBT antibody; RNA Binding Protein antibody
FUNCTION
Plays a role in pre-mRNA splicing and in the regulation of alternative splicing events. Activates exon skipping of its own pre-mRNA during muscle cell differentiation. Binds to the polypyrimidine tract of introns. May promote RNA looping when bound to two separate polypyrimidine tracts in the same pre-mRNA. May promote the binding of U2 snRNP to pre-mRNA. Cooperates with RAVER1 to modulate switching between mutually exclusive exons during maturation of the TPM1 pre-mRNA. Represses the splicing of MAPT/Tau exon 10. In case of infection by picornaviruses, binds to the viral internal ribosome entry site (IRES) and stimulates the IRES-mediated translation.