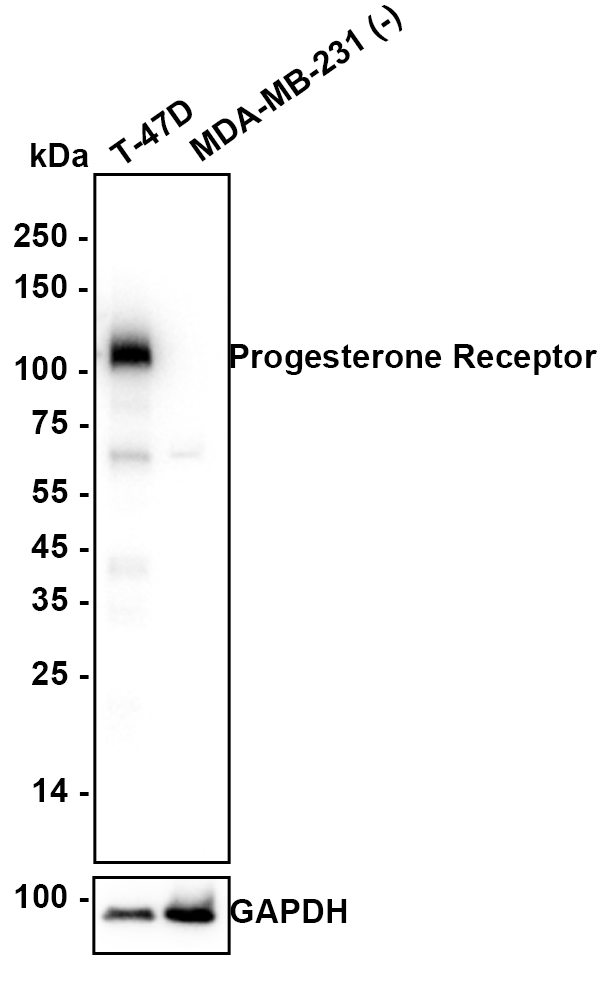 ICC staining of Progesterone Receptor in MCF-7 cells (green). Formalin fixed cells were permeabilized with 0.1% Triton X-100 in TBS for 10 minutes at room temperature and blocked with 1% Blocker BSA for 15 minutes at room temperature. Cells were probed with the primary antibody (ET1702-24, 1/50) for 1 hour at room temperature, washed with PBS. Alexa Fluor®488 Goat anti-Rabbit IgG was used as the secondary antibody at 1/1,000 dilution. The nuclear counter stain is DAPI (blue).
SPECIFICATIONS
Product Type
Recombinant Rabbit monoclonal primary
Product Name
Progesterone Receptor Recombinant Rabbit Monoclonal Antibody [JF0549] (ET1702-24)
Immunogen
Synthetic peptide within n-terminal human progesterone receptor.
Positive Control
MCF-7, human breast tissue, human cervix tissue, human uterus tissue.
PROPERTIES
Storage Condition
Store at +4C after thawing. Aliquot store at -20C or -80C. Avoid repeated freeze / thaw cycles.
Storage Buffer
1*TBS (pH7.4), 0.05% BSA, 40% Glycerol. Preservative: 0.05% Sodium Azide.
PURIFICATION
Protein A affinity purified.
TARGET
SYNONYMS
NR3C3 antibody; Nuclear receptor subfamily 3 group C member 3 antibody; PGR antibody; PR antibody; PRA antibody; PRB antibody; PRGR_HUMAN antibody; Progesterone receptor antibody; Progestin receptor form A antibody; Progestin receptor form B antibody
SEQUENCE SIMILARITIES
Belongs to the nuclear hormone receptor family. NR3 subfamily.
TISSUE SPECIFICITY
In reproductive tissues the expression of isoform A and isoform B varies as a consequence of developmental and hormonal status. Isoform A and isoform B are expressed in comparable levels in uterine glandular epithelium during the proliferative phase of the menstrual cycle. Expression of isoform B but not of isoform A persists in the glands during mid-secretory phase. In the stroma, isoform A is the predominant form throughout the cycle. Heterogeneous isoform expression between the glands of the endometrium basalis and functionalis is implying region-specific responses to hormonal stimuli.
POST-TRANSLATIONAL MODIFICATION
Phosphorylated on multiple serine sites. Several of these sites are hormone-dependent. Phosphorylation on Ser-294 occurs preferentially on isoform B, is highly hormone-dependent and modulates ubiquitination and sumoylation on Lys-388. Phosphorylation on Ser-102 and Ser-345 also requires induction by hormone. Basal phosphorylation on Ser-81, Ser-162, Ser-190 and Ser-400 is increased in response to progesterone and can be phosphorylated in vitro by the CDK2-A1 complex. Increased levels of phosphorylation on Ser-400 also in the presence of EGF, heregulin, IGF, PMA and FBS. Phosphorylation at this site by CDK2 is ligand-independent, and increases nuclear translocation and transcriptional activity. Phosphorylation at Ser-162 and Ser-294, but not at Ser-190, is impaired during the G(2)/M phase of the cell cycle. Phosphorylation on Ser-345 by ERK1/2 MAPK is required for interaction with SP1.; Sumoylation is hormone-dependent and represses transcriptional activity. Sumoylation on all three sites is enhanced by PIAS3. Desumoylated by SENP1. Sumoylation on Lys-388, the main site of sumoylation, is repressed by ubiquitination on the same site, and modulated by phosphorylation at Ser-294.; Ubiquitination is hormone-dependent and represses sumoylation on the same site. Promoted by MAPK-mediated phosphorylation on Ser-294.; Palmitoylated by ZDHHC7 and ZDHHC21. Palmitoylation is required for plasma membrane targeting and for rapid intracellular signaling via ERK and AKT kinases and cAMP generation.
SUBCELLULAR LOCATION
Nucleus, Cytoplasm, Mitochondrion outer membrane.
FUNCTION
The effects of progesterone are mediated by two functionally different isoforms of the progesterone receptor, PR-A and PR-B, which are transcribed from distinct, estrogen-inducible promoters within a single copy of the PR gene. The first 164 amino acids of PR-B are absent in PR-A. Progesterone-bound PR-A and PR-B have different transcription activation properties. Specifically, PR-B functions as a transcriptional activator in most cell and promoter contexts, while PR-A is transcriptionally inactive and functions as a strong ligand-dependent transdominant repressor of steroid hormone receptor transcriptional activity. An inhibitory domain (ID), which maps to the amino terminus of the receptor, exists within both PR isoforms. Interestingly, the ID is functionally active only in PR-A and is necessary for steroid hormone transrepression by PR-A, suggesting that PR-A and PR-B may have different conformations in the cell. Phosphorylation of human PR occurs on at least nine serine residues. Phosphorylation of three of the residues is hormone-inducible (Ser 102, Ser 294 and Ser 345); the others are basal but hormone-stimulated.