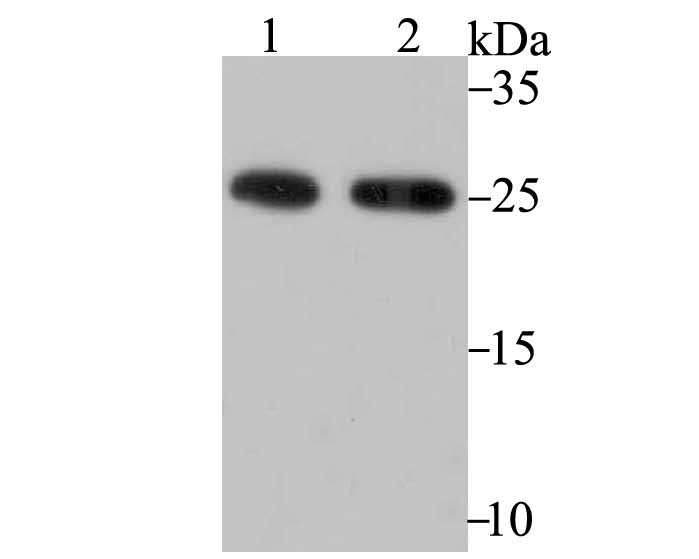 Western blot analysis of PRDX6 on PC-3M (1) and K562 (2) using anti-PRDX6 antibody at 1/500 dilution.
SPECIFICATIONS
Product Name
PRDX6 Mouse Monoclonal Antibody [7G1] (EM1701-73)
Immunogen
Recombinant full length protein of human prdx6.
Positive Control
PC-3M, K562, A431, SiHa, human liver tissue, human colon cancer tissue, human kidney tissue, human placenta tissue.
PROPERTIES
Storage Condition
Store at +4C after thawing. Aliquot store at -20C. Avoid repeated freeze / thaw cycles.
Storage Buffer
1*PBS (pH7.4), 0.2% BSA, 50% Glycerol. Preservative: 0.05% Sodium Azide.
TARGET
SYNONYMS
1 Cys antibody; 1 Cys peroxiredoxin antibody; 1 Cys PRX antibody; 1 cysPrx antibody; 1-Cys peroxiredoxin antibody; 1-Cys PRX antibody; 24 kDa protein antibody; 9430088D19Rik antibody; AA690119 antibody; Acidic calcium independent phospholipase A2 antibody; Acidic calcium-independent phospholipase A2 antibody; aiPLA2 antibody; Antioxidant protein 2 antibody; AOP2 antibody; Aop2 rs3 antibody; Brp 12 antibody; Ciliary body glutathione peroxidase antibody; CP 3 antibody; EC 1.11.1.15 antibody; EC 1.11.1.7 antibody; EC 3.1.1. antibody; Epididymis secretory sperm binding protein Li 128m antibody; GPx antibody; HEL S 128m antibody; KIAA0106 antibody; Liver 2D page spot 40 antibody; Ltw4 antibody; Lvtw 4 antibody; MGC46173 antibody; mKIAA0106 antibody; Non selenium glutathione peroxidase antibody; Non-selenium glutathione peroxidase antibody; NSGPx antibody; ORF06 antibody; OTTHUMP00000032693 antibody; p29 antibody; Peroxiredoxin-6 antibody; Peroxiredoxin6 antibody; PHGPx antibody; Phospholipase A2 lysosomal antibody; PLA2 antibody; PRDX 6 antibody; Prdx5 antibody; PRDX6 antibody; Prdx6 rs3 antibody; PRDX6_HUMAN antibody; PRX antibody; Red blood cells page spot 12 antibody; Thiol specific antioxidant protein antibody
SEQUENCE SIMILARITIES
Belongs to the peroxiredoxin family. Prx6 subfamily.
POST-TRANSLATIONAL MODIFICATION
Irreversibly inactivated by overoxidation of Cys-47 to sulfinic acid (Cys-SO(2)H) and sulfonic acid (Cys-SO(3)H) forms upon oxidative stress.; Phosphorylation at Thr-177 by MAP kinases increases the phospholipase activity of the enzyme.
FUNCTION
The peroxiredoxin (PRX) family comprises six antioxidant proteins, PRX I, II, III, IV, V and VI, which protect cells from reactive oxygen species (ROS) by preventing the metal-catalyzed oxidation of enzymes. The PRX proteins primarily utilize thioredoxin as the electron donor for antioxidation, although they are fairly promiscuous with regard to the hydroperoxide substrate. In addition to protection from ROS, peroxiredoxins are also involved in cell proliferation, differentiation and gene expression. PRX I, II, IV and VI show diffuse cytoplasmic localization, while PRX III and V exhibit distinct mitochondrial localization.PRX VI, a 1-Cys peroxiredoxin (also known as antioxidant protein 2 or AOP2), is highly expressed in most tissues, particularly in epithelial cells. Localized to the cell cytosol, PRX VI functions independently of other peroxiredoxins and antioxidant proteins, specializing in antioxidant defense, lung phospholipid metabolism and protection of keratinocytes from cell death induced by reactive oxygen species.