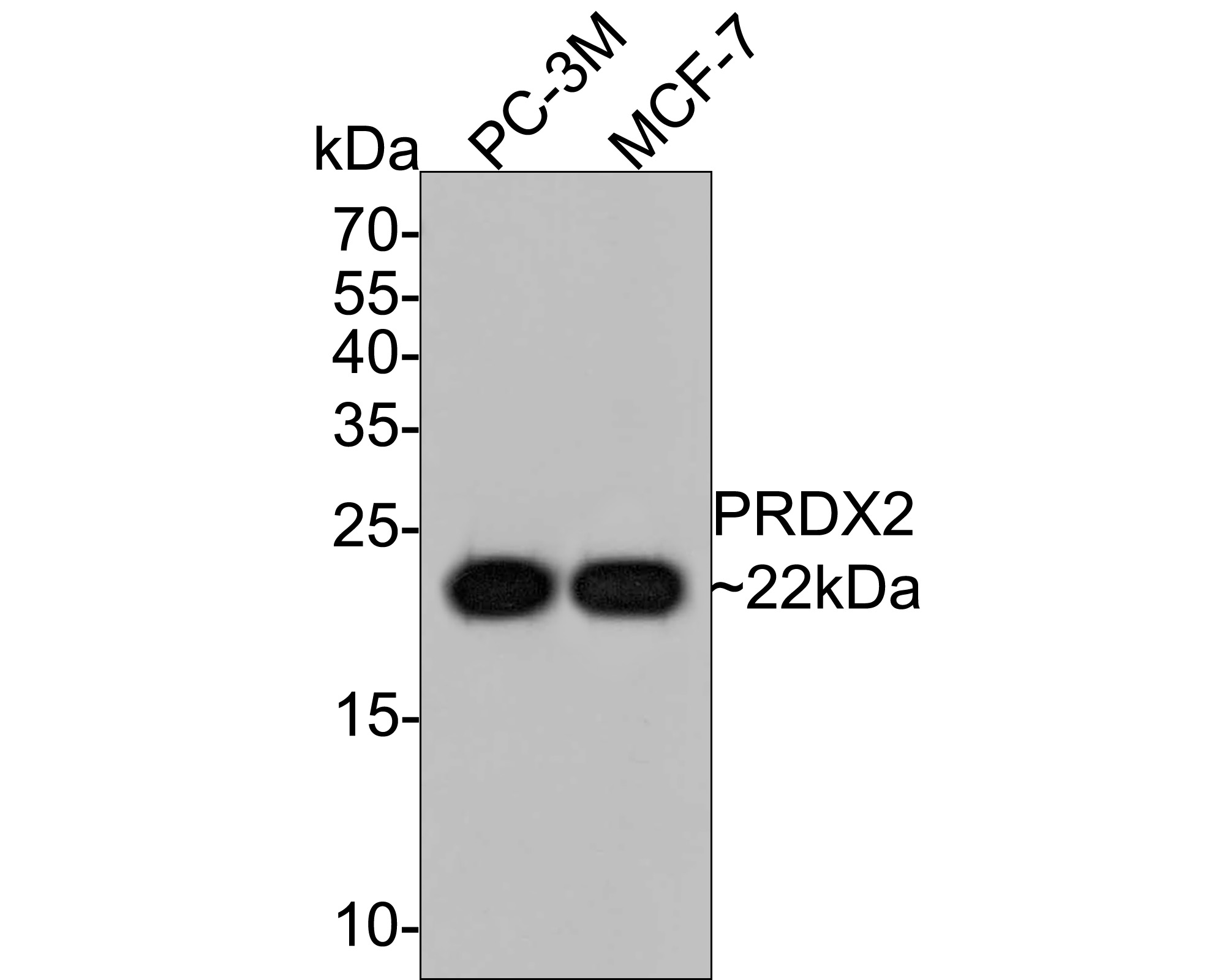 Western blot analysis of Peroxiredoxin 2 on PC-3M (1) and MCF-7 (2) using anti- Peroxiredoxin 2 antibody at 1/5,000 dilution.
SPECIFICATIONS
Product Name
PRDX2 Mouse Monoclonal Antibody [7F4] (EM1701-71)
Immunogen
Recombinant full length protein of human prdx2.
PROPERTIES
Storage Condition
Store at +4C after thawing. Aliquot store at -20C. Avoid repeated freeze / thaw cycles.
Storage Buffer
1*PBS (pH7.4), 0.2% BSA, 50% Glycerol. Preservative: 0.05% Sodium Azide.
TARGET
SYNONYMS
Epididymis secretory sperm binding protein Li 2a antibody; HEL S 2a antibody; MGC4104 antibody; Natural killer cell enhancing factor B antibody; Natural killer cell-enhancing factor B antibody; Natural Killer Enhancing Factor B antibody; NKEF B antibody; NKEF-B antibody; NKEFB antibody; Peroxiredoxin-2 antibody; PRDX 2 antibody; PRDX2 antibody; PRDX2_HUMAN antibody; PrP antibody; PRX2 antibody; PRXII antibody; PTX1 antibody; TDPX1 antibody; Thiol Specific Antioxidant 1 antibody; Thiol specific antioxidant protein antibody; Thiol-specific antioxidant protein antibody; Thioredoxin Dependent Peroxide Reductase 1 antibody; Thioredoxin peroxidase 1 antibody; Thioredoxin-dependent peroxide reductase 1 antibody; Torin antibody; TPX1 antibody; TSA antibody
SEQUENCE SIMILARITIES
Belongs to the peroxiredoxin family. AhpC/Prx1 subfamily.
POST-TRANSLATIONAL MODIFICATION
The enzyme can be inactivated by further oxidation of the cysteine sulfenic acid (C(P)-SOH) to sulphinic acid (C(P)-SO2H) instead of its condensation to a disulfide bond. It can be reactivated by forming a transient disulfide bond with sulfiredoxin SRXN1, which reduces the cysteine sulfinic acid in an ATP- and Mg-dependent manner.
FUNCTION
The peroxiredoxin (PRX) family comprises six antioxidant proteins, PRX I, II, III, IV, V and VI, which protect cells from reactive oxygen species (ROS) by preventing the metal-catalyzed oxidation of enzymes. The PRX proteins primarily utilize thioredoxin as the electron donor for antioxidation, although they are fairly promiscuous with regard to the hydroperoxide substrate. In addition to protection from ROS, peroxiredoxins are also involved in cell proliferation, differentiation and gene expression. PRX I, II, IV and VI show diffuse cytoplasmic localization, while PRX III and V exhibit distinct mitochondrial localization. The human PRX I gene encodes a protein that is expressed in several tissues, including liver, kidney, testis, lung and nervous system. PRX II is expressed in testis, while PRX III shows expression in lung. PRX I, II and III are overexpressed in breast cancer and may be involved in its development or progression. Upregulated protein levels of PRX I and II in Alzheimer's disease (AD) and Down syndrome (DS) indicate the involvement of PRX I and II in their pathogenesis.