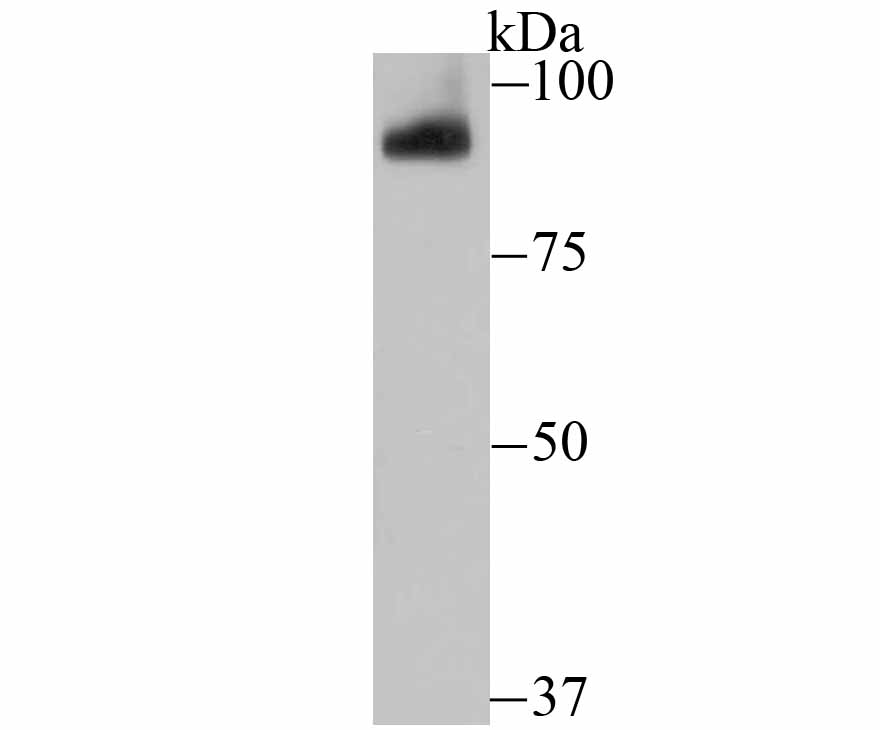 Western blot analysis of PIWIL1 on mouse testis tissue lysate using anti-PIWIL1 antibody at 1/500 dilution.
SPECIFICATIONS
Product Type
Recombinant Rabbit monoclonal primary
Product Name
PIWIL1 Recombinant Rabbit Monoclonal Antibody [JU35-12] (ET7106-73)
Positive Control
Mouse testis tissue, rat testis tissue.
PROPERTIES
Storage Condition
Store at +4C after thawing. Aliquot store at -20C or -80C. Avoid repeated freeze / thaw cycles.
Storage Buffer
1*TBS (pH7.4), 0.05% BSA, 40% Glycerol. Preservative: 0.05% Sodium Azide.
TARGET
SYNONYMS
HIWI antibody; MIWI antibody; Piwi (Drosophila) like 1 antibody; PIWI antibody; Piwi homolog antibody; Piwi like 1 (drosophila) antibody; Piwi like 1 antibody; Piwi-like protein 1 antibody; PIWIL1 antibody; PIWL1_HUMAN antibody
SEQUENCE SIMILARITIES
Belongs to the argonaute family. Piwi subfamily.
TISSUE SPECIFICITY
Expressed in spermatocytes and spermatids. Also detected in prostate cancer (at protein level). Detected in most fetal and adult tissues. Expressed in testes, specifically in germline cells; detected in spermatocytes and spermatids during spermatogenesis. Increased expression in testicular tumors originating from embryonic germ cells with retention of germ cells phenotype. No expression in testicular tumors of somatic origin, such as Sertoli cell and Leydig cell tumors. Overexpressed in gastric cancer cells. Isoform 3: Ubiquitously expressed, and specifically in CD34(+) hematopoietic progenitor cells but not in more differentiated cells.
POST-TRANSLATIONAL MODIFICATION
Arginine methylation by PRMT5 is required for the interaction with Tudor domain-containing protein (TDRD1, TDRKH/TDRD2, RNF17/TDRD4, TDRD6, TDRD7 and TDRD9) and subsequent localization to the meiotic nuage, also named P granule.; Ubiquitinated by the anaphase promoting complex/cyclosome (APC/C) in late spermatids, leading to its degradation. Ubiquitination only takes place following piRNA-binding in adult testis (By similarity). Ubiquitination and degradation in late spermatogenesis by APC/C is probably required to release RNF8 from the cytoplasm and promote histone to protamine exchange by RNF8 (By similarity).
FUNCTION
Endoribonuclease that plays a central role in postnatal germ cells by repressing transposable elements and preventing their mobilization, which is essential for the germline integrity. Acts via the piRNA metabolic process, which mediates the repression of transposable elements during meiosis by forming complexes composed of piRNAs and Piwi proteins and governs the methylation and subsequent repression of transposons. Directly binds methylated piRNAs, a class of 24 to 30 nucleotide RNAs that are generated by a Dicer-independent mechanism and are primarily derived from transposons and other repeated sequence elements. Strongly prefers a uridine in the first position of their guide (g1U preference, also named 1U-bias). Not involved in the piRNA amplification loop, also named ping-pong amplification cycle. Acts as an endoribonuclease that cleaves transposon messenger RNAs. Besides their function in transposable elements repression, piRNAs are probably involved in other processes during meiosis such as translation regulation. Probable component of some RISC complex, which mediates RNA cleavage and translational silencing. Also plays a role in the formation of chromatoid bodies and is required for some miRNAs stability. Required to sequester RNF8 in the cytoplasm until late spermatogenesis; RNF8 being released upon ubiquitination and degradation of PIWIL1.