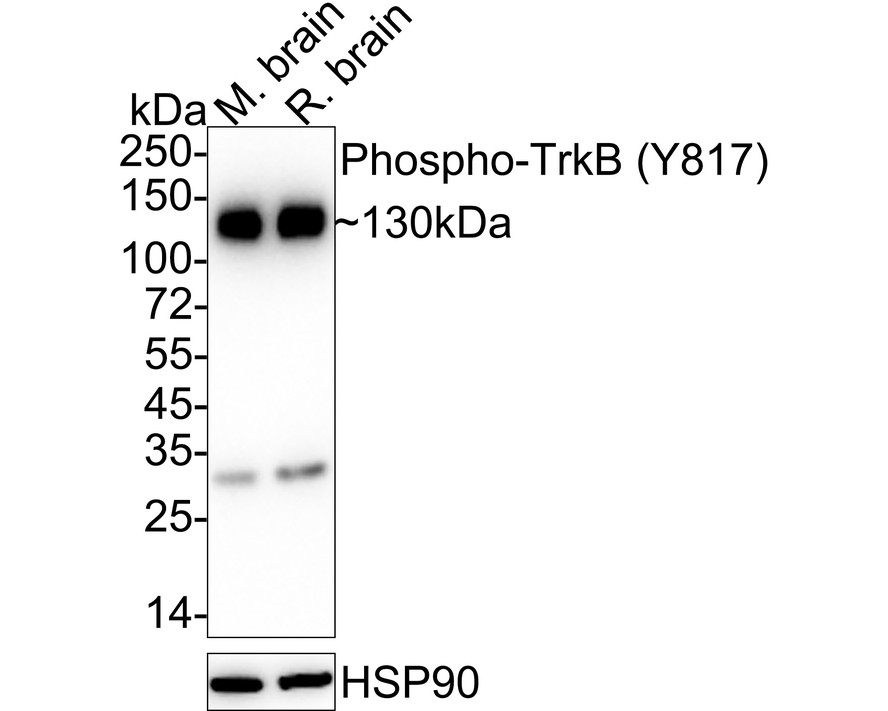 Western blot analysis of Phospho-TrkB(Y817) on different lysates. Proteins were transferred to a PVDF membrane and blocked with 5% BSA in PBS for 1 hour at room temperature. The primary antibody (ET1610-35, 1/500) was used in 5% BSA at room temperature for 2 hours. Goat Anti-Rabbit IgG - HRP Secondary Antibody (HA1001) at 1:5,000 dilution was used for 1 hour at room temperature.
Positive control:
Lane 1: mouse brain tissue lysate
Lane 2: rat brain tissue lysate
SPECIFICATIONS
Product Type
Recombinant Rabbit monoclonal primary
Product Name
Phospho-TrkB (Y817) Recombinant Rabbit Monoclonal Antibody [SC0556] (ET1610-35)
Immunogen
Synthetic phospho-peptide corresponding to residues surrounding tyr817 of human trkb aa 789-822 / 822.
Positive Control
Mouse brain tissue lysate, rat brain tissue lysate, PANC-1, SH-SY5Y, human kidney tissue, human pancreas tissue, mouse heart tissue, mouse pancreas tissue.
PROPERTIES
Storage Condition
Store at +4C after thawing. Aliquot store at -20C or -80C. Avoid repeated freeze / thaw cycles.
Storage Buffer
1*TBS (pH7.4), 0.05% BSA, 40% Glycerol. Preservative: 0.05% Sodium Azide.
PURIFICATION
Protein A affinity purified.
TARGET
SYNONYMS
AI848316 antibody; BDNF tropomyosine receptor kinase B antibody; BDNF/NT 3 growth factors receptor antibody; BDNF/NT-3 growth factors receptor antibody; Brain derived neurotrophic factor receptor antibody; C030027L06Rik antibody; EC 2.7.10.1 antibody; GP145 TrkB antibody; GP145-TrkB antibody; GP145-TrkB/GP95-TrkB antibody; GP95 TrkB antibody; Neurotrophic receptor tyrosine kinase 2 antibody; Neurotrophic tyrosine kinase receptor type 2 antibody; Neurotrophin receptor tyrosine kinase type 2 antibody; NTRK 2 antibody; Ntrk2 antibody; NTRK2_HUMAN antibody; Obesity, hyperphagia, and developmental delay, included antibody; RATTRKB1 antibody; Tkrb antibody; Trk B antibody; Trk-B antibody; TRKB antibody; TrkB tyrosine kinase antibody; TRKB1 antibody; Tropomyosin related kinase B antibody; tyrosine kinase receptor B antibody; Tyrosine receptor kinase B antibody
SEQUENCE SIMILARITIES
Belongs to the protein kinase superfamily. Tyr protein kinase family. Insulin receptor subfamily.
TISSUE SPECIFICITY
Isoform TrkB is expressed in the central and peripheral nervous system. In the central nervous system (CNS), expression is observed in the cerebral cortex, hippocampus, thalamus, choroid plexus, granular layer of the cerebellum, brain stem, and spinal cord. In the peripheral nervous system, it is expressed in many cranial ganglia, the ophthalmic nerve, the vestibular system, multiple facial structures, the submaxillary glands, and dorsal root ganglia. Isoform TrkB-T1 is mainly expressed in the brain but also detected in other tissues including pancreas, kidney and heart. Isoform TrkB-T-Shc is predominantly expressed in the brain.
DEVELOPMENTAL STAGE
Widely expressed in fetal brain.
POST-TRANSLATIONAL MODIFICATION
Phosphorylated. Undergoes ligand-mediated autophosphorylation that is required for interaction with SHC1 and PLCG1 and other downstream effectors. Isoform TrkB-T-Shc is not phosphorylated.; Ubiquitinated. Undergoes polyubiquitination upon activation; regulated by NGFR. Ubiquitination regulates the internalization of the receptor (By similarity).
SUBCELLULAR LOCATION
Cell membrane, Endosome membrane.
FUNCTION
The Trk proto-oncogene encodes a tyrosine protein kinase, Trk A, also designated Trk gp140, that serves as a receptor for certain neurotrophic factors including nerve growth factor (NGF) and neurotrophin-3 (NT-3). Trk B is a tyrosine kinase gene highly related to Trk A. Trk B expression is confined to tissues within the central and peripheral nervous systems. The brain-derived neurotrophic factor (BDNF) and NT-3, but not NGF, can induce rapid phosphorylation on tyrosine of Trk B gp145, one of the receptors encoded by NTRK2, although BDNF elicits a response at least two orders of magnitude greater than NT-3. Thus it appears that Trk B gp145 may represent a neurotrophic receptor for BDNF and NT-3. The third member of the Trk family of tyrosine kinases, Trk C, encodes a protein designated Trk C gp145 that is preferentially expressed in brain tissue, is equally related to Trk A and Trk B and is a functional receptor for NT-3.