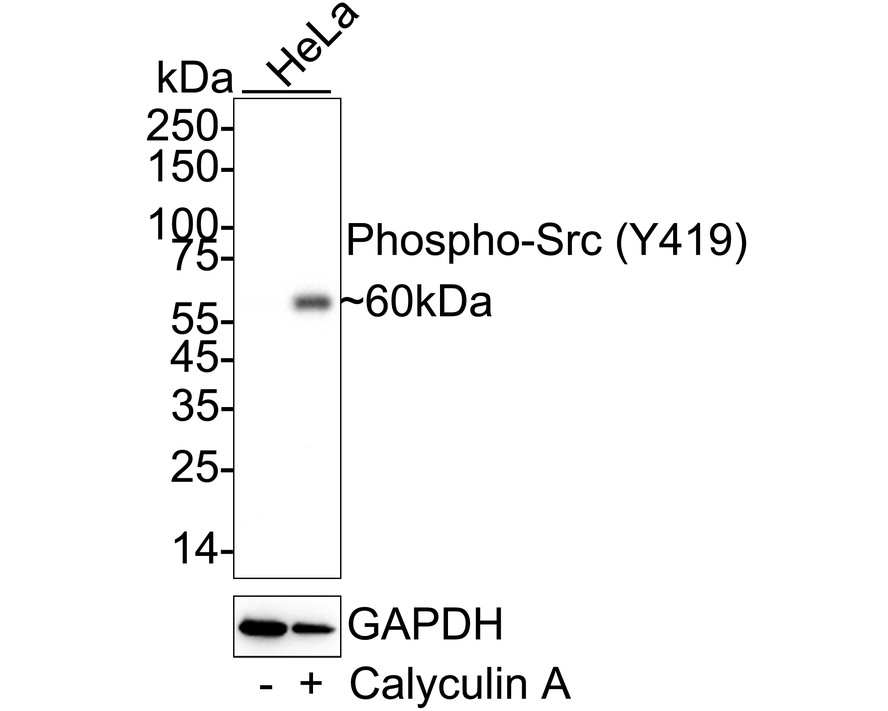 Western blot analysis of Phospho-Src(Y419) on A549 cell lysate. Proteins were transferred to a PVDF membrane and blocked with 5% BSA in PBS for 1 hour at room temperature. The primary antibody (ET1609-15, 1/500) was used in 5% BSA at room temperature for 2 hours. Goat Anti-Rabbit IgG - HRP Secondary Antibody (HA1001) at 1:5,000 dilution was used for 1 hour at room temperature.
SPECIFICATIONS
Product Type
Recombinant Rabbit monoclonal primary
Product Name
Phospho-Src (Y419) Recombinant Rabbit Monoclonal Antibody [ST0800] (ET1609-15)
Immunogen
Synthetic phospho-peptide corresponding to residues surrounding tyr419 of human src.
PROPERTIES
Storage Condition
Store at +4C after thawing. Aliquot store at -20C or -80C. Avoid repeated freeze / thaw cycles.
Storage Buffer
1*TBS (pH7.4), 0.05% BSA, 40% Glycerol. Preservative: 0.05% Sodium Azide.
TARGET
SYNONYMS
ASV antibody; Avian sarcoma virus antibody; c SRC antibody; CDNA FLJ14219 fis clone NT2RP3003800 highly similar to Rattus norvegicus tyrosine protein kinase pp60 c src mRNA antibody; cSrc antibody; EC 2.7.10.2 antibody; Neuronal CSRC tyrosine specific protein kinase antibody; Neuronal SRC antibody; Oncogene SRC antibody; OTTHUMP00000174476 antibody; OTTHUMP00000174477 antibody; p60 Src antibody; p60-Src antibody; p60Src antibody; pp60c src antibody; pp60c-src antibody; pp60csrc antibody; Proto oncogene tyrosine protein kinase Src antibody; Proto-oncogene c-Src antibody; Proto-oncogene tyrosine-protein kinase Src antibody; Protooncogene SRC antibody; Protooncogene SRC Rous sarcoma antibody; Src antibody; SRC Oncogene antibody; SRC proto oncogene non receptor tyrosine kinase antibody; SRC_HUMAN antibody; SRC1 antibody; Tyrosine kinase pp60c src antibody; Tyrosine protein kinase SRC 1 antibody; Tyrosine protein kinase SRC1 antibody; v src avian sarcoma (Schmidt Ruppin A2) viral oncogene homolog antibody; V src sarcoma (Schmidt Ruppin A 2) viral oncogene homolog (avian) antibody; v src sarcoma (Schmidt Ruppin A 2) viral oncogene homolog avian antibody
SEQUENCE SIMILARITIES
Belongs to the protein kinase superfamily. Tyr protein kinase family. SRC subfamily.
TISSUE SPECIFICITY
Expressed ubiquitously. Platelets, neurons and osteoclasts express 5-fold to 200-fold higher levels than most other tissues.
POST-TRANSLATIONAL MODIFICATION
Myristoylated at Gly-2, and this is essential for targeting to membranes.; Dephosphorylated at Tyr-530 by PTPRJ (By similarity). Phosphorylated on Tyr-530 by c-Src kinase (CSK). The phosphorylated form is termed pp60c-src. Dephosphorylated by PTPRJ at Tyr-419. Normally maintained in an inactive conformation with the SH2 domain engaged with Tyr-530, the SH3 domain engaged with the SH2-kinase linker, and Tyr-419 dephosphorylated. Dephosphorylation of Tyr-530 as a result of protein tyrosine phosphatase (PTP) action disrupts the intramolecular interaction between the SH2 domain and Tyr-530, Tyr-419 can then become autophosphorylated, resulting in SRC activation. Phosphorylation of Tyr-530 by CSK allows this interaction to reform, resulting in SRC inactivation. CDK5-mediated phosphorylation at Ser-75 targets SRC to ubiquitin-dependent degradation and thus leads to cytoskeletal reorganization. Phosphorylated by PTK2/FAK1; this enhances kinase activity. Phosphorylated by PTK2B/PYK2; this enhances kinase activity.; S-nitrosylation is important for activation of its kinase activity.; Ubiquitinated in response to CDK5-mediated phosphorylation. Ubiquitination mediated by CBLC requires SRC autophosphorylation at Tyr-419 and may lead to lysosomal degradation.
SUBCELLULAR LOCATION
Cell membrane, Mitochondrion inner membrane, Nucleus, Cytoplasm.
FUNCTION
The Src family of protein tyrosine kinases, which includes Src, Lyn, Fyn, Yes, Lck, Blk, and Hck, are important in the regulation of growth and differentiation of eukaryotic cells. Src activity is regulated by tyrosine phosphorylation at two sites, but with opposing effects. While phosphorylation at Tyr416 in the activation loop of the kinase domain upregulates enzyme activity, phosphorylation at Tyr527 in the carboxy-terminal tail by Csk renders the enzyme less active.