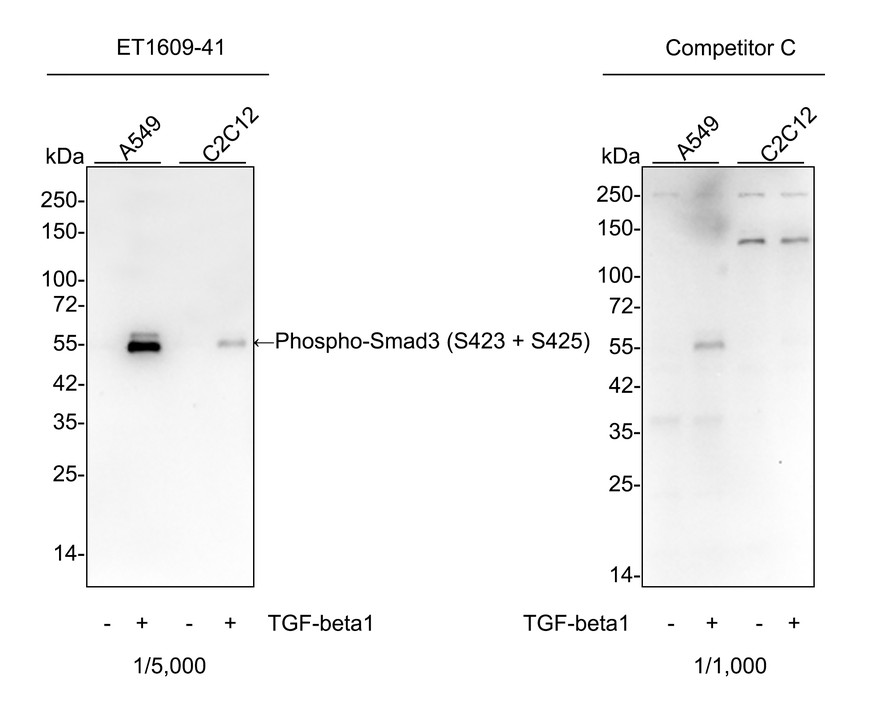 Western blot analysis of Phospho-Smad3(S423/S425) on K562 cell lysates. Proteins were transferred to a PVDF membrane and blocked with 5% BSA in PBS for 1 hour at room temperature. The primary antibody (ET1609-41, 1/500) was used in 5% BSA at room temperature for 2 hours. Goat Anti-Rabbit IgG - HRP Secondary Antibody (HA1001) at 1:5,000 dilution was used for 1 hour at room temperature.
SPECIFICATIONS
Product Type
Recombinant Rabbit monoclonal primary
Product Name
Phospho-Smad3 (S423/S425) Recombinant Rabbit Monoclonal Antibody [ST0493] (ET1609-41)
Immunogen
Synthetic phospho-peptide corresponding to residues surrounding ser423 and 425 of human smad3.
Positive Control
A431 cell lysates-treated with TGF β, mouse skin tissue.
PROPERTIES
Storage Condition
Store at +4C after thawing. Aliquot store at -20C or -80C. Avoid repeated freeze / thaw cycles.
Storage Buffer
1*TBS (pH7.4), 0.05% BSA, 40% Glycerol. Preservative: 0.05% Sodium Azide.
TARGET
PROTEIN NAME
Phospho-Smad3 (S423/S425)
SYNONYMS
DKFZP586N0721 antibody; DKFZp686J10186 antibody; hMAD 3 antibody; hMAD-3 antibody; hSMAD3 antibody; HSPC193 antibody; HST17436 antibody; JV15 2 antibody; JV15-2 antibody; JV152 antibody; LDS1C antibody; LDS3 antibody; MAD (mothers against decapentaplegic Drosophila) homolog 3 antibody; MAD homolog 3 antibody; Mad homolog JV15 2 antibody; Mad protein homolog antibody; MAD, mothers against decapentaplegic homolog 3 antibody; Mad3 antibody; MADH 3 antibody; MADH3 antibody; MGC60396 antibody; Mothers against decapentaplegic homolog 3 antibody; Mothers against DPP homolog 3 antibody; SMA and MAD related protein 3 antibody; SMAD 3 antibody; SMAD antibody; SMAD family member 3 antibody; SMAD, mothers against DPP homolog 3 antibody; Smad3 antibody; SMAD3_HUMAN antibody
SEQUENCE SIMILARITIES
Belongs to the dwarfin/SMAD family.
POST-TRANSLATIONAL MODIFICATION
Phosphorylated on serine and threonine residues. Enhanced phosphorylation in the linker region on Thr-179, Ser-204 and Ser-208 on EGF and TGF-beta treatment. Ser-208 is the main site of MAPK-mediated phosphorylation. CDK-mediated phosphorylation occurs in a cell-cycle dependent manner and inhibits both the transcriptional activity and antiproliferative functions of SMAD3. This phosphorylation is inhibited by flavopiridol. Maximum phosphorylation at the G(1)/S junction. Also phosphorylated on serine residues in the C-terminal SXS motif by TGFBR1 and ACVR1. TGFBR1-mediated phosphorylation at these C-terminal sites is required for interaction with SMAD4, nuclear location and transactivational activity, and appears to be a prerequisite for the TGF-beta mediated phosphorylation in the linker region. Dephosphorylated in the C-terminal SXS motif by PPM1A. This dephosphorylation disrupts the interaction with SMAD4, promotes nuclear export and terminates TGF-beta-mediated signaling. Phosphorylation at Ser-418 by CSNK1G2/CK1 promotes ligand-dependent ubiquitination and subsequent proteasome degradation, thus inhibiting SMAD3-mediated TGF-beta responses. Phosphorylated by PDPK1.; Acetylation in the nucleus by EP300 in the MH2 domain regulates positively its transcriptional activity and is enhanced by TGF-beta.; Poly-ADP-ribosylated by PARP1 and PARP2. ADP-ribosylation negatively regulates SMAD3 transcriptional responses during the course of TGF-beta signaling.; Ubiquitinated. Monoubiquitinated, leading to prevent DNA-binding. Deubiquitination by USP15 alleviates inhibition and promotes activation of TGF-beta target genes. Ubiquitinated by RNF111, leading to its degradation: only SMAD3 proteins that are 'in use' are targeted by RNF111, RNF111 playing a key role in activating SMAD3 and regulating its turnover (By similarity). Undergoes STUB1-mediated ubiquitination and degradation.
FUNCTION
Smad proteins, the mammalian homologs of the Drosophila Mothers against dpp (Mad) have been implicated as downstream effectors of TGFβ/BMP signaling. Smad1 (also designated Madr1 or JV4-1), Smad5 and mammalian Smad8 (also designated Smad9 or MADH6) are effectors of BMP2 and BMP4 function while Smad2 (also designated Madr2 or JV18-1) and Smad3 are involved in TGFβ and activin-mediated growth modulation. Smad4 (also designated DPC4) has been shown to mediate all of the above activities through interaction with various Smad family members. Smad6 and Smad7 regulate the response to activin/TGFβ signaling by interfering with TGFβ-mediated phosphorylation of other Smad family members. Human Smad3 is subject to phosphorylation by TGFβ on specific amino acid residues, including Ser 208.