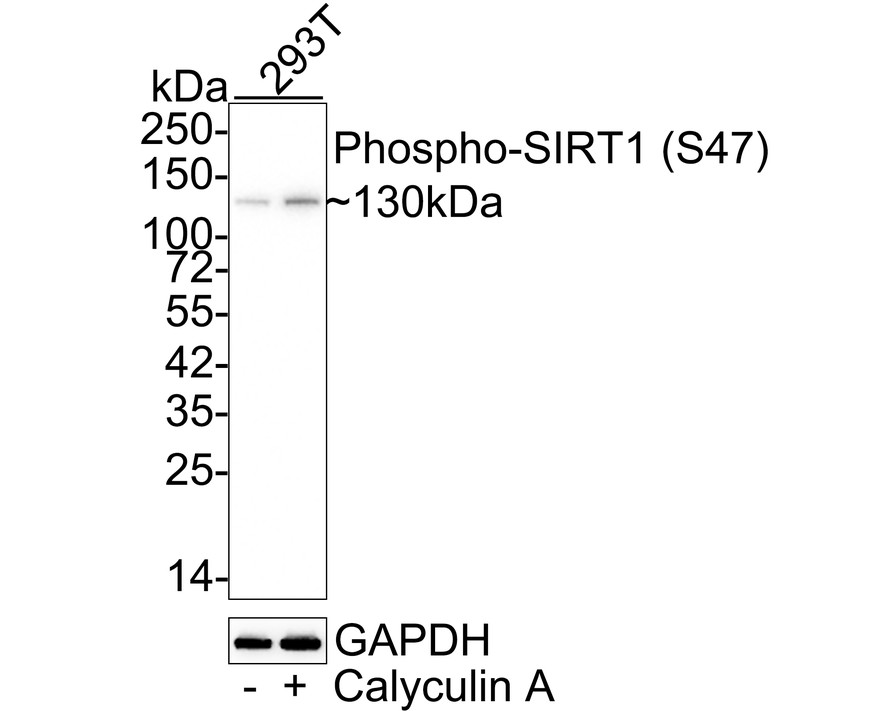 ICC staining SIRT1(phospho S47) in A549 cells (green). The nuclear counter stain is DAPI (blue). Cells were fixed in paraformaldehyde, permeabilised with 0.25% Triton X100/PBS.
SPECIFICATIONS
Product Type
Recombinant Rabbit monoclonal primary
Product Name
Phospho-SIRT1 (S47) Recombinant Rabbit Monoclonal Antibody [SN06-40] (ET1611-31)
Immunogen
Synthetic phospho-peptide corresponding to residues surrounding ser47 of human sirt1
Positive Control
A549, SW480, HepG2, human kidney tissue.
PROPERTIES
Storage Condition
Store at +4C after thawing. Aliquot store at -20C or -80C. Avoid repeated freeze / thaw cycles.
Storage Buffer
1*TBS (pH7.4), 0.05% BSA, 40% Glycerol. Preservative: 0.05% Sodium Azide.
TARGET
SYNONYMS
75SirT1 antibody; hSIR2 antibody; hSIRT1 antibody; HST2, S. cerevisiae, homolog of antibody; NAD dependent deacetylase sirtuin 1 antibody; NAD dependent protein deacetylase sirtuin 1 antibody; OTTHUMP00000198111 antibody; OTTHUMP00000198112 antibody; Regulatory protein SIR2 homolog 1 antibody; SIR1_HUMAN antibody; SIR2 antibody; SIR2 like 1 antibody; SIR2 like protein 1 antibody; SIR2, S.cerevisiae, homolog-like 1 antibody; SIR2-like protein 1 antibody; SIR2ALPHA antibody; SIR2L1 antibody; Sirt1 antibody; SirtT1 75 kDa fragment antibody; Sirtuin (silent mating type information regulation 2 homolog) 1 (S. cerevisiae) antibody; Sirtuin 1 antibody; Sirtuin type 1 antibody
SEQUENCE SIMILARITIES
Belongs to the sirtuin family. Class I subfamily.
POST-TRANSLATIONAL MODIFICATION
Methylated on multiple lysine residues; methylation is enhanced after DNA damage and is dispensable for deacetylase activity toward p53/TP53.; Phosphorylated. Phosphorylated by STK4/MST1, resulting in inhibition of SIRT1-mediated p53/TP53 deacetylation. Phosphorylation by MAPK8/JNK1 at Ser-27, Ser-47, and Thr-530 leads to increased nuclear localization and enzymatic activity. Phosphorylation at Thr-530 by DYRK1A and DYRK3 activates deacetylase activity and promotes cell survival. Phosphorylation by mammalian target of rapamycin complex 1 (mTORC1) at Ser-47 inhibits deacetylation activity. Phosphorylated by CaMK2, leading to increased p53/TP53 and NF-kappa-B p65/RELA deacetylation activity (By similarity). Phosphorylation at Ser-27 implicating MAPK9 is linked to protein stability. There is some ambiguity for some phosphosites: Ser-159/Ser-162 and Thr-544/Ser-545.; Proteolytically cleaved by cathepsin B upon TNF-alpha treatment to yield catalytic inactive but stable SirtT1 75 kDa fragment (75SirT1).; S-nitrosylated by GAPDH, leading to inhibit the NAD-dependent protein deacetylase activity.; Acetylated at various Lys residues. Deacetylated via an autocatalytic mechanism. Autodeacetylation at Lys-238 promotes its protein deacetylase activity.
FUNCTION
The silent information regulator (SIR2) family of genes are highly-conserved from prokaryotes to eukaryotes and are involved in diverse processes, including transcriptional regulation, cell cycle progression, DNA-damage repair and aging. In S. cerevisiae, Sir2p deacetylates histones in an NAD-dependent manner, which regulates silencing at the telomeric, rDNA and silent mating-type loci. Sir2p is the founding member of a large family, designated sirtuins, which contain a conserved catalytic domain. The human homologs, which include SIRT1-7, are divided into four main branches: SIRT1-3 are class I, SIRT4 is class II, SIRT5 is class III and SIRT6-7 are class IV. SIRT1 has the closest homology to the yeast Sir2p and is widely expressed in fetal and adult tissues. SIRT1 is highly expressed in heart, brain and skeletal muscle, with low expression in lung and placenta. SIRT1 regulates the p53-dependent DNA damage response pathway by binding to and deacetylating p53, specifically at Lys 382.