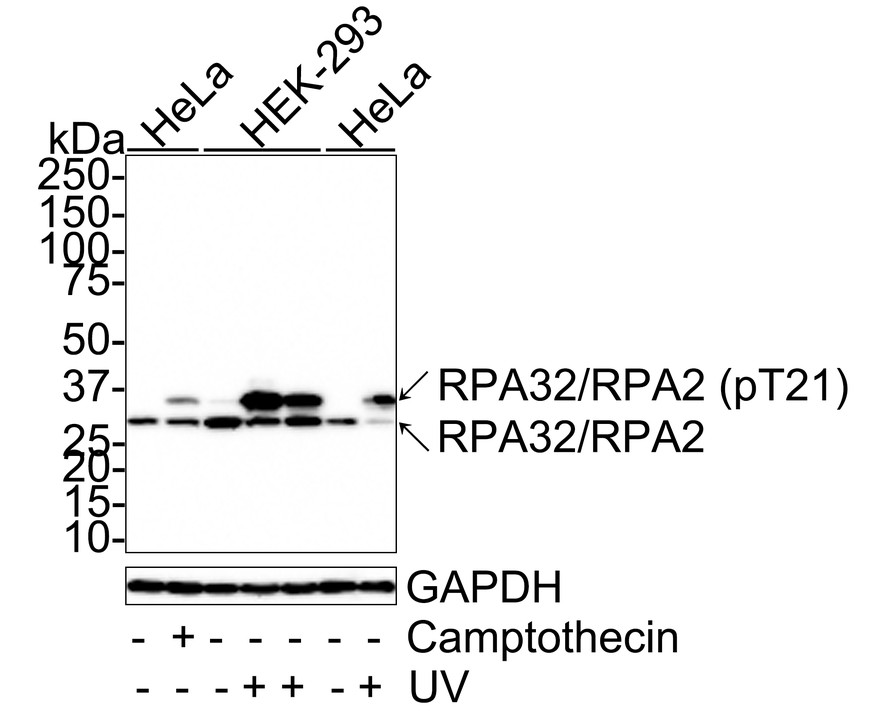 Western blot analysis of RPA32/RPA2 (phospho T21) on Hela cells lysates using anti-RPA32/RPA2 (phospho T21) antibody at 1/1,000 dilution.
SPECIFICATIONS
Product Type
Recombinant Rabbit monoclonal primary
Product Name
Phospho-RPA32/RPA2 (T21) Recombinant Rabbit Monoclonal Antibody [SN06-36] (ET1611-18)
PROPERTIES
Storage Condition
Store at +4C after thawing. Aliquot store at -20C or -80C. Avoid repeated freeze / thaw cycles.
Storage Buffer
1*TBS (pH7.4), 0.05% BSA, 40% Glycerol. Preservative: 0.05% Sodium Azide.
TARGET
SYNONYMS
60S acidic ribosomal protein P1 antibody; AA409079 antibody; AI325195 antibody; AU020965 antibody; ik:tdsubc_2g1 antibody; M(2)21C antibody; MGC137236 antibody; OTTHUMP00000004008 antibody; p32 antibody; p34 antibody; RCJMB04_6d17 replication protein A2, 32kDa antibody; REPA2 antibody; Replication factor A protein 2 antibody; Replication protein A 32 kDa subunit antibody; Replication protein A 32kDa subunit antibody; Replication protein A 34 kDa subunit antibody; Replication protein A antibody; Replication Protein A2 (32kDa) antibody; Replication protein A2 antibody; Replication protein A2, 32kDa antibody; RF-A protein 2 antibody; Rf-A2 antibody; RFA antibody; RFA2_HUMAN antibody; RP-A p32 antibody; RP-A p34 antibody; RP21C antibody; RPA 2 antibody; RPA 32 antibody; RPA antibody; Rpa2 antibody; RPA32 antibody; RPA34 antibody; RpLP1 antibody; RpP2 antibody; xx:tdsubc_2g1 antibody; zgc:109822 antibody
SEQUENCE SIMILARITIES
Belongs to the replication factor A protein 2 family.
POST-TRANSLATIONAL MODIFICATION
Differentially phosphorylated throughout the cell cycle, becoming phosphorylated at the G1-S transition and dephosphorylated in late mitosis. Mainly phosphorylated at Ser-23 and Ser-29, by cyclin A-CDK2 and cyclin B-CDK1, respectively during DNA replication and mitosis. Dephosphorylation may require the serine/threonine-protein phosphatase 4. Phosphorylation at Ser-23 and Ser-29 is a prerequisite for further phosphorylation. Becomes hyperphosphorylated on additional residues including Ser-4, Ser-8, Thr-21 and Ser-33 in response to DNA damage. Hyperphosphorylation is mediated by ATM, ATR and PRKDC. Primarily recruited to DNA repair nuclear foci as a hypophosphorylated form it undergoes subsequent hyperphosphorylation, catalyzed by ATR. Hyperphosphorylation is required for RAD51 recruitment to chromatin and efficient DNA repair. Phosphorylation at Thr-21 depends upon RFWD3 presence.; DNA damage-induced 'Lys-63'-linked polyubiquitination by PRPF19 mediates ATRIP recruitment to the RPA complex at sites of DNA damage and activation of ATR. Ubiquitinated by RFWD3 at stalled replication forks in response to DNA damage: ubiquitination by RFWD3 does not lead to degradation by the proteasome and promotes removal of the RPA complex from stalled replication forks, promoting homologous recombination.
FUNCTION
The single-stranded-DNA-binding proteins (SSBs) are essential for DNA function in prokaryotic and eukaryotic cells, mitochondria, phages and viruses. Replication protein A (RPA), a highly conserved eukaryotic protein, is a heterotrimeric SSB. RPA plays an important role in DNA replication, recombination and repair. The binding of human RPA (hRPA) to DNA involves molecular polarity in which initial hRPA binding occurs on the 5' side of a ssDNA substrate and then extends in the 3' direction to create a stably bound hRPA. RPA is a major damage-recognition protein involved in the early stages of nucleotide excision repair. It can also play a role in telomere maintenance. The C-terminus of RPA 32 can specfically intereact with the DNA repair enzyme UNG2 and repair factors XPA and Rad52, each of which functions in a different repair pathway. In addition, RPA 32 binds specifically to the SH2 domain of Stat3 in vivo, and overexpression of RPA 32 corresponds to the augmented growth factor-stimulated tyrosine phosphorylation and transcription activities of Stat3.
CITATIONS
Bai, Yongtai et al.

C1QBP Promotes Homologous Recombination by Stabilizing MRE11 and Controlling the Assembly and Activation of MRE11/RAD50/NBS1 Complex. | Molecular Cell [2019]