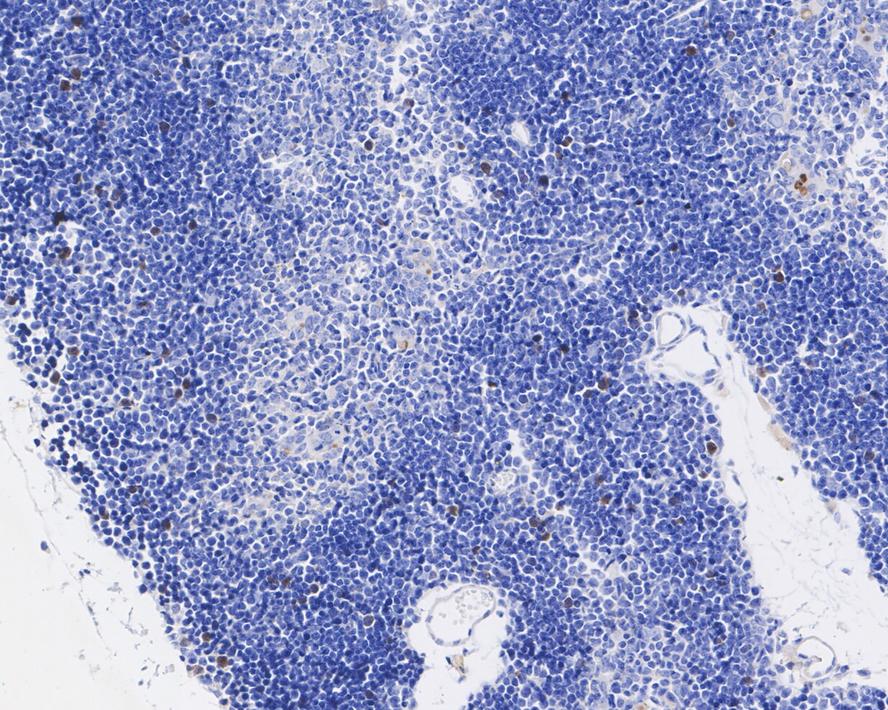 Flow cytometric analysis of Phospho-PLK1(T210) was done on MCF-7 cells. The cells were fixed, permeabilized and stained with the primary antibody (ET1701-33, 1/50) (red). After incubation of the primary antibody at room temperature for an hour, the cells were stained with a Alexa Fluor 488-conjugated Goat anti-Rabbit IgG Secondary antibody at 1/1000 dilution for 30 minutes.Unlabelled sample was used as a control (cells without incubation with primary antibody; black).
SPECIFICATIONS
Product Type
Recombinant Rabbit monoclonal primary
Product Name
Phospho-PLK1 (T210) Recombinant Rabbit Monoclonal Antibody [JJ080-9] (ET1701-33)
Immunogen
Synthetic phospho-peptide corresponding to residues surrounding thr210 of human plk1.
Positive Control
Human breast carcinoma tissue, human gastric carcinoma tissue.
PROPERTIES
Storage Condition
Store at +4C after thawing. Aliquot store at -20C or -80C. Avoid repeated freeze / thaw cycles.
Storage Buffer
1*TBS (pH7.4), 0.05% BSA, 40% Glycerol. Preservative: 0.05% Sodium Azide.
TARGET
SYNONYMS
Cell cycle regulated protein kinase antibody; PLK 1 antibody; PLK antibody; PLK-1 antibody; plk1 antibody; PLK1_HUMAN antibody; Polo like kinase 1 antibody; Polo-like kinase 1 antibody; Serine/threonine protein kinase 13 antibody; Serine/threonine protein kinase PLK1 antibody; Serine/threonine-protein kinase 13 antibody; Serine/threonine-protein kinase PLK1 antibody; STPK 13 antibody; STPK13 antibody
SEQUENCE SIMILARITIES
Belongs to the protein kinase superfamily. Ser/Thr protein kinase family. CDC5/Polo subfamily.
DEVELOPMENTAL STAGE
Accumulates to a maximum during the G2 and M phases, declines to a nearly undetectable level following mitosis and throughout G1 phase, and then begins to accumulate again during S phase.
POST-TRANSLATIONAL MODIFICATION
Catalytic activity is enhanced by phosphorylation of Thr-210. Phosphorylation at Thr-210 is first detected on centrosomes in the G2 phase of the cell cycle, peaks in prometaphase and gradually disappears from centrosomes during anaphase. Dephosphorylation at Thr-210 at centrosomes is probably mediated by protein phosphatase 1C (PP1C), via interaction with PPP1R12A/MYPT1. Autophosphorylation and phosphorylation of Ser-137 may not be significant for the activation of PLK1 during mitosis, but may enhance catalytic activity during recovery after DNA damage checkpoint. Phosphorylated in vitro by STK10.; Ubiquitinated by the anaphase promoting complex/cyclosome (APC/C) in anaphase and following DNA damage, leading to its degradation by the proteasome. Ubiquitination is mediated via its interaction with FZR1/CDH1. Ubiquitination and subsequent degradation prevents entry into mitosis and is essential to maintain an efficient G2 DNA damage checkpoint. Monoubiquitination at Lys-492 by the BCR(KLHL22) ubiquitin ligase complex does not lead to degradation: it promotes PLK1 dissociation from phosphoreceptor proteins and subsequent removal from kinetochores, allowing silencing of the spindle assembly checkpoint (SAC) and chromosome segregation.
SUBCELLULAR LOCATION
Nucleus, Chromosome, Cytoplasm, Midbody.
FUNCTION
Plk (for polo-like kinase) encodes a serine/threonine kinase that is closely related to polo and CDC5, genes that are required for passage through mitosis in Drosophila and Saccharomyces, respectively. Polo and CDC5 both code for proteins that are involved in regulating the function of the mitotic spindle. Plk protein accumulates in the cell during the S and G2 phases of the cell cycle and both protein content and catalytic activity peak at the onset of mitosis, followed by a rapid reduction after mitosis. Plk expression is detectable in mitotically active tissues such as colon and placenta, as well as in tumors of various origins. It has also been suggested that Plk may serve as a marker of cell proliferation. The phosphorylation of mouse, rat and human Plk on Thr 210 enhances Plk catalytic activity.