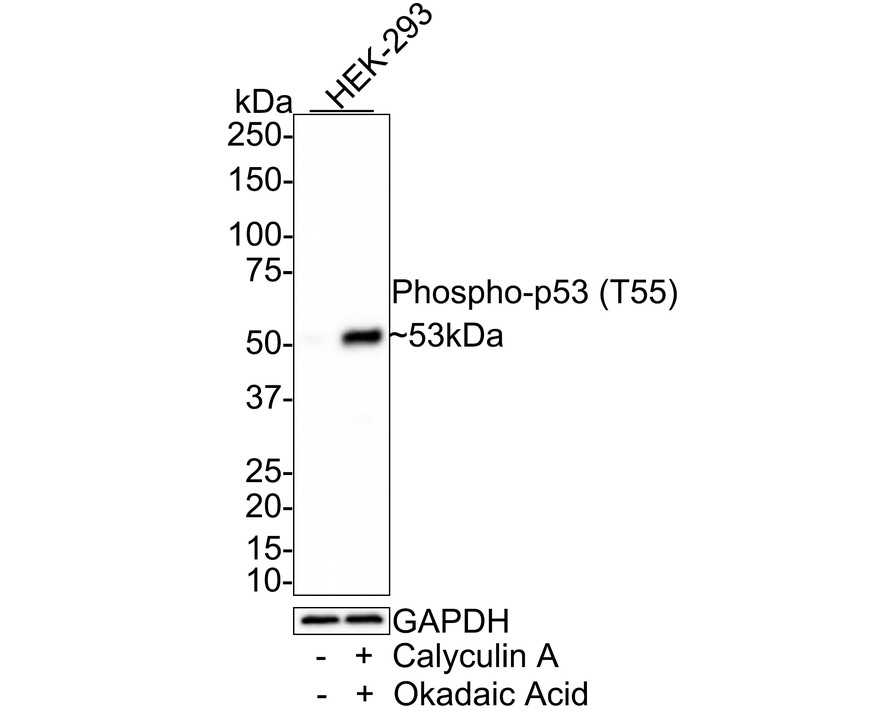 Western blot analysis of Phospho-p53 (T55) on human skin tissue lysates. Proteins were transferred to a PVDF membrane and blocked with 5% BSA in PBS for 1 hour at room temperature. The primary antibody (ET1609-13, 1/500) was used in 5% BSA at room temperature for 2 hours. Goat Anti-Rabbit IgG - HRP Secondary Antibody (HA1001) at 1:5,000 dilution was used for 1 hour at room temperature.
SPECIFICATIONS
Product Type
Recombinant Rabbit monoclonal primary
Product Name
Phospho-p53 (T55) Recombinant Rabbit Monoclonal Antibody [ST0439] (ET1609-13)
Immunogen
Synthetic phospho-peptide corresponding to residues surrounding thr55 of human p53 aa 31-80 / 393.
Positive Control
Human skin tissue lysates, human esophagus tissue.
PROPERTIES
Storage Condition
Store at +4C after thawing. Aliquot store at -20C or -80C. Avoid repeated freeze / thaw cycles.
Storage Buffer
1*TBS (pH7.4), 0.05% BSA, 40% Glycerol. Preservative: 0.05% Sodium Azide.
PURIFICATION
Protein A affinity purified.
TARGET
SYNONYMS
Antigen NY-CO-13 antibody; BCC7 antibody; Cellular tumor antigen p53 antibody; FLJ92943 antibody; LFS1 antibody; Mutant tumor protein 53 antibody; p53 antibody; p53 tumor suppressor antibody; P53_HUMAN antibody; Phosphoprotein p53 antibody; Tp53 antibody; Transformation related protein 53 antibody; TRP53 antibody; Tumor protein 53 antibody; Tumor protein p53 antibody; Tumor suppressor p53 antibody
SEQUENCE SIMILARITIES
Belongs to the p53 family.
TISSUE SPECIFICITY
Ubiquitous. Isoforms are expressed in a wide range of normal tissues but in a tissue-dependent manner. Isoform 2 is expressed in most normal tissues but is not detected in brain, lung, prostate, muscle, fetal brain, spinal cord and fetal liver. Isoform 3 is expressed in most normal tissues but is not detected in lung, spleen, testis, fetal brain, spinal cord and fetal liver. Isoform 7 is expressed in most normal tissues but is not detected in prostate, uterus, skeletal muscle and breast. Isoform 8 is detected only in colon, bone marrow, testis, fetal brain and intestine. Isoform 9 is expressed in most normal tissues but is not detected in brain, heart, lung, fetal liver, salivary gland, breast or intestine.
POST-TRANSLATIONAL MODIFICATION
Acetylated. Acetylation of Lys-382 by CREBBP enhances transcriptional activity. Deacetylation of Lys-382 by SIRT1 impairs its ability to induce proapoptotic program and modulate cell senescence. Deacetylation by SIRT2 impairs its ability to induce transcription activation in a AKT-dependent manner.; Phosphorylation on Ser residues mediates transcriptional activation. Phosphorylated by HIPK1 (By similarity). Phosphorylation at Ser-9 by HIPK4 increases repression activity on BIRC5 promoter. Phosphorylated on Thr-18 by VRK1. Phosphorylated on Ser-20 by CHEK2 in response to DNA damage, which prevents ubiquitination by MDM2. Phosphorylated on Ser-20 by PLK3 in response to reactive oxygen species (ROS), promoting p53/TP53-mediated apoptosis. Phosphorylated on Thr-55 by TAF1, which promotes MDM2-mediated degradation. Phosphorylated on Ser-33 by CDK7 in a CAK complex in response to DNA damage. Phosphorylated on Ser-46 by HIPK2 upon UV irradiation. Phosphorylation on Ser-46 is required for acetylation by CREBBP. Phosphorylated on Ser-392 following UV but not gamma irradiation. Phosphorylated on Ser-15 upon ultraviolet irradiation; which is enhanced by interaction with BANP. Phosphorylated by NUAK1 at Ser-15 and Ser-392; was initially thought to be mediated by STK11/LKB1 but it was later shown that it is indirect and that STK11/LKB1-dependent phosphorylation is probably mediated by downstream NUAK1. It is unclear whether AMP directly mediates phosphorylation at Ser-15. Phosphorylated on Thr-18 by isoform 1 and isoform 2 of VRK2. Phosphorylation on Thr-18 by isoform 2 of VRK2 results in a reduction in ubiquitination by MDM2 and an increase in acetylation by EP300. Stabilized by CDK5-mediated phosphorylation in response to genotoxic and oxidative stresses at Ser-15, Ser-33 and Ser-46, leading to accumulation of p53/TP53, particularly in the nucleus, thus inducing the transactivation of p53/TP53 target genes. Phosphorylated by DYRK2 at Ser-46 in response to genotoxic stress. Phosphorylated at Ser-315 and Ser-392 by CDK2 in response to DNA-damage. Phosphorylation at Ser-15 is required for interaction with DDX3X and gamma-tubulin.; Dephosphorylated by PP2A-PPP2R5C holoenzyme at Thr-55. SV40 small T antigen inhibits the dephosphorylation by the AC form of PP2A.; May be O-glycosylated in the C-terminal basic region. Studied in EB-1 cell line.; Ubiquitinated by MDM2 and SYVN1, which leads to proteasomal degradation. Ubiquitinated by RFWD3, which works in cooperation with MDM2 and may catalyze the formation of short polyubiquitin chains on p53/TP53 that are not targeted to the proteasome. Ubiquitinated by MKRN1 at Lys-291 and Lys-292, which leads to proteasomal degradation. Deubiquitinated by USP10, leading to its stabilization. Ubiquitinated by TRIM24, RFFL, RNF34 and RNF125, which leads to proteasomal degradation. Ubiquitination by TOPORS induces degradation. Deubiquitination by USP7, leading to stabilization. Isoform 4 is monoubiquitinated in an MDM2-independent manner. Ubiquitinated by COP1, which leads to proteasomal degradation. Ubiquitination and subsequent proteasomal degradation is negatively regulated by CCAR2. Polyubiquitinated by C10orf90/FATS, polyubiquitination is 'Lys-48'-linkage independent and non-proteolytic, leading to TP53 stabilization (By similarity).; Monomethylated at Lys-372 by SETD7, leading to stabilization and increased transcriptional activation. Monomethylated at Lys-370 by SMYD2, leading to decreased DNA-binding activity and subsequent transcriptional regulation activity. Lys-372 monomethylation prevents interaction with SMYD2 and subsequent monomethylation at Lys-370. Dimethylated at Lys-373 by EHMT1 and EHMT2. Monomethylated at Lys-382 by KMT5A, promoting interaction with L3MBTL1 and leading to repress transcriptional activity. Dimethylation at Lys-370 and Lys-382 diminishes p53 ubiquitination, through stabilizing association with the methyl reader PHF20. Demethylation of dimethylated Lys-370 by KDM1A prevents interaction with TP53BP1 and represses TP53-mediated transcriptional activation. Monomethylated at Arg-333 and dimethylated at Arg-335 and Arg-337 by PRMT5; methylation is increased after DNA damage and might possibly affect TP53 target gene specificity.; Sumoylated with SUMO1. Sumoylated at Lys-386 by UBC9.
SUBCELLULAR LOCATION
Cytoplasm, Nucleus, Endoplasmic reticulum, Mitochondrion matrix.
FUNCTION
p53, a DNA-binding, oligomerization domain- and transcription activation domain-containing tumor suppressor, upregulates growth arrest and apoptosis-related genes in response to stress signals, thereby influencing programmed cell death, cell differentiation, and cell cycle control mechanisms. p53 localizes to the nucleus, yet can be chaperoned to the cytoplasm by the negative regulator, MDM2. MDM2 is an E3 ubiquitin ligase that is upregulated in the presence of active p53, where it poly-ubiquitinates p53 for proteasome targeting. p53 fluctuates between latent and active DNA-binding conformations and is differentially activated through posttranslational modifications, including phosphorylation and acetylation. Mutations in the DNA-binding domain (DBD) of p53, amino acids 110-286, can compromise energetically-favorable association with cis elements and are implicated in several human cancers.