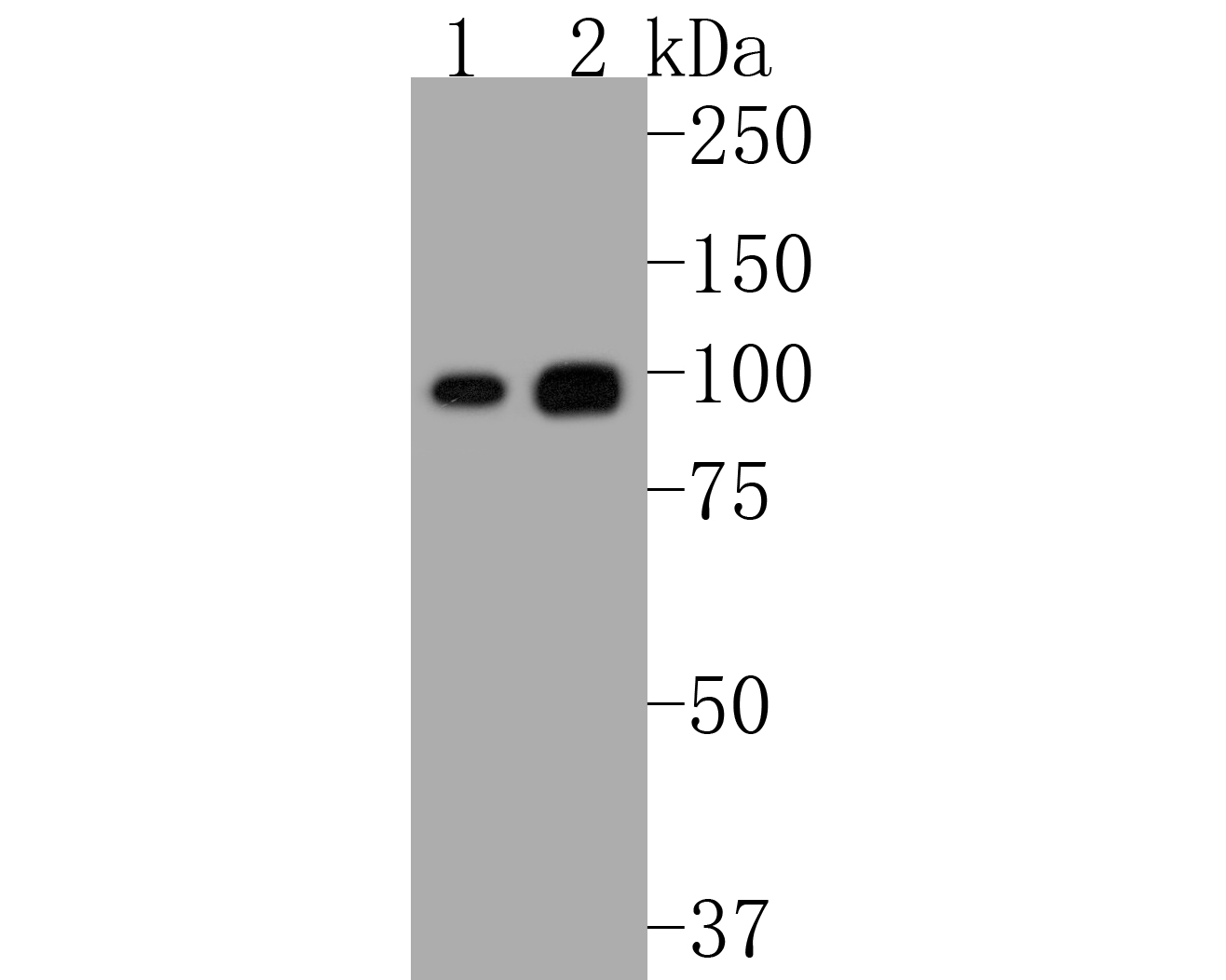 Western blot analysis of Phospho-Nrf2(S40) on different lysates. Proteins were transferred to a PVDF membrane and blocked with 5% BSA in PBS for 1 hour at room temperature. The primary antibody (ET1608-28, 1/500) was used in 5% BSA at room temperature for 2 hours. Goat Anti-Rabbit IgG - HRP Secondary Antibody (HA1001) at 1:5,000 dilution was used for 1 hour at room temperature.
Positive control:
Lane 1: HepG2 cell lysate
Lane 2: Raji cell lysate
SPECIFICATIONS
Product Type
Recombinant Rabbit monoclonal primary
Product Name
Phospho-Nrf2 (S40) Recombinant Rabbit Monoclonal Antibody [SU0334] (ET1608-28)
Immunogen
Synthetic phospho-peptide corresponding to residues surrounding ser40 of human nrf2 aa 20-69 / 605.
Positive Control
HepG2 cell lysate, Raji cell lysate, Hela, A549, HepG2, human tonsil tissue, human breast carcinoma tissue, human kidney tissue, K562.
PROPERTIES
Storage Condition
Store at +4C after thawing. Aliquot store at -20C or -80C. Avoid repeated freeze / thaw cycles.
Storage Buffer
1*TBS (pH7.4), 0.05% BSA, 40% Glycerol. Preservative: 0.05% Sodium Azide.
PURIFICATION
Protein A affinity purified.
TARGET
SYNONYMS
erythroid derived 2 antibody; HEBP1 antibody; like 2 antibody; NF E2 related factor 2 antibody; NF-E2-related factor 2 antibody; NF2L2_HUMAN antibody; NFE2 related factor 2 antibody; NFE2-related factor 2 antibody; Nfe2l2 antibody; Nrf 2 antibody; NRF2 antibody; Nuclear factor (erythroid derived 2) like 2 antibody; Nuclear factor antibody; nuclear factor erythroid 2 like 2 antibody; Nuclear factor erythroid 2 related factor 2 antibody; Nuclear factor erythroid 2-related factor 2 antibody; Nuclear factor erythroid derived 2 like 2 antibody
SEQUENCE SIMILARITIES
Belongs to the bZIP family. CNC subfamily.
TISSUE SPECIFICITY
Widely expressed. Highest expression in adult muscle, kidney, lung, liver and in fetal muscle.
POST-TRANSLATIONAL MODIFICATION
Ubiquitinated in the cytoplasm by the BCR(KEAP1) E3 ubiquitin ligase complex leading to its degradation. In response to oxidative stress, electrophile metabolites, such as sulforaphane, modify KEAP1, leading to inhibit activity of the BCR(KEAP1) complex, promoting NFE2L2/NRF2 nuclear accumulation and activity. In response to autophagy, the BCR(KEAP1) complex is inactivated (By similarity).; Phosphorylation of Ser-40 by PKC in response to oxidative stress dissociates NFE2L2 from its cytoplasmic inhibitor KEAP1, promoting its translocation into the nucleus.; Acetylation at Lys-596 and Lys-599 increases nuclear localization whereas deacetylation by SIRT1 enhances cytoplasmic presence.; Glycation impairs transcription factor activity by preventing heterodimerization with small Maf proteins. Deglycation by FN3K restores activity.
FUNCTION
The NF-E2 DNA binding protein is composed of two subunits, p45 and MafK. It regulates expression of globin genes in developing erythroid cells through interaction with Maf recognition elements (Mares). A family of NF-E2- related proteins, which are collectively known as the Cap 'n' collar (CNC) family and include Nrf1 (also designated TCF11), Nrf2 and Nrf3, are bZIP transcription factors that heterodimerize with Maf proteins to bind Mare sequences. The Nrf proteins also bind the antioxidant response element (ARE) and are implicated in the regulation of detoxification enzymes and the oxidative stress response. They do so by heterodimerizing with Jun family members (c-Jun, Jun B and Jun D) to activate gene expression, specifically the detoxifying enzyme NQO1. Nrf2 is widely expressed and is thought to translocate to the nucleus after treatment with xenobiotics and antioxidants, which stimulate its release from its repressor protein, Keap1. The gene encoding human Nrf3 maps to chromosome 7p15.2. Nrf3 is highly expressed in placenta, B cells and monocytes.
CITATIONS
Liu, Xingting et al.

Lycopene ameliorates oxidative stress in the aging chicken ovary via activation of Nrf2/HO-1 pathway. | Aging [2018]

Wang, J., Bai, Y., Yin, ......

Wang, J., Bai, Y., Yin, S., Cui, J., Zhang, Y., Wang, X., Zhang, F., Li, H., Tang, Y., & Wang, J. (2021). Circadian clock gene BMAL1 reduces urinary calcium oxalate stones formation by regulating NRF2/HO-1 pathway. Life sciences, 265, 118853.