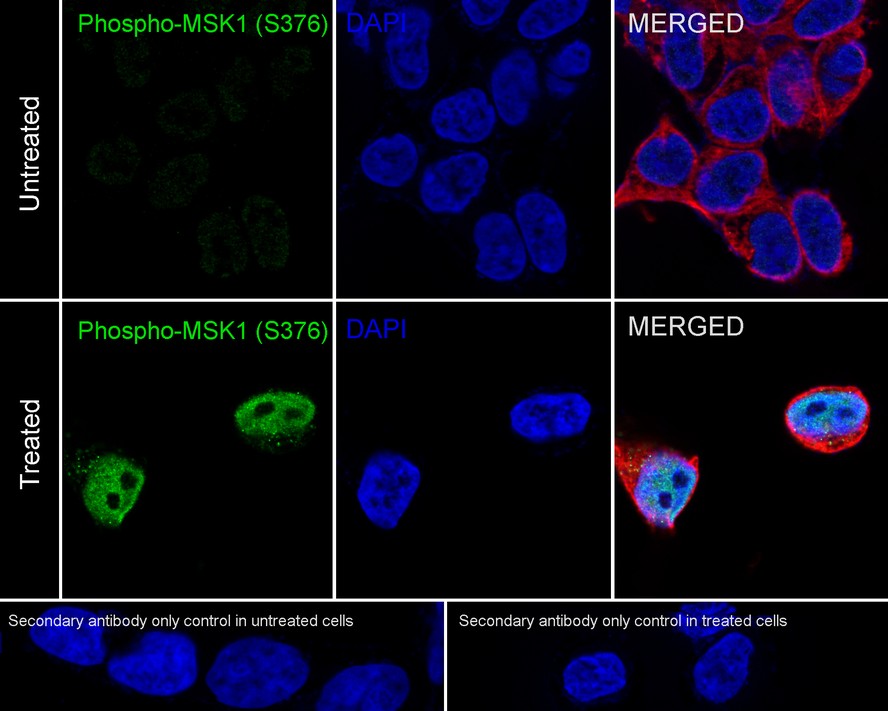 ICC staining of MSK1(phospho S376) in Hela cells (green). Formalin fixed cells were permeabilized with 0.1% Triton X-100 in TBS for 10 minutes at room temperature and blocked with 1% Blocker BSA for 15 minutes at room temperature. Cells were probed with the primary antibody (ET1611-17, 1/50) for 1 hour at room temperature, washed with PBS. Alexa Fluor®488 Goat anti-Rabbit IgG was used as the secondary antibody at 1/1,000 dilution. The nuclear counter stain is DAPI (blue).
SPECIFICATIONS
Product Type
Recombinant Rabbit monoclonal primary
Product Name
Phospho-MSK1 (S376) Recombinant Rabbit Monoclonal Antibody [SN63-05] (ET1611-17)
Positive Control
Hela, LO2, PC-3M, 293, human colon tissue.
PROPERTIES
Storage Condition
Store at +4C after thawing. Aliquot store at -20C or -80C. Avoid repeated freeze / thaw cycles.
Storage Buffer
1*TBS (pH7.4), 0.05% BSA, 40% Glycerol. Preservative: 0.05% Sodium Azide.
PURIFICATION
Protein A affinity purified.
TARGET
SYNONYMS
90 kDa ribosomal protein S6 kinase 5 antibody; EC 2.7.11.1 antibody; KS6A5_HUMAN antibody; MGC1911 antibody; Mitogen and stress activated protein kinase 1 antibody; MSPK1 antibody; Nuclear Mitogen And Stress Activated Protein Kinase 1 antibody; Nuclear mitogen- and stress-activated protein kinase 1 antibody; Ribosomal protein S6 kinase 90kD polypeptide 5 antibody; Ribosomal protein S6 kinase 90kDa antibody; Ribosomal protein S6 kinase 90kDa polypeptide 5 antibody; Ribosomal Protein S6 Kinase Alpha 5 antibody; Ribosomal protein S6 kinase alpha-5 antibody; RLPK antibody; RPS6KA5 antibody; RSK Like Protein Kinase antibody; RSK-like protein kinase antibody; RSKL antibody; S6K alpha 5 antibody; S6K-alpha-5 antibody
SEQUENCE SIMILARITIES
Belongs to the protein kinase superfamily. AGC Ser/Thr protein kinase family. S6 kinase subfamily.
TISSUE SPECIFICITY
Widely expressed with high levels in heart, brain and placenta. Less abundant in lung, kidney and liver.
POST-TRANSLATIONAL MODIFICATION
Ser-376 and Thr-581 phosphorylation is required for kinase activity. Ser-376 and Ser-212 are autophosphorylated by the C-terminal kinase domain, and their phosphorylation is essential for the catalytic activity of the N-terminal kinase domain. Phosphorylated at Ser-360, Thr-581 and Thr-700 by MAPK1/ERK2, MAPK3/ERK1 and MAPK14/p38-alpha. Autophosphorylated at Ser-750, Ser-752 and Ser-758 by the N-terminal kinase domain.; Ubiquitinated.
FUNCTION
The family of ribosomal S6 kinases (Rsks), designated Rsk-1, Rsk-2 and Rsk-3, have been implicated as important signaling intermediates in response to a broad range of ligand-activated receptor tyrosine kinases. A unique feature common to the three members of the Rsk family is that each possesses two non-identical complete kinase catalytic domains. A related S6 kinase, p70 S6 kinase, functions to phosphorylate the S6 protein on ribosomal 40S subunits. p70 S6 kinase b shares high sequence homology with p70 S6 kinase, except in the carboxy terminus where it contains a proline-rich domain that may be involved in SH3 domain containing protein interactions. MSK1 (also designated RLPK) is related to Rsk and p70 S6 kinase family members and is thought to be structurally similar to Rsk family members, but it may be regulated by distinct mechanisms.