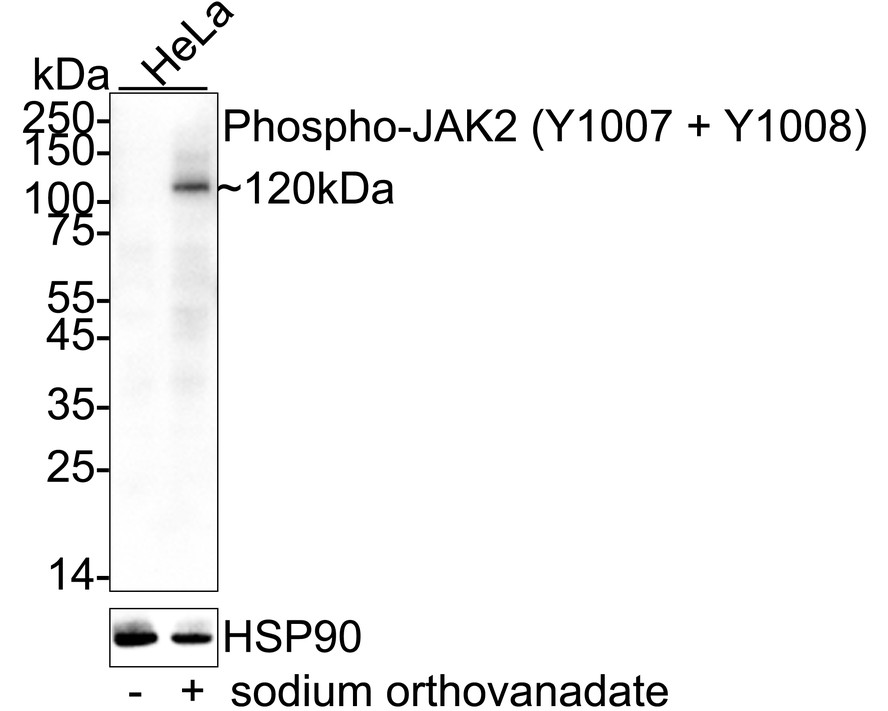 ICC staining of Phospho-JAK2(Y1007+Y1008) in Hela cells (green). Formalin fixed cells were permeabilized with 0.1% Triton X-100 in TBS for 10 minutes at room temperature and blocked with 1% Blocker BSA for 15 minutes at room temperature. Cells were probed with the primary antibody (ET1607-34, 1/50) for 1 hour at room temperature, washed with PBS. Alexa Fluor®488 Goat anti-Rabbit IgG was used as the secondary antibody at 1/1,000 dilution. The nuclear counter stain is DAPI (blue).
SPECIFICATIONS
Product Type
Recombinant Rabbit monoclonal primary
Product Name
Phospho-JAK2 (Y1007+Y1008) Recombinant Rabbit Monoclonal Antibody [SY24-03] (ET1607-34)
Immunogen
Synthetic phospho-peptide corresponding to residues surrounding tyr1007 and 1008 of human jak2.
Positive Control
Hela, human lung carcinoma tissue, human tonsil tissue, human kidney tissue.
PROPERTIES
Storage Condition
Store at +4C after thawing. Aliquot store at -20C or -80C. Avoid repeated freeze / thaw cycles.
Storage Buffer
1*TBS (pH7.4), 0.05% BSA, 40% Glycerol. Preservative: 0.05% Sodium Azide.
PURIFICATION
Protein A affinity purified.
TARGET
PROTEIN NAME
Phospho-JAK2 (Y1007+Y1008)
SYNONYMS
JAK 2 antibody; JAK-2 antibody; JAK2 antibody; JAK2_HUMAN antibody; Janus Activating Kinase 2 antibody; Janus kinase 2 (a protein tyrosine kinase) antibody; Janus kinase 2 antibody; JTK 10 antibody; JTK10 antibody; kinase Jak2 antibody; OTTHUMP00000043260 antibody; THCYT3 antibody; Tyrosine protein kinase JAK2 antibody; Tyrosine-protein kinase JAK2 antibody
SEQUENCE SIMILARITIES
Belongs to the protein kinase superfamily. Tyr protein kinase family. JAK subfamily.
TISSUE SPECIFICITY
Ubiquitously expressed throughout most tissues.
POST-TRANSLATIONAL MODIFICATION
Autophosphorylated, leading to regulate its activity. Leptin promotes phosphorylation on tyrosine residues, including phosphorylation on Tyr-813 (By similarity). Autophosphorylation on Tyr-119 in response to EPO down-regulates its kinase activity (By similarity). Autophosphorylation on Tyr-868, Tyr-966 and Tyr-972 in response to growth hormone (GH) are required for maximal kinase activity (By similarity). Also phosphorylated by TEC (By similarity). Phosphorylated on tyrosine residues in response to interferon gamma signaling. Phosphorylated on tyrosine residues in response to a signaling cascade that is activated by increased cellular retinol.
SUBCELLULAR LOCATION
Nucleus, Endomembrane system, Cytoplasm.
FUNCTION
JAK2 (Janus Kinase 2) belongs to the emerging family of non-receptor Janus tyrosine kinases, which regulate a spectrum of cellular functions downstream of activated cytokine receptors in the lympho-hematopoietic system. Immuno-logical stimuli, such as interferons and cytokines, induce recruitment of Stat transcription factors to cytokine receptor-associated JAK2. JAK2 then phosphorylates proximal Stat factors, which subsequently dimerize, translocate to the nucleus and bind to cis elements upstream of target gene promoters to regulate transcription. The canonical JAK-Stat pathway is integral to maintaining a normal immune system by stimulating proliferation, differentiation, survival, and host resistance to pathogens. Altering JAK-Stat signaling to reduce cytokine induced pro-inflammatory responses represents an attractive target for anti-inflammatory therapies. Within the JAK2 kinase domain, there is a region that has considerable sequence homology to the regulatory region of the insulin receptor. Among a variety of sites, Tyrosines 1007 and 1008 are sites of trans- or autophosphorylation in vivo and in in vitro kinase reactions.