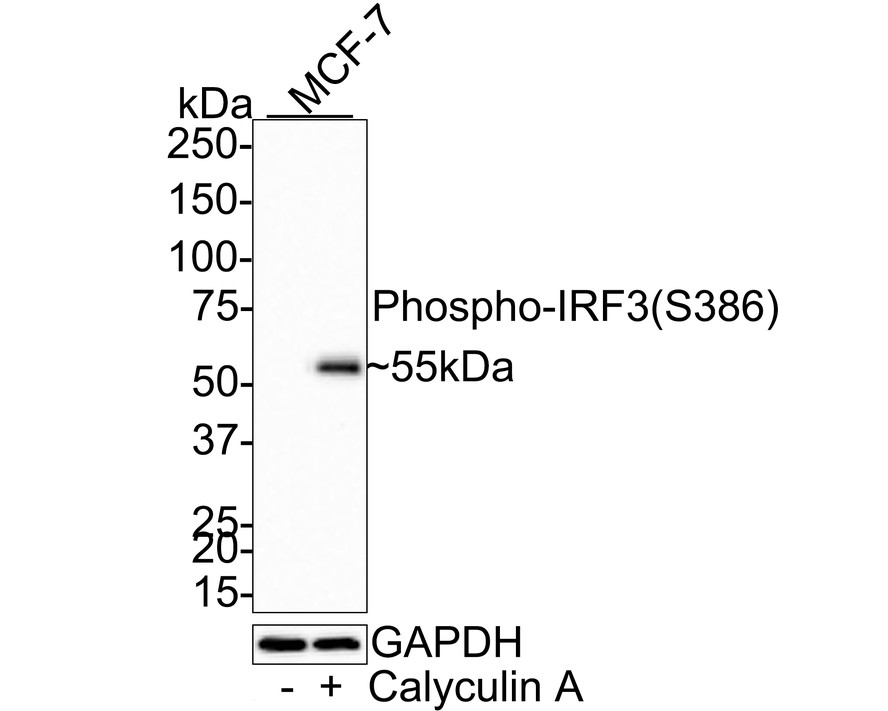 ICC staining of Phospho-IRF3(S386) in MCF-7 cells (green). Formalin fixed cells were permeabilized with 0.1% Triton X-100 in TBS for 10 minutes at room temperature and blocked with 1% Blocker BSA for 15 minutes at room temperature. Cells were probed with the primary antibody (ET1608-22, 1/50) for 1 hour at room temperature, washed with PBS. Alexa Fluor®488 Goat anti-Rabbit IgG was used as the secondary antibody at 1/1,000 dilution. The nuclear counter stain is DAPI (blue).
SPECIFICATIONS
Product Type
Recombinant Rabbit monoclonal primary
Product Name
Phospho-IRF3 (S386) Recombinant Rabbit Monoclonal Antibody [SU03-28] (ET1608-22)
Immunogen
Synthetic phospho-peptide corresponding to residues surrounding ser386 of human irf3.
PROPERTIES
Storage Condition
Store at +4C after thawing. Aliquot store at -20C or -80C. Avoid repeated freeze / thaw cycles.
Storage Buffer
1*TBS (pH7.4), 0.05% BSA, 40% Glycerol. Preservative: 0.05% Sodium Azide.
PURIFICATION
Protein A affinity purified.
TARGET
SYNONYMS
IIAE7 antibody; Interferon regulatory factor 3 antibody; IRF 3 antibody; IRF-3 antibody; IRF3 antibody; IRF3_HUMAN antibody; MGC94729 antibody
SEQUENCE SIMILARITIES
Belongs to the IRF family.
TISSUE SPECIFICITY
Expressed constitutively in a variety of tissues.
POST-TRANSLATIONAL MODIFICATION
Constitutively phosphorylated on many Ser/Thr residues. Activated following phosphorylation by TBK1 and IKBKE. Innate adapter protein MAVS, STING1 or TICAM1 are first activated by viral RNA, cytosolic DNA, and bacterial lipopolysaccharide (LPS), respectively, leading to activation of the kinases TBK1 and IKBKE. These kinases then phosphorylate the adapter proteins on the pLxIS motif, leading to recruitment of IRF3, thereby licensing IRF3 for phosphorylation by TBK1. Phosphorylated IRF3 dissociates from the adapter proteins, dimerizes, and then enters the nucleus to induce IFNs.; (Microbial infection) Phosphorylation and subsequent activation of IRF3 is inhibited by vaccinia virus protein E3.; Ubiquitinated; ubiquitination involves RBCK1 leading to proteasomal degradation. Polyubiquitinated; ubiquitination involves TRIM21 leading to proteasomal degradation.; ISGylated by HERC5 resulting in sustained IRF3 activation and in the inhibition of IRF3 ubiquitination by disrupting PIN1 binding. The phosphorylation state of IRF3 does not alter ISGylation.
FUNCTION
Interferon regulatory factor-1 (IRF-1) and IRF-2 have been identified as novel DNA-binding factors that function as regulators of both type I interferon (interferon-α and β) and interferon-inducible genes. The two factors are structurally related, particularly in their N-terminal regions, which confer DNA binding specificity. In addition, both bind to the same sequence within the promoters of interferon-α and interferon-β genes. IRF-1 functions as an activator of interferon transcription, while IRF-2 binds to the same cis elements and represses IRF-1 action. IRF-1 and IRF-2 have been reported to act in a mutually antagonistic manner in regulating cell growth; overexpression of the repressor IRF-2 leads to cell transformation while concomitant overexpression of IRF-1 causes reversion. IRF-1 and IRF-2 are members of a larger family of DNA binding proteins that includes IRF-3, IRF-4, IRF-5, IRF-6, IRF-7, ISGF-3γ p48 and IFN consensus sequence-binding protein (ICSBP).