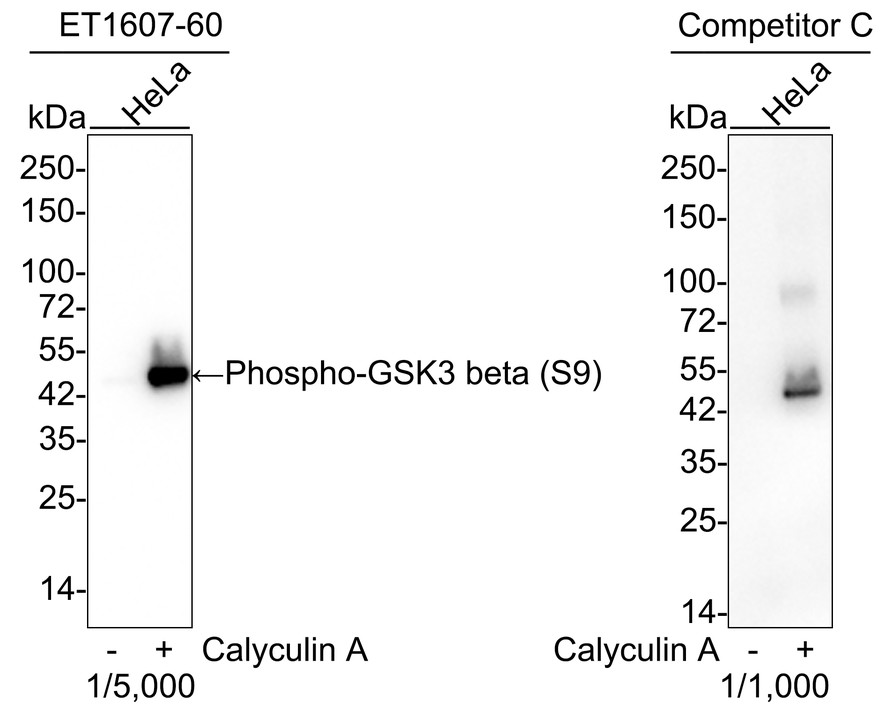 Western blot analysis of Phospho-GSK3 beta(Ser 9) on Hela cell lysates.

Lane 1 : Hela cells, whole cell lysate, 10ug/lane
Lane 2 : Hela cells starved for 3 hours, whole cell lysates, 10ug/lane
Lane 3/4 : Hela cells starved for 3 hours, then treated with 100nM Calyculin A for 30 minutes, whole cell lysates, 10ug/lane
Lane 5 : Hela cells starved for 3 hours and treated with 100nM Calyculin A for 30 minutes, then treated with 2.8ug/ul lambda-PP for 30 minutes, whole cell lysates, 10ug/lane

All lanes :
Anti-Phospho-GSK3 beta(Ser 9) antibody (ET1603-40) at 1:500 dilution. Anti-GAPDH antibody (ET1601-4) at 1:10,000 dilution. Goat Anti-Rabbit IgG H&L (HRP) (HA1001) at 1/200,000 dilution.

Predicted band size: 47 kDa
Observed band size: 47 kDa

Blocking and diluting buffer: 5% BSA.

Exposure time: 1 minute 2 seconds
SPECIFICATIONS
Product Type
Recombinant Rabbit monoclonal primary
Product Name
Phospho-GSK3 beta (Ser 9) Recombinant Rabbit Monoclonal Antibody [SY02-71] (ET1607-60)
Immunogen
Synthetic phospho-peptide corresponding to residues surrounding ser9 of human gsk3 beta aa 1-50 / 420.
Positive Control
Hela cell lysate, A549 cell lysate, Hela, MCF-7, human colon carcinoma tissue, human breast tissue, human breast carcinoma tissue, human kidney tissue, human pancreas tissue.
PROPERTIES
Storage Condition
Store at +4C after thawing. Aliquot store at -20C or -80C. Avoid repeated freeze / thaw cycles.
Storage Buffer
1*TBS (pH7.4), 0.05% BSA, 40% Glycerol. Preservative: 0.05% Sodium Azide.
PURIFICATION
Protein A affinity purified.
MOLECULAR WEIGHT
Predicted band size: 47 kDa
TARGET
PROTEIN NAME
Phospho-GSK3 beta (Ser 9)
SYNONYMS
Glycogen Synthase Kinase 3 Beta antibody;Glycogen synthase kinase-3 beta antibody;GSK 3 beta antibody;GSK-3 beta antibody;GSK3B antibody;GSK3B_HUMAN antibody;GSK3beta isoform antibody;Serine/threonine-protein kinase GSK3B antibody
SEQUENCE SIMILARITIES
Belongs to the protein kinase superfamily. CMGC Ser/Thr protein kinase family. GSK-3 subfamily.
TISSUE SPECIFICITY
Expressed in testis, thymus, prostate and ovary and weakly expressed in lung, brain and kidney. Colocalizes with EIF2AK2/PKR and TAU in the Alzheimer disease (AD) brain.
POST-TRANSLATIONAL MODIFICATION
Phosphorylated by AKT1 and ILK1. Upon insulin-mediated signaling, the activated PKB/AKT1 protein kinase phosphorylates and desactivates GSK3B, resulting in the dephosphorylation and activation of GYS1. Activated by phosphorylation at Tyr-216. Inactivated by phosphorylation at Ser-9 (Probable). Phosphorylated in a circadian manner in the hippocampus (By similarity).; Mono-ADP-ribosylation by PARP10 negatively regulates kinase activity.
SUBCELLULAR LOCATION
Cytoplasm, Nucleus, Cell membrane.
FUNCTION
Glycogen synthase kinase-3α (GSK-3α) and GSK-3β are highly similar isoforms of serine/ threonine kinases that regulate metabolic enzymes and transcription factors, which are responsible for coordinating processes such as glycogen synthesis and cell adhesion. GSK-3β activity is also required for nuclear activity of Rel dimers, which mediate an anti-apoptotic response to TNFα in mice. GSK-3 catalytic kinase activity is controlled through differential phosphorylation of serine/threonine residues, which have an inhibitory effect, and tyrosine residues, which have an activating effect. Growth factor stimulation of mammalian cells expressing GSK-3α and GSK-3β induces phosphorylation of Ser 21 and Ser 9, respectively, through a phosphatidylinositol 3-kinase (PI 3-K)-protein kinase B (PKB)-dependent pathway, thereby enhancing proliferative signals. Additionally, GSK-3 physically associates with cAMP-dependent protein kinase A (PKA), which phosphorylates Ser 21 of GSK-3α or Ser 9 of GSK-3β and inactivates both forms. GSK-3α/β is positively regulated by phosphorylation on Tyr 279 and Tyr 216, respectively. Activated GSK-3α/β participates in energy metabolism, neuronal cell development, and body pattern formation. Tyrosine dephosphorylation of GSK-3 is involved in its extracellular signal-dependent inactivation.
CITATIONS
Guodong Chen;Longquan Shao

Rapamycin-Induced Autophagy Promotes the Chondrogenic Differentiation of Synovium-Derived Mesenchymal Stem Cells in the Temporomandibular Joint in Response to IL-1β

Xue, F., Zhao, Z., Gu, Y., ...

7,8-Dihydroxyflavone modulates bone formation and resorption and ameliorates ovariectomy-induced osteoporosis. eLife, 10, e64872.

Jian Li; Caiqiao Zhang

Metformin Prevents Follicular Atresia in Aging Laying Chickens through Activation of PI3K/AKT and Calcium Signaling Pathways