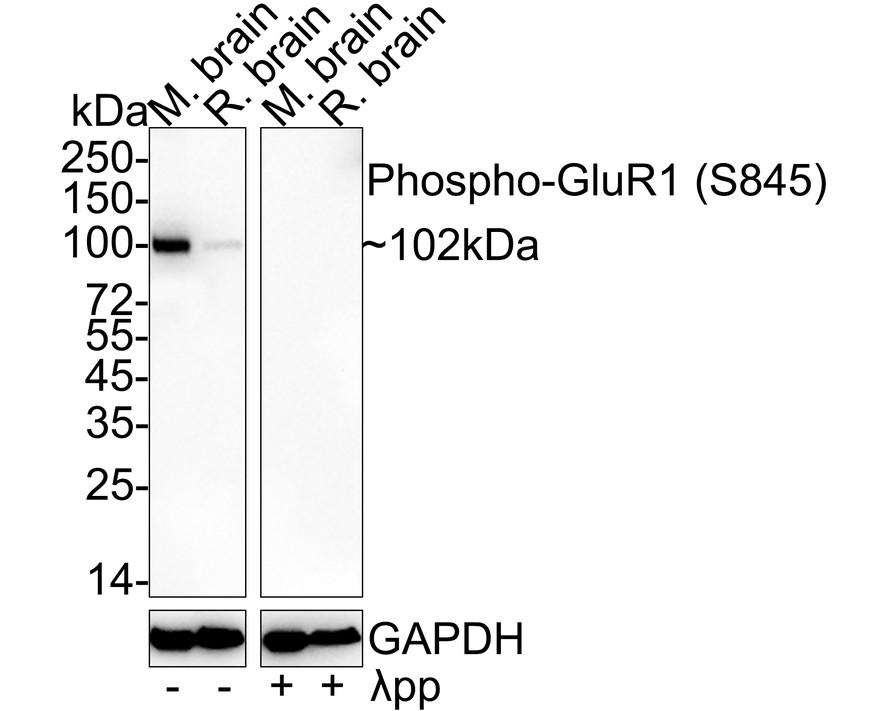 Flow cytometric analysis of Phospho-GluR1(S845) was done on N2A cells. The cells were fixed, permeabilized and stained with the primary antibody (ET1701-28, 1/50) (red). After incubation of the primary antibody at room temperature for an hour, the cells were stained with a Alexa Fluor 488-conjugated Goat anti-Rabbit IgG Secondary antibody at 1/1000 dilution for 30 minutes.Unlabelled sample was used as a control (cells without incubation with primary antibody; black).
SPECIFICATIONS
Product Type
Recombinant Rabbit monoclonal primary
Product Name
Phospho-GluR1 (S845) Recombinant Rabbit Monoclonal Antibody [JJ2009] (ET1701-28)
Immunogen
Synthetic phospho-peptide corresponding to residues surrounding ser845 of human glur1.
PROPERTIES
Storage Condition
Store at +4C after thawing. Aliquot store at -20C or -80C. Avoid repeated freeze / thaw cycles.
Storage Buffer
1*TBS (pH7.4), 0.05% BSA, 40% Glycerol. Preservative: 0.05% Sodium Azide.
PURIFICATION
Protein A affinity purified.
TARGET
SYNONYMS
GLUR 1 antibody; GLUR A antibody; AMPA 1 antibody; AMPA selective glutamate receptor 1 antibody; AMPA-selective glutamate receptor 1 antibody; GluA1 antibody; GLUH1 antibody; GluR K1 antibody; GluR-1 antibody; GluR-A antibody; GluR-K1 antibody; GLUR1 antibody; GLURA antibody; GluRK1 antibody; Glutamate receptor 1 antibody; Glutamate receptor ionotropic AMPA 1 antibody; Glutamate receptor ionotropic antibody; Glutamate receptor, ionotropic, AMPA 1 antibody; Gria1 antibody; GRIA1_HUMAN antibody; HBGR1 antibody; MGC133252 antibody; OTTHUMP00000160643 antibody; OTTHUMP00000165781 antibody; OTTHUMP00000224241 antibody; OTTHUMP00000224242 antibody; OTTHUMP00000224243 antibody
SEQUENCE SIMILARITIES
Belongs to the glutamate-gated ion channel (TC 1.A.10.1) family. GRIA1 subfamily.
TISSUE SPECIFICITY
Widely expressed in brain.
POST-TRANSLATIONAL MODIFICATION
Palmitoylated. Depalmitoylated upon glutamate stimulation. Cys-603 palmitoylation leads to Golgi retention and decreased cell surface expression. In contrast, Cys-829 palmitoylation does not affect cell surface expression but regulates stimulation-dependent endocytosis (By similarity).; Phosphorylated at Ser-645. Phosphorylated at Ser-710 by PKC. Phosphorylated at Ser-849 by PKC, PKA and CAMK2. Phosphorylated at Ser-863 by PKC, PKA and PRKG2 (By similarity). Phosphorylation of Ser-863 is reduced by induction of long-term depression and increased by induction of long-term potentiation (By similarity).
SUBCELLULAR LOCATION
Cell membrane, Endoplasmic reticulum membrane, Cell junction, Cell projection.
FUNCTION
Glutamate receptors mediate most excitatory neurotransmission in the brain and play an important role in neural plasticity, neural development and neurodegeneration. Ionotropic glutamate receptors are categorized into NMDA receptors and kainate/AMPA receptors, both of which contain glutamate-gated, cation-specific ion channels. Kainate/AMPA receptors are co-localized with NMDA receptors in many synapses and consist of seven structurally related subunits designated GluR-1 to -7. The kainate/AMPA receptors are primarily responsible for the fast excitatory neuro-transmission by glutamate whereas the NMDA receptors are functionally characterized by a slow kinetic and a high permeability for Ca2+ ions. The NMDA receptors consist of five subunits: epsilion 1, 2, 3, 4 and one zeta subunit. The zeta subunit is expressed throughout the brainstem whereas the four epsilon subunits display limited distribution.