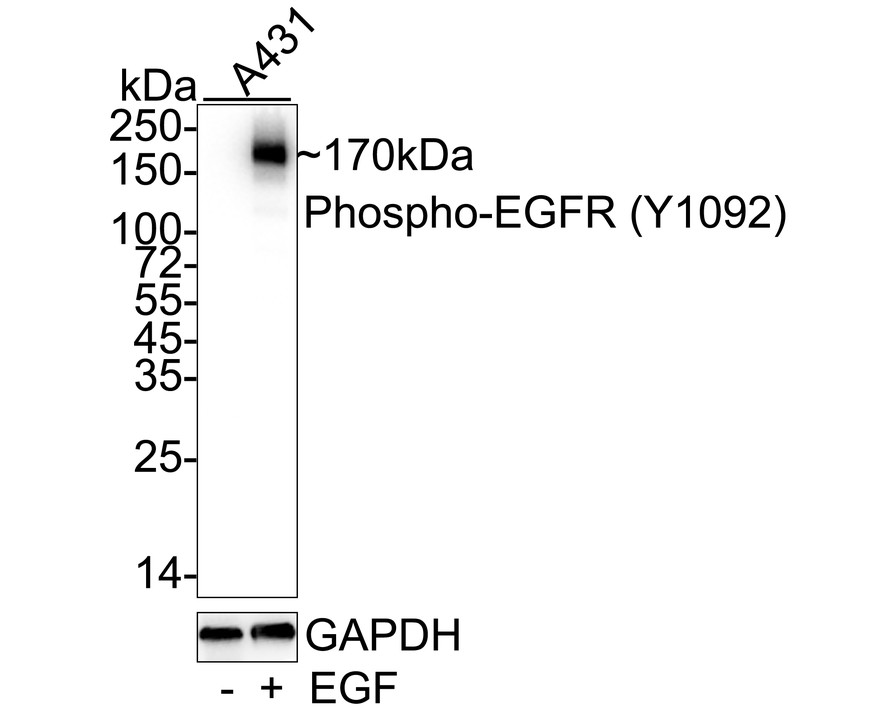 Western blot analysis of Phospho-EGFR(Y1092) on different lysates. Proteins were transferred to a PVDF membrane and blocked with 5% BSA in PBS for 1 hour at room temperature. The primary antibody (ET1606-44, 1/1,000) was used in 5% BSA at room temperature for 2 hours. Goat Anti-Rabbit IgG - HRP Secondary Antibody (HA1001) at 1:5,000 dilution was used for 1 hour at room temperature.
Positive control:
Lane 1: A431 cell lysate treated with EGF
Lane 2: Untreated A431 cell lysate
SPECIFICATIONS
Product Type
Recombinant Rabbit monoclonal primary
Product Name
Phospho-EGFR (Y1092) Recombinant Rabbit Monoclonal Antibody [SJ0194] (ET1606-44)
Immunogen
Synthetic phospho-peptide corresponding to residues surrounding tyr1092 of human egfr aa 1,071-1,120 / 1,210.
Positive Control
A431 cell lysate treated with EGF, BT-20, human tonsil tissue, mouse skin tissue.
PROPERTIES
Storage Condition
Store at +4C after thawing. Aliquot store at -20C or -80C. Avoid repeated freeze / thaw cycles.
Storage Buffer
1*TBS (pH7.4), 0.05% BSA, 40% Glycerol. Preservative: 0.05% Sodium Azide.
PURIFICATION
Protein A affinity purified.
TARGET
SYNONYMS
Avian erythroblastic leukemia viral (v erb b) oncogene homolog antibody; Cell growth inhibiting protein 40 antibody; Cell proliferation inducing protein 61 antibody; EGF R antibody; EGFR antibody; EGFR_HUMAN antibody; Epidermal growth factor receptor (avian erythroblastic leukemia viral (v erb b) oncogene homolog) antibody; Epidermal growth factor receptor (erythroblastic leukemia viral (v erb b) oncogene homolog avian) antibody; Epidermal growth factor receptor antibody; erb-b2 receptor tyrosine kinase 1 antibody; ERBB antibody; ERBB1 antibody; Errp antibody; HER1 antibody; mENA antibody; NISBD2 antibody; Oncogen ERBB antibody; PIG61 antibody; Proto-oncogene c-ErbB-1 antibody; Receptor tyrosine protein kinase ErbB 1 antibody; Receptor tyrosine-protein kinase ErbB-1 antibody; SA7 antibody; Species antigen 7 antibody; Urogastrone antibody; v-erb-b Avian erythroblastic leukemia viral oncogen homolog antibody; wa2 antibody; Wa5 antibody
SEQUENCE SIMILARITIES
Belongs to the protein kinase superfamily. Tyr protein kinase family. EGF receptor subfamily.
TISSUE SPECIFICITY
Ubiquitously expressed. Isoform 2 is also expressed in ovarian cancers.
POST-TRANSLATIONAL MODIFICATION
Phosphorylated on Tyr residues in response to EGF. Phosphorylation at Ser-695 is partial and occurs only if Thr-693 is phosphorylated. Phosphorylation at Thr-678 and Thr-693 by PRKD1 inhibits EGF-induced MAPK8/JNK1 activation. Dephosphorylation by PTPRJ prevents endocytosis and stabilizes the receptor at the plasma membrane. Autophosphorylation at Tyr-1197 is stimulated by methylation at Arg-1199 and enhances interaction with PTPN6. Autophosphorylation at Tyr-1092 and/or Tyr-1110 recruits STAT3. Dephosphorylated by PTPN1 and PTPN2.; Monoubiquitinated and polyubiquitinated upon EGF stimulation; which does not affect tyrosine kinase activity or signaling capacity but may play a role in lysosomal targeting. Polyubiquitin linkage is mainly through 'Lys-63', but linkage through 'Lys-48', 'Lys-11' and 'Lys-29' also occurs. Deubiquitination by OTUD7B prevents degradation. Ubiquitinated by RNF115 and RNF126 (By similarity).; Palmitoylated on Cys residues by ZDHHC20. Palmitoylation inhibits internalization after ligand binding, and increases the persistence of tyrosine-phosphorylated EGFR at the cell membrane. Palmitoylation increases the amplitude and duration of EGFR signaling.; Methylated. Methylation at Arg-1199 by PRMT5 stimulates phosphorylation at Tyr-1197.
SUBCELLULAR LOCATION
Cell membrane, Nucleus membrane, Nucleus, Endoplasmic reticulum membrane, Golgi apparatus membrane, Endosome.
FUNCTION
Epidermal growth factor mediates its effects on cell growth through its inter-action with a cell surface glycoprotein designated the EGF receptor. Binding of EGF or TGF alpha to the EGF receptor activates tyrosine-specific protein kinase activity intrinsic to the EGF receptor. The carboxy terminal tyrosine residues on EGFR, Tyr 1068 and Tyr 1173, are the major sites of autophosphorylation, which occurs as a result of EGF binding. Once activated, EGFR mediates the binding of the phosphotyrosine binding (PTB) domain of GRB2 through direct interactions with Tyr 1068 and Tyr 1086 and through indirect interactions with Tyr 1173 in the Ras signaling pathway. Tyr 1173 of EGFR also functions as a kinase substrate. Phosphorylation of Tyr 992, Tyr 1068 and Tyr 1086 is required for conformational change in the C-terminal tail of the EGF receptor.