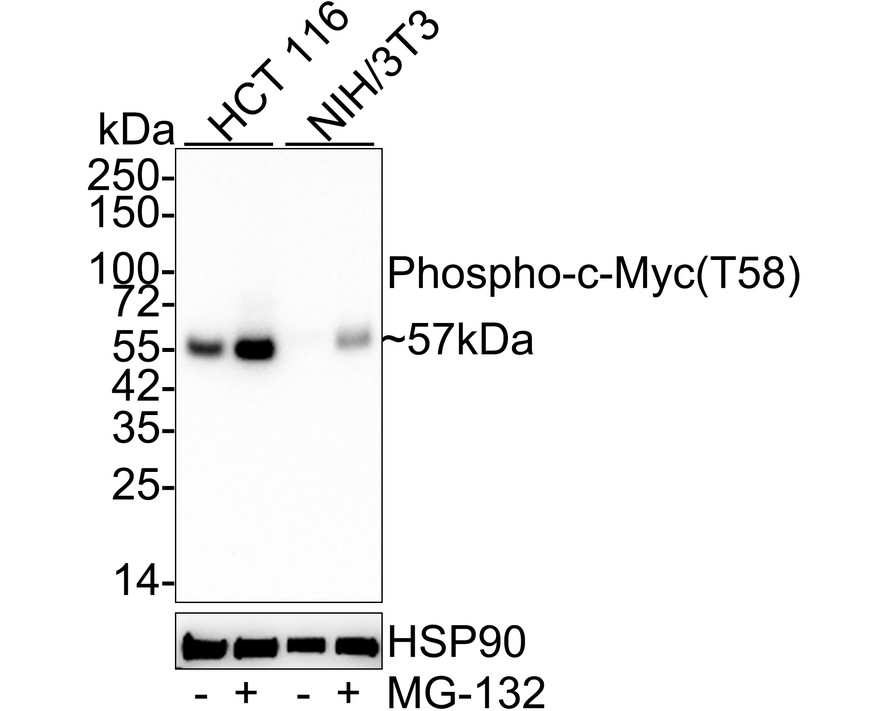 ICC staining of Phospho-c-Myc(T58) in Hela cells (green). Formalin fixed cells were permeabilized with 0.1% Triton X-100 in TBS for 10 minutes at room temperature and blocked with 1% Blocker BSA for 15 minutes at room temperature. Cells were probed with the primary antibody (ET1611-24, 1/50) for 1 hour at room temperature, washed with PBS. Alexa Fluor®488 Goat anti-Rabbit IgG was used as the secondary antibody at 1/1,000 dilution. The nuclear counter stain is DAPI (blue).
SPECIFICATIONS
Product Type
Recombinant Rabbit monoclonal primary
Product Name
Phospho-c-Myc (T58) Recombinant Rabbit Monoclonal Antibody [SN60-01] (ET1611-24)
PROPERTIES
Storage Condition
Store at +4C after thawing. Aliquot store at -20C or -80C. Avoid repeated freeze / thaw cycles.
Storage Buffer
1*TBS (pH7.4), 0.05% BSA, 40% Glycerol. Preservative: 0.05% Sodium Azide.
TARGET
SYNONYMS
Avian myelocytomatosis viral oncogene homolog antibody; bHLHe39 antibody; c Myc antibody; Class E basic helix-loop-helix protein 39 antibody; MRTL antibody; Myc antibody; Myc protein antibody; Myc proto oncogene protein antibody; Myc proto-oncogene protein antibody; myc related translation/localization regulatory factor antibody; MYC_HUMAN antibody; Myc2 antibody; MYCC antibody; Niard antibody; Nird antibody; Proto-oncogene c-Myc antibody; Transcription factor p64 antibody; v myc avian myelocytomatosis viral oncogene homolog antibody; v myc myelocytomatosis viral oncogene homolog antibody
POST-TRANSLATIONAL MODIFICATION
Phosphorylated by PRKDC. Phosphorylation at Ser-329 by PIM2 leads to the stabilization of MYC (By similarity). Phosphorylation at Ser-62 by CDK2 prevents Ras-induced senescence. Phosphorylated at Ser-62 by DYRK2; this primes the protein for subsequent phosphorylation by GSK3B at Thr-58. Phosphorylation at Thr-58 and Ser-62 by GSK3 is required for ubiquitination and degradation by the proteasome.; Ubiquitinated by the SCF(FBXW7) complex when phosphorylated at Thr-58 and Ser-62, leading to its degradation by the proteasome. In the nucleoplasm, ubiquitination is counteracted by USP28, which interacts with isoform 1 of FBXW7 (FBW7alpha), leading to its deubiquitination and preventing degradation. In the nucleolus, however, ubiquitination is not counteracted by USP28 but by USP36, due to the lack of interaction between isoform 3 of FBXW7 (FBW7gamma) and USP28, explaining the selective MYC degradation in the nucleolus. Also polyubiquitinated by the DCX(TRUSS) complex. Ubiquitinated by TRIM6 in a phosphorylation-independent manner (By similarity).
FUNCTION
c-Myc-, N-Myc- and L-Myc-encoded proteins function in cell proliferation, differentiation and neoplastic disease. Myc proteins are nuclear proteins with relatively short half lives. Amplification of the c-Myc gene has been found in several types of human tumors including lung, breast and colon carcinomas, while the N-Myc gene has been found amplified in neuroblastomas. The L-Myc gene has been reported to be amplified and expressed at high level in human small cell lung carcinomas. The presence of three sequence motifs in the c-Myc COOH terminus, including the leucine zipper, the helix-loop-helix and a basic region provided initial evidence for a sequence-specific binding function. A basic region helix-loop-helix leucine zipper motif (bHLH-Zip) protein, designated Max, specifically associates with c-Myc, N-Myc and L-Myc proteins. The Myc-Max complex binds to DNA in a sequence-specific manner under conditions where neither Max nor Myc exhibit appreciable binding. Max can also form heterodimers with at least two additional bHLH-Zip proteins, Mad and Mxi1, and Mad-Max dimers have been shown to repress transcription through interaction with mSin3.