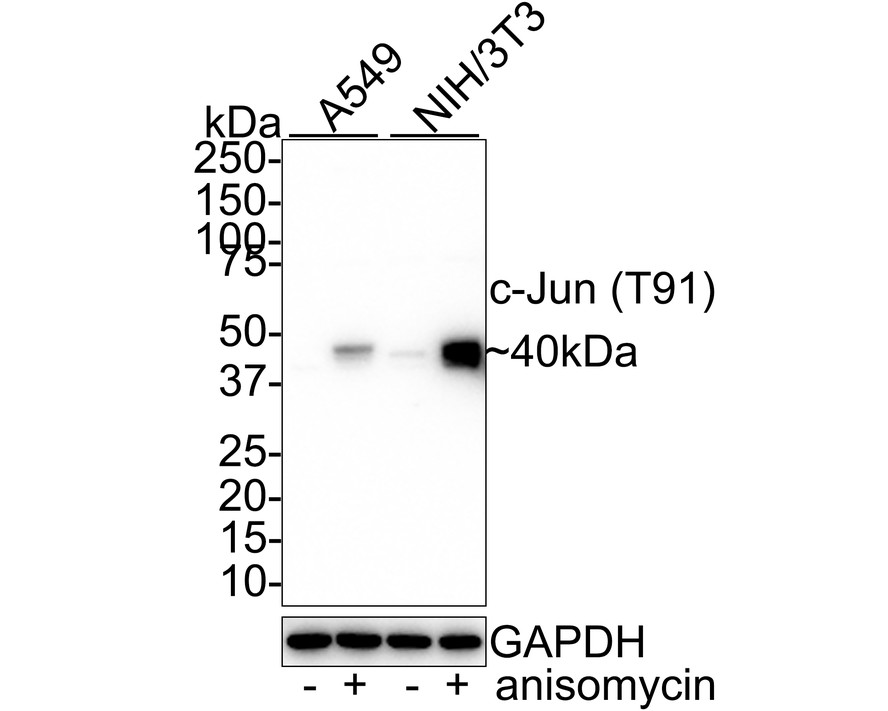 ICC staining of Phospho-c-Jun(T91) in HepG2 cells (green). Formalin fixed cells were permeabilized with 0.1% Triton X-100 in TBS for 10 minutes at room temperature and blocked with 1% Blocker BSA for 15 minutes at room temperature. Cells were probed with the primary antibody (ET1701-32, 1/50) for 1 hour at room temperature, washed with PBS. Alexa Fluor®488 Goat anti-Rabbit IgG was used as the secondary antibody at 1/1,000 dilution. The nuclear counter stain is DAPI (blue).
SPECIFICATIONS
Product Type
Recombinant Rabbit monoclonal primary
Product Name
Phospho-c-Jun (T91) Recombinant Rabbit Monoclonal Antibody [JJ080-9] (ET1701-32)
Immunogen
Synthetic phospho-peptide corresponding to residues surrounding thr91 of human c-jun aa 60-109 / 331.
Positive Control
HepG2, MCF-7, human breast carcinoma tissue.
PROPERTIES
Storage Condition
Store at +4C after thawing. Aliquot store at -20C or -80C. Avoid repeated freeze / thaw cycles.
Storage Buffer
1*TBS (pH7.4), 0.05% BSA, 40% Glycerol. Preservative: 0.05% Sodium Azide.
PURIFICATION
Protein A affinity purified.
TARGET
SYNONYMS
Activator protein 1 antibody; AP 1 antibody; AP1 antibody; cJun antibody; Enhancer Binding Protein AP1 antibody; Jun Activation Domain Binding Protein antibody; JUN antibody; Jun oncogene antibody; JUN protein antibody; Jun proto oncogene antibody; JUN_HUMAN antibody; JUNC antibody; Oncogene JUN antibody; p39 antibody; Proto oncogene c jun antibody; Proto oncogene cJun antibody; Proto-oncogene c-jun antibody; Transcription Factor AP 1 antibody; Transcription factor AP-1 antibody; Transcription Factor AP1 antibody; V jun avian sarcoma virus 17 oncogene homolog antibody; V jun sarcoma virus 17 oncogene homolog (avian) antibody; V jun sarcoma virus 17 oncogene homolog antibody; V-jun avian sarcoma virus 17 oncogene homolog antibody; vJun Avian Sarcoma Virus 17 Oncogene Homolog antibody
SEQUENCE SIMILARITIES
Belongs to the bZIP family. Jun subfamily.
TISSUE SPECIFICITY
Expressed in the developing and adult prostate and prostate cancer cells.
POST-TRANSLATIONAL MODIFICATION
Ubiquitinated by the SCF(FBXW7), leading to its degradation. Ubiquitination takes place following phosphorylation, that promotes interaction with FBXW7.; Phosphorylated by CaMK4 and PRKDC; phosphorylation enhances the transcriptional activity. Phosphorylated by HIPK3. Phosphorylated by DYRK2 at Ser-243; this primes the protein for subsequent phosphorylation by GSK3B at Thr-239. Phosphorylated at Thr-239, Ser-243 and Ser-249 by GSK3B; phosphorylation reduces its ability to bind DNA. Phosphorylated by PAK2 at Thr-2, Thr-8, Thr-89, Thr-93 and Thr-286 thereby promoting JUN-mediated cell proliferation and transformation. Phosphorylated by PLK3 following hypoxia or UV irradiation, leading to increase DNA-binding activity.; Acetylated at Lys-271 by EP300.
FUNCTION
Genes belonging to the Jun and Fos oncogene families encode nuclear proteins that are associated with a number of transcriptional complexes. The c-Jun protein is a major component of the transcription factor AP-1, originally shown to mediate phorbol ester tumor promoter (TPA)-induced expression of responsive genes through the TPA-response element (TRE). The Jun proteins form homo- and heterodimers which bind the TRE, while Fos proteins are active only as heterodimers with any of the Jun proteins. Fos/Jun heterodimers have a much higher affinity for the TRE than Jun homodimers. Ha-Ras augments c-Jun activity and stimulates phosphorylation of its activation domain. An inhibitor of Fos/Jun function, termed IP-1, associates with Fos and Jun and is inactivated upon phosphorylation induced by the cAMP-dependent protein kinase A (PKA).