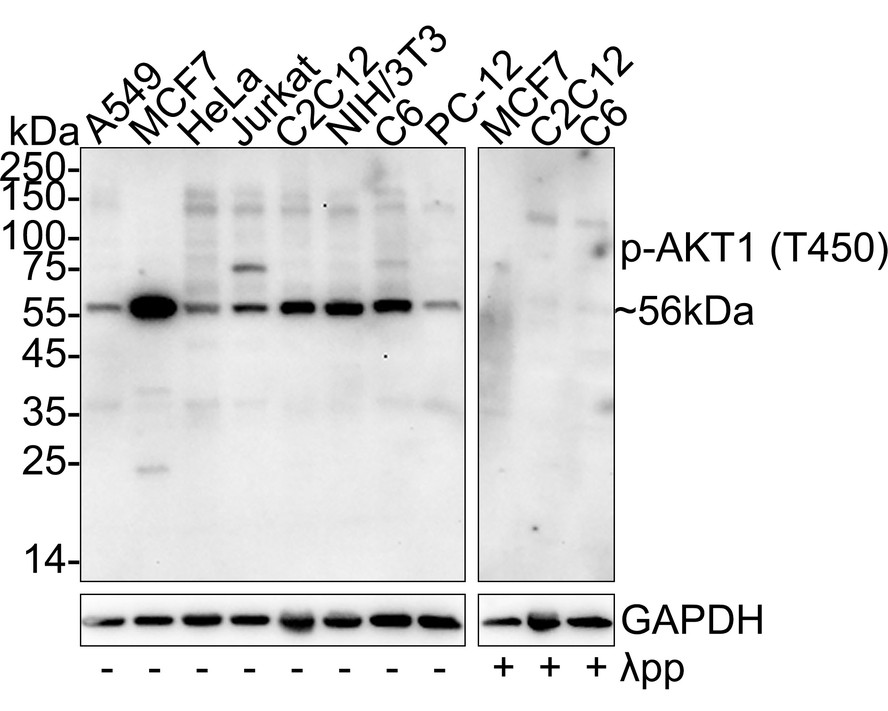 Western blot analysis of Phospho-AKT1 (T450) on MCF-7 cell lysates. Proteins were transferred to a PVDF membrane and blocked with 5% BSA in PBS for 1 hour at room temperature. The primary antibody (ET1612-73, 1/500) was used in 5% BSA at room temperature for 2 hours. Goat Anti-Rabbit IgG - HRP Secondary Antibody (HA1001) at 1:5,000 dilution was used for 1 hour at room temperature.
SPECIFICATIONS
Product Type
Recombinant Rabbit monoclonal primary
Product Name
Phospho-AKT1 (T450) Recombinant Rabbit Monoclonal Antibody [SD08-12] (ET1612-73)
Immunogen
Synthetic phospho-peptide corresponding to residues surrounding thr450 of human akt1.
Positive Control
MCF-7 cell lysates, human breast carcinoma tissue.
PROPERTIES
Storage Condition
Store at +4C after thawing. Aliquot store at -20C or -80C. Avoid repeated freeze / thaw cycles.
Storage Buffer
1*TBS (pH7.4), 0.05% BSA, 40% Glycerol. Preservative: 0.05% Sodium Azide.
PURIFICATION
Protein A affinity purified.
TARGET
SYNONYMS
AKT 1 antibody; AKT antibody; AKT1 antibody; AKT1_HUMAN antibody; MGC99656 antibody; PKB antibody; PKB-ALPHA antibody; PRKBA antibody; Protein Kinase B Alpha antibody; Protein kinase B antibody; Proto-oncogene c-Akt antibody; RAC Alpha antibody; RAC antibody; RAC-alpha serine/threonine-protein kinase antibody; RAC-PK-alpha antibody
SEQUENCE SIMILARITIES
Belongs to the protein kinase superfamily. AGC Ser/Thr protein kinase family. RAC subfamily.
TISSUE SPECIFICITY
Expressed in prostate cancer and levels increase from the normal to the malignant state (at protein level). Expressed in all human cell types so far analyzed. The Tyr-176 phosphorylated form shows a significant increase in expression in breast cancers during the progressive stages i.e. normal to hyperplasia (ADH), ductal carcinoma in situ (DCIS), invasive ductal carcinoma (IDC) and lymph node metastatic (LNMM) stages.
POST-TRANSLATIONAL MODIFICATION
O-GlcNAcylation at Thr-305 and Thr-312 inhibits activating phosphorylation at Thr-308 via disrupting the interaction between AKT1 and PDPK1. O-GlcNAcylation at Ser-473 also probably interferes with phosphorylation at this site.; Phosphorylation on Thr-308, Ser-473 and Tyr-474 is required for full activity. Activated TNK2 phosphorylates it on Tyr-176 resulting in its binding to the anionic plasma membrane phospholipid PA. This phosphorylated form localizes to the cell membrane, where it is targeted by PDPK1 and PDPK2 for further phosphorylations on Thr-308 and Ser-473 leading to its activation. Ser-473 phosphorylation by mTORC2 favors Thr-308 phosphorylation by PDPK1. Phosphorylated at Thr-308 and Ser-473 by IKBKE and TBK1. Ser-473 phosphorylation is enhanced by interaction with AGAP2 isoform 2 (PIKE-A). Ser-473 phosphorylation is enhanced in focal cortical dysplasias with Taylor-type balloon cells. Ser-473 phosphorylation is enhanced by signaling through activated FLT3 (By similarity). Ser-473 is dephosphorylated by PHLPP. Dephosphorylated at Thr-308 and Ser-473 by PP2A phosphatase. The phosphorylated form of PPP2R5B is required for bridging AKT1 with PP2A phosphatase. Ser-473 is dephosphorylated by CPPED1, leading to termination of signaling.; Ubiquitinated via 'Lys-48'-linked polyubiquitination by ZNRF1, leading to its degradation by the proteasome (By similarity). Ubiquitinated; undergoes both 'Lys-48'- and 'Lys-63'-linked polyubiquitination. TRAF6-induced 'Lys-63'-linked AKT1 ubiquitination is critical for phosphorylation and activation. When ubiquitinated, it translocates to the plasma membrane, where it becomes phosphorylated. When fully phosphorylated and translocated into the nucleus, undergoes 'Lys-48'-polyubiquitination catalyzed by TTC3, leading to its degradation by the proteasome. Also ubiquitinated by TRIM13 leading to its proteasomal degradation. Phosphorylated, undergoes 'Lys-48'-linked polyubiquitination preferentially at Lys-284 catalyzed by MUL1, leading to its proteasomal degradation.; Acetylated on Lys-14 and Lys-20 by the histone acetyltransferases EP300 and KAT2B. Acetylation results in reduced phosphorylation and inhibition of activity. Deacetylated at Lys-14 and Lys-20 by SIRT1. SIRT1-mediated deacetylation relieves the inhibition.
SUBCELLULAR LOCATION
Cytoplasm, Nucleus, Cell membrane.
FUNCTION
The serine/threonine kinase Akt family contains several members, including Akt1 (also designated PKB or RacPK), Akt2 and Akt 3, which exhibit sequence homology with the protein kinase A and C families and are encoded by the c-Akt proto-oncogene. All members of the Akt family have a pleckstrin homology domain. Akt1 and Akt2 are activated by PDGF stimulation. This activation is dependent on PDGFR-β tyrosine residues 740 and 751, which bind the subunit of the phosphatidylinositol 3-kinase (PI 3-kinase) complex. Activation of Akt1 by insulin or insulin-growth factor-1(IGF-1) results in phosphorylation of both Thr 308 and Ser 473. Phosphorylation of both residues is important to generate a high level of Akt1 activity, and the phosphorylation of Thr 308 is not dependent on phosphorylation of Ser 473 in vivo. Thus, Akt proteins become phosphorylated and activated in insulin/IGF-1-stimulated cells by an upstream kinase(s). The activation of Akt1 and Akt2 is inhibited by the PI kinase inhibitor wortmannin, suggesting that the protein signals downstream of the PI kinases.