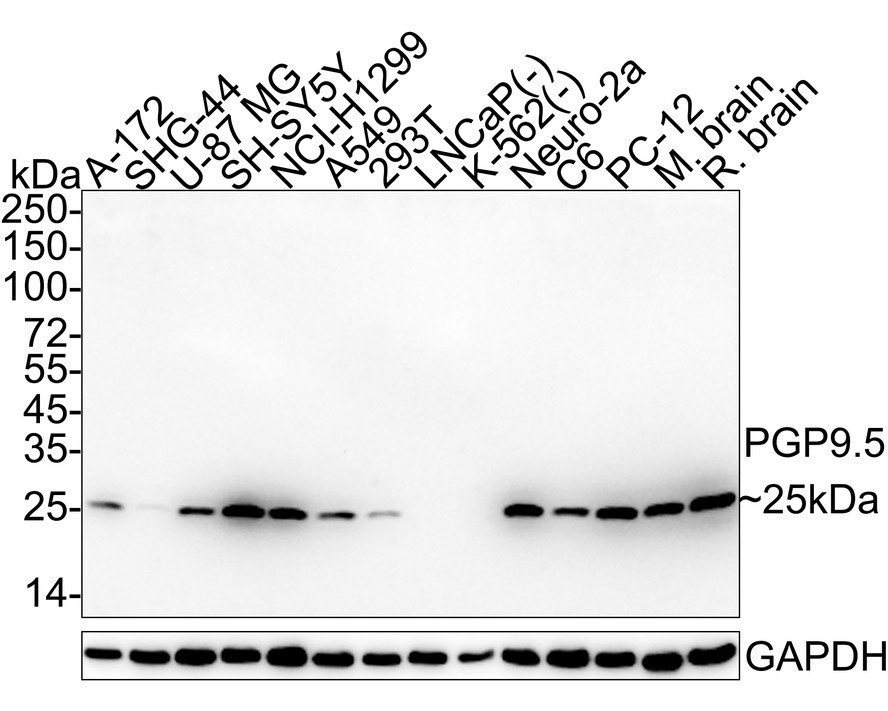 Western blot analysis of PGP9.5 on A172 (1) and SHG-44 (2) using anti-PGP9.5 antibody at 1/500 dilution.
SPECIFICATIONS
Product Name
PGP9.5 Mouse Monoclonal Antibody [B1-5-6] (EM1701-86)
Immunogen
Synthetic peptide within human pgp95 aa 174-223 / 223.
Positive Control
A172, SHG-44, A549, SH-SY5Y, rat cerebellum tissue, human kidney tissue, human pancreas tissue, mouse brain tissue.
PROPERTIES
Storage Condition
Store at +4C after thawing. Aliquot store at -20C. Avoid repeated freeze / thaw cycles.
Storage Buffer
1*PBS (pH7.4), 0.2% BSA, 50% Glycerol. Preservative: 0.05% Sodium Azide.
PURIFICATION
Peptide affinity purified.
TARGET
SYNONYMS
Epididymis luminal protein 117 antibody; Epididymis secretory protein Li 53 antibody; HEL 117 antibody; HEL S 53 antibody; NDGOA antibody; Neuron cytoplasmic protein 9.5 antibody; OTTHUMP00000218137 antibody; OTTHUMP00000218139 antibody; OTTHUMP00000218140 antibody; OTTHUMP00000218141 antibody; Park 5 antibody; PARK5 antibody; PGP 9.5 antibody; PGP9.5 antibody; PGP95 antibody; Protein gene product 9.5 antibody; Ubiquitin C terminal esterase L1 antibody; Ubiquitin C terminal hydrolase antibody; Ubiquitin C terminal hydrolase L1 antibody; Ubiquitin carboxyl terminal esterase L1 antibody; Ubiquitin carboxyl terminal hydrolase isozyme L1 antibody; Ubiquitin carboxyl-terminal hydrolase isozyme L1 antibody; Ubiquitin thioesterase L1 antibody; Ubiquitin thiolesterase antibody; Ubiquitin thiolesterase L1 antibody; UCH-L1 antibody; UCHL1 antibody; UCHL1_HUMAN antibody
SEQUENCE SIMILARITIES
Belongs to the peptidase C12 family.
TISSUE SPECIFICITY
Found in neuronal cell bodies and processes throughout the neocortex (at protein level). Expressed in neurons and cells of the diffuse neuroendocrine system and their tumors. Weakly expressed in ovary. Down-regulated in brains from Parkinson disease and Alzheimer disease patients.
POST-TRANSLATIONAL MODIFICATION
SUBCELLULAR LOCATION
Cytoplasm. Endoplasmic reticulum.
FUNCTION
Ubiquitin-protein hydrolase involved both in the processing of ubiquitin precursors and of ubiquitinated proteins. This enzyme is a thiol protease that recognizes and hydrolyzes a peptide bond at the C-terminal glycine of ubiquitin. Also binds to free monoubiquitin and may prevent its degradation in lysosomes. The homodimer may have ATP-independent ubiquitin ligase activity.
CITATIONS
Huang, B., Liu, J., Wei, X....

Damage to the human lumbar cartilage endplate and its clinical implications. Journal of anatomy, 238(2), 338–348.