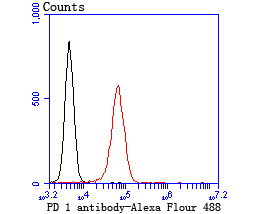 Flow cytometric analysis of Jurkat cells with PD1 blocking antibody at 1/100 dilution (red) compared with an unlabelled control (cells without incubation with primary antibody; black).
SPECIFICATIONS
Product Name
PD1 Blocking Mouse Monoclonal Antibody [3A11] (EM1701-17)
PROPERTIES
Storage Condition
Store at +4C after thawing. Aliquot store at -20C or -80C. Avoid repeated freeze / thaw cycles.
Storage Buffer
1*PBS (pH7.4), 0.2% BSA, 50% Glycerol. Preservative: 0.05% Sodium Azide.
TARGET
DEVELOPMENTAL STAGE
Induced at programmed cell death.
POST-TRANSLATIONAL MODIFICATION
Ubiquitinated at Lys-233 by the SCF(FBXO38) complex, leading to its proteasomal degradation. Ubiquitinated via 'Lys-48'-linked polyubiquitin chains.; Tyrosine phosphorylated at Tyr-223 (within ITIM motif) and Tyr-248 (ITSM motif) upon ligand binding. Phosphorylation at Tyr-248 promotes the recruitment of the protein tyrosine phosphatase PTPN11/SHP-2 that mediates dephosphorylation of key TCR proximal signaling molecules, such as ZAP70, PRKCQ/PKCtheta and CD247/CD3zeta.; N-glycosylation at Asn-58 consists of two N-acetylglucosamine units and one fucose. N-glycosylation does not affect binding to nivolumab drug.
FUNCTION
PD-1 blockade works during the effector phase to restore the immune function of T cells in the periphery that have been turned off following extended or high levels of antigen exposure, as in advanced cancer. The ligands for PD-1 can be expressed by tumor cells as well as tumor-infiltrating immune cells. PD-L1 expression on tumor cells varies by tumor type and also within a given tumor type, but appears to be particularly abundant in melanoma, non–small cell lung cancer (NSCLC), and ovarian cancer. In a recent study, PD-L1 expression on tumor cells was shown to be significantly associated with PD-1 expression on TILs, and was locally associated with PD-L2 expression when this ligand was also expressed. In the same study, tumor PD-L1 expression was the single factor most closely correlated with response to anti-PD-1 blockade, whereas PD-L1 expression on TILs was not associated with response. patient response to anti-PD-L1 blockade was strongest when PD-L1 was expressed by tumor-infiltrating immune cells. This antibody recognizing the PD-L1 binding region of PD1.