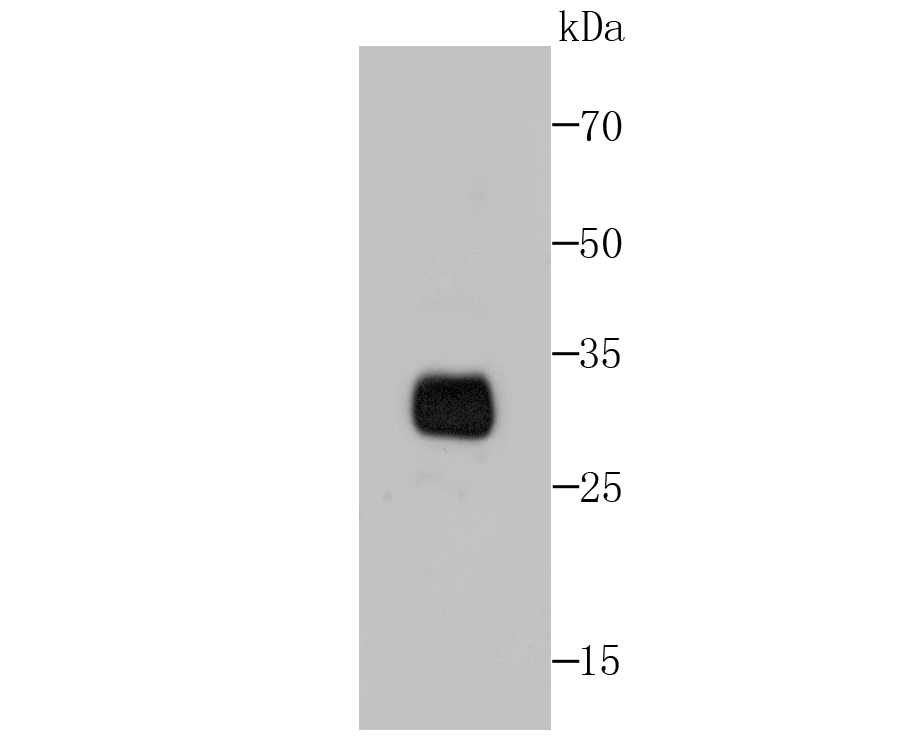 Western blot analysis of PD1 on PD1 transfected 293FT cell lysate using anti-PD1 antibody at 1/1,000 dilution.
SPECIFICATIONS
Product Name
PD1 Mouse Monoclonal Antibody [1F2] (EM1707-60)
Positive Control
Human tonsil tissue, Mouse spleen tissue, Jurkat, recombinant PD1 protein.
PROPERTIES
Storage Condition
Store at +4C after thawing. Aliquot store at -20C or -80C. Avoid repeated freeze / thaw cycles.
Storage Buffer
1*PBS (pH7.4), 0.2% BSA, 40% Glycerol. Preservative: 0.05% Sodium Azide.
TARGET
SYNONYMS
CD279 antibody; CD279 antigen antibody; hPD 1 antibody; hPD l antibody; hPD-1 antibody; hSLE1 antibody; PD 1 antibody; PD-1 antibody; PD1 antibody; PDCD 1 antibody; PDCD1 antibody; PDCD1_HUMAN antibody; Programmed cell death 1 antibody; Programmed cell death 1 protein antibody; Programmed cell death protein 1 antibody; Protein PD 1 antibody; Protein PD-1 antibody; SLEB2 antibody; Systemic lupus erythematosus susceptibility 2 antibody
DEVELOPMENTAL STAGE
Induced at programmed cell death.
POST-TRANSLATIONAL MODIFICATION
Ubiquitinated at Lys-233 by the SCF(FBXO38) complex, leading to its proteasomal degradation. Ubiquitinated via 'Lys-48'-linked polyubiquitin chains.; Tyrosine phosphorylated at Tyr-223 (within ITIM motif) and Tyr-248 (ITSM motif) upon ligand binding. Phosphorylation at Tyr-248 promotes the recruitment of the protein tyrosine phosphatase PTPN11/SHP-2 that mediates dephosphorylation of key TCR proximal signaling molecules, such as ZAP70, PRKCQ/PKCtheta and CD247/CD3zeta.; N-glycosylation at Asn-58 consists of two N-acetylglucosamine units and one fucose. N-glycosylation does not affect binding to nivolumab drug.
FUNCTION
Pdcd-1 (Programmed Cell Death-1 protein), also designated CD279, is a type I transmembrane receptor and a member of the immunoglobin gene superfamily. Pdcd-1 contains an immunoreceptor tyrosine-based inhibitory motif (ITIM) within the cytoplasmic domain, which is conserved between the mouse and human homologs. Expression of Pdcd-1 is detected in mouse thymus, and it is induced in stimulated B and T cell lines, where it may play a role in the negative regulation of various immune responses. Receptors such as Pdcd-1 function by recruiting tyrosine phosphatases, including SHP-1 and SHIP, which are responsible for altering various B cell responses. Additionally, in activated lymphocytes, Pdcd-1 mediates the activation of the classical type of programmed cell death.
CITATIONS
Cen, S., Liu, K., Zheng, Y....

BRAF Mutation as a Potential Therapeutic Target for Checkpoint Inhibitors: A Comprehensive Analysis of Immune Microenvironment in BRAF Mutated Colon Cancer