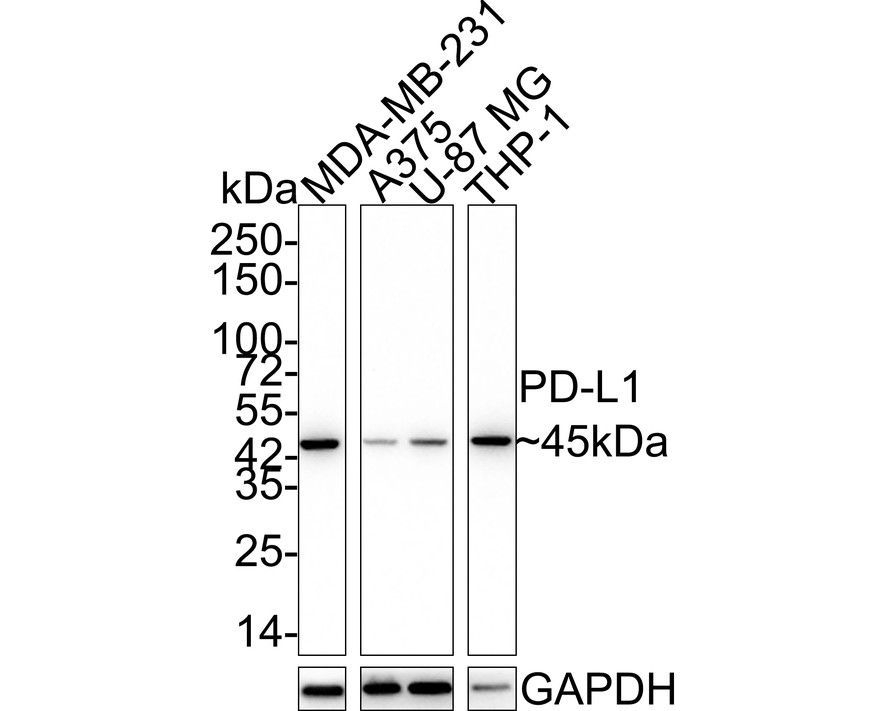 Western blot analysis of PD-L1 on different lysates. Proteins were transferred to a PVDF membrane and blocked with 5% BSA in PBS for 1 hour at room temperature. The primary antibody (ET1701-41, 1/500) was used in 5% BSA at room temperature for 2 hours. Goat Anti-Rabbit IgG - HRP Secondary Antibody (HA1001) at 1:5,000 dilution was used for 1 hour at room temperature.
Positive control:
Lane 1: A549 cell lysates
Lane 2: MCF-7 cell lysates
SPECIFICATIONS
Product Type
Recombinant Rabbit monoclonal primary
Product Name
PD-L1 Recombinant Rabbit Monoclonal Antibody [JJ08-95] (ET1701-41)
Immunogen
Synthetic peptide within human pd-l1 aa 200-230 (extracellular).
Positive Control
A549 cell lysate, MCF-7 cell lysate, mouse placenta tissue lysate, mouse lung tissue lysate, human non-small cell lung cancer tissue.
PROPERTIES
Storage Condition
Store at +4C after thawing. Aliquot store at -20C or -80C. Avoid repeated freeze / thaw cycles.
Storage Buffer
1*TBS (pH7.4), 0.05% BSA, 40% Glycerol. Preservative: 0.05% Sodium Azide.
PURIFICATION
Protein A affinity purified.
MOLECULAR WEIGHT
33 kDa (Predicted band size)
TARGET
SYNONYMS
B7 H antibody; B7 H1 antibody; B7 homolog 1 antibody; B7-H1 antibody; B7H antibody; B7H1 antibody; CD 274 antibody; CD274 antibody; CD274 antigen antibody; CD274 molecule antibody; MGC142294 antibody; MGC142296 antibody; OTTHUMP00000021029 antibody; PD L1 antibody; PD-L1 antibody; PD1L1_HUMAN antibody; PDCD1 ligand 1 antibody; PDCD1L1 antibody; PDCD1LG1 antibody; PDL 1 antibody; PDL1 antibody; Programmed cell death 1 ligand 1 antibody; Programmed death ligand 1 antibody; RGD1566211 antibody
SEQUENCE SIMILARITIES
Belongs to the immunoglobulin superfamily. BTN/MOG family.
TISSUE SPECIFICITY
Highly expressed in the heart, skeletal muscle, placenta and lung. Weakly expressed in the thymus, spleen, kidney and liver. Expressed on activated T- and B-cells, dendritic cells, keratinocytes and monocytes.
POST-TRANSLATIONAL MODIFICATION
Ubiquitinated; STUB1 likely mediates polyubiquitination of PD-L1/CD274 triggering its degradation.
SUBCELLULAR LOCATION
Cell membrane, Endomembrane system.
FUNCTION
Engagement of CD28 by B7-1 (CD80) or B7-2 (CD86) in the presence of antigen promotes T cell proliferation, cytokine production, differentiation of effector T cells, and the induction of Bcl-x, a promoter of T cell survival. Conversely, engagement of CTLA4 by B7-1 or B7-2 may inhibit proliferation and IL-2 production. Pdcd-1L1 (programmed cell death ligand-1), also known as B7-H1 or PD-L1, is 290 amino acid type I transmembrane protein which is 20% and 15% identical to B7-1 and B7-2, respectively. Pdcd-1L2 has immunoglobulin V-like and C-like domains and a 30 amino acid cytoplasmic tail. It does not bind CD28, cytotoxic T-lymphocyte A4 or ICOS (inducible co-stimulator). IL-2, although produced in small amounts, is required for the effect of Pdcd-1L1 co-stimulation. The gene which encodes Pdcd-1L1 maps to human chromosome 9p24. Pdcd-1L2 (programmed cell death ligand-2) is a 73 amino acid protein which contains a signal sequence, IgV- and IgC-like domains, a transmembrane region and a cytoplasmic region. The gene which encodes Pdcd-1L2 maps to human chromosome 9p24.2. The constitutive expression of Pdcd-1L1 and Pdcd-1L2 on paren-chymal cells of heart, lung and kidney suggests that the Pdcd-1-Pdcd-L system could provide unique negative signaling to help prevent autoimmune disease.