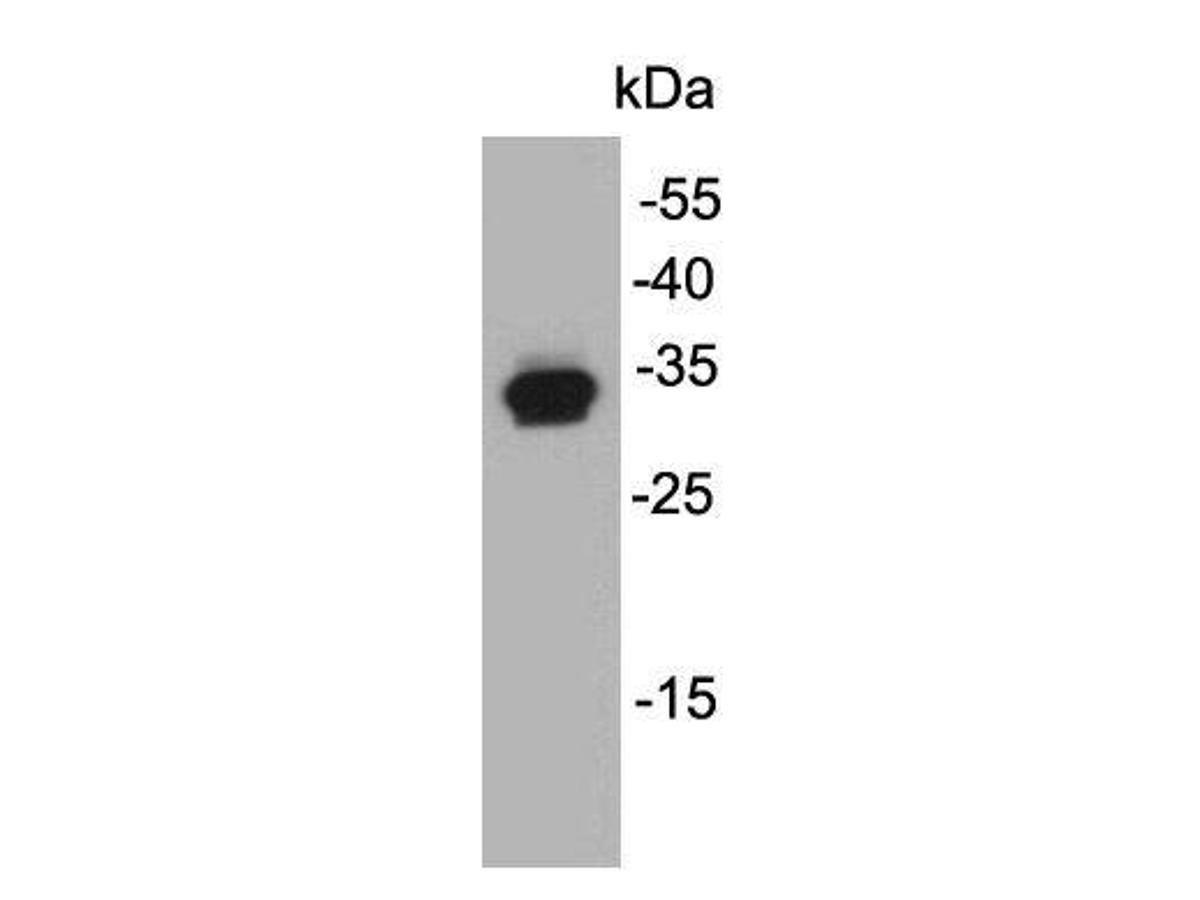 Western blot analysis on Raji cell lysates using anti-PCNA mouse mAb.
SPECIFICATIONS
Product Name
PCNA Mouse Monoclonal Antibody [4-E11] (M1405-8)
PROPERTIES
Storage Condition
Store at +4C after thawing. Aliquot store at -20C or -80C. Avoid repeated freeze / thaw cycles.
Storage Buffer
1*PBS (pH7.4), 0.2% BSA, 40% Glycerol. Preservative: 0.05% Sodium Azide.
TARGET
SYNONYMS
ATLD2 antibody; cb16 antibody; Cyclin antibody; DNA polymerase delta auxiliary protein antibody; etID36690.10 antibody; fa28e03 antibody; fb36g03 antibody; HGCN8729 antibody; MGC8367 antibody; Mutagen-sensitive 209 protein antibody; OTTHUMP00000030189 antibody; OTTHUMP00000030190 antibody; PCNA antibody; Pcna/cyclin antibody; PCNA_HUMAN antibody; PCNAR antibody; Polymerase delta accessory protein antibody; Proliferating cell nuclear antigen antibody; wu:fa28e03 antibody; wu:fb36g04 antibody
SEQUENCE SIMILARITIES
Belongs to the PCNA family.
POST-TRANSLATIONAL MODIFICATION
Phosphorylated. Phosphorylation at Tyr-211 by EGFR stabilizes chromatin-associated PCNA.; Acetylated by CREBBP and p300/EP300; preferentially acetylated by CREBBP on Lys-80, Lys-13 and Lys-14 and on Lys-77 by p300/EP300 upon loading on chromatin in response to UV irradiation. Lysine acetylation disrupts association with chromatin, hence promoting PCNA ubiquitination and proteasomal degradation in response to UV damage in a CREBBP- and EP300-dependent manner. Acetylation disrupts interaction with NUDT15 and promotes degradation.; Ubiquitinated. Following DNA damage, can be either monoubiquitinated to stimulate direct bypass of DNA lesions by specialized DNA polymerases or polyubiquitinated to promote recombination-dependent DNA synthesis across DNA lesions by template switching mechanisms. Following induction of replication stress, monoubiquitinated by the UBE2B-RAD18 complex on Lys-164, leading to recruit translesion (TLS) polymerases, which are able to synthesize across DNA lesions in a potentially error-prone manner. An error-free pathway also exists and requires non-canonical polyubiquitination on Lys-164 through 'Lys-63' linkage of ubiquitin moieties by the E2 complex UBE2N-UBE2V2 and the E3 ligases, HLTF, RNF8 and SHPRH. This error-free pathway, also known as template switching, employs recombination mechanisms to synthesize across the lesion, using as a template the undamaged, newly synthesized strand of the sister chromatid. Monoubiquitination at Lys-164 also takes place in undamaged proliferating cells, and is mediated by the DCX(DTL) complex, leading to enhance PCNA-dependent translesion DNA synthesis. Sumoylated during S phase.; Methylated on glutamate residues by ARMT1/C6orf211.
FUNCTION
Proliferating cell nuclear antigen (PCNA) is a member of the DNA sliding clamp family of proteins that assist in DNA replication. Crystal structure data suggests that a PCNA homotrimer ring can encircle and slide along the DNA double helix. Multiple proteins involved in DNA replication, DNA repair, and cell cycle control bind to PCNA rather than directly associating with DNA, thus facilitating fast processing of DNA. PCNA protein expression is a well-accepted marker of proliferation.