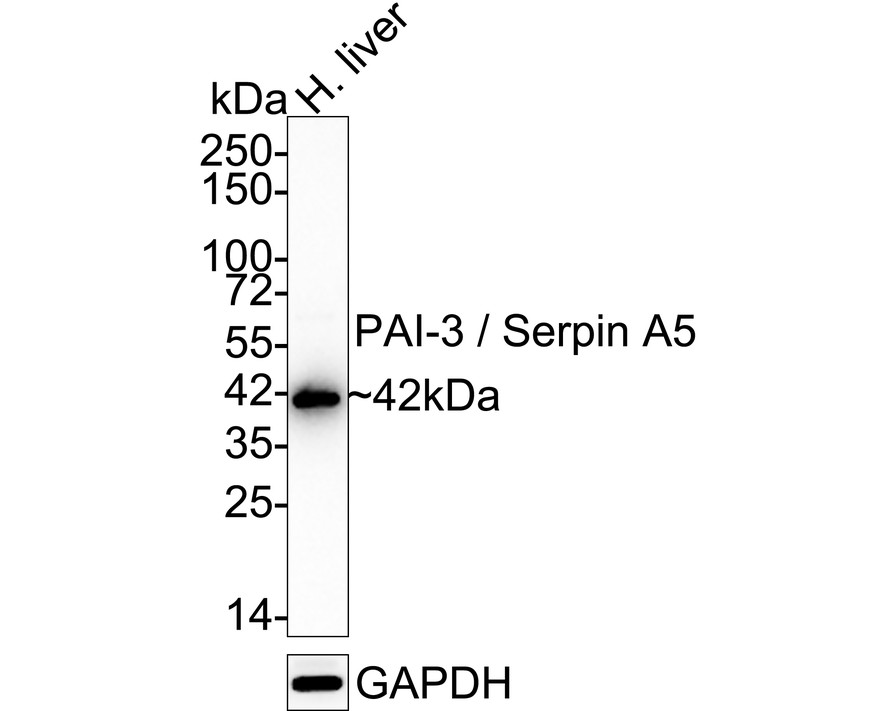 Western blot analysis on human liver using anti-PAI3 polyclonal antibody.
SPECIFICATIONS
Product Type
Rabbit polyclonal primary
Product Name
PAI-3 Rabbit Polyclonal Antibody (0812-5)
Immunogen
Synthetic peptide within human pai-3 aa 357-406 / 406.
PROPERTIES
Storage Condition
Store at +4C after thawing. Aliquot store at -20C or -80C. Avoid repeated freeze / thaw cycles.
Storage Buffer
1*PBS (pH7.4), 0.2% BSA, 40% Glycerol. Preservative: 0.05% Sodium Azide.
PURIFICATION
Immunogen affinity purified
TARGET
SYNONYMS
Acrosomal serine protease inhibitor antibody; IPSP antibody; IPSP_HUMAN antibody; PAI 3 antibody; PAI-3 antibody; PAI3 antibody; PCI antibody; PCI-B antibody; PLANH 3 antibody; PLANH3 antibody; Plasma serine protease inhibitor antibody; Plasminogen activator inhibitor 3 antibody; Plasminogen activator inhibitor III antibody; PROCI antibody; Protein C inhibitor antibody; Serpin A5 antibody; Serpin peptidase inhibitor clade A (alpha 1 antiproteinase antitrypsin) member 5 antibody; Serpin peptidase inhibitor clade A member 5 antibody; Serpina5 antibody
SEQUENCE SIMILARITIES
Belongs to the serpin family.
TISSUE SPECIFICITY
Predominantly expressed in the epithelium of seminal vesicles. Expressed in the proximal tubular epithelium of the kidney. Expressed in the superficial and more differentiated epidermal keratinocytes of the skin. Expressed in megakaryocytes and platelets. Expressed poorly in kidney tumor cells compared to non tumor kidney tissues. Expressed in spermatozoa. Present in very high concentration in seminal plasma. Present in high concentration in plasma, synovial and Graaf follicle fluids. Present in low concentration in breast milk and in amniotic fluids. Present in very low concentration in urine, cerebrospinal fluids, saliva and tears (at protein level). Strongly expressed in liver. Expressed in kidney, spleen, pancreas, skeletal muscle, heart, testes, ovary, interstitial Leydig cells, epididymal glands, seminal vesicles and prostate.
POST-TRANSLATIONAL MODIFICATION
N- and O-glycosylated. N-glycosylation consists of a mixture of sialylated bi- (including sialyl-Lewis X epitopes), tri- and tetra-antennary complex-type chains; affects the maximal heparin- and thrombomodulin-enhanced rates of thrombin inhibition. O-glycosylated with core 1 or possibly core 8 glycans. Further modified with 2 sialic acid residues.; Proteolytically cleaved. Inhibition of proteases is accompanied by formation of a stable enzyme-inhibitor complex and by degradation of the serpin to lower molecular weight derivatives. Proteolytically cleaved at the N-terminus; inhibits slightly the heparin- and thrombomodulin-enhanced rates of thrombin inhibition.
FUNCTION
PAI-3 also called Protein C inhibitor (PCI) was originally described in plasma as an inhibitor of the anticoagulant serine protease activated protein C. PCI is present not only in plasma, but also in urine and in many other body fluids and secretions. The highest PCI concentrations have been described in seminal plasma (?200 μg/ml). The inhibition is regulated by glycosaminoglycans, such as heparin and heparan sulphate, and several polyanions. As well as its roles in the regulation of hemostasis and fertilisation, Protein C Inhibitor is involved in cell inflammation, proliferation, apoptosis, tumor cell migration, invasion, and metastasis.