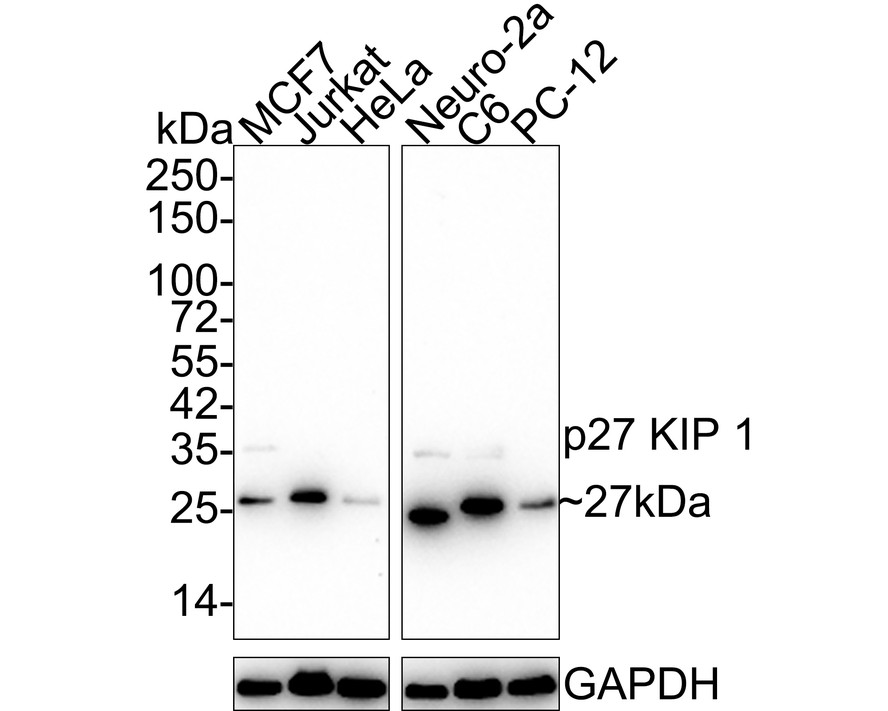 ICC staining of p27 KIP 1 in A431 cells (green). Formalin fixed cells were permeabilized with 0.1% Triton X-100 in TBS for 10 minutes at room temperature and blocked with 1% Blocker BSA for 15 minutes at room temperature. Cells were probed with the primary antibody (ET1608-61, 1/50) for 1 hour at room temperature, washed with PBS. Alexa Fluor®488 Goat anti-Rabbit IgG was used as the secondary antibody at 1/1,000 dilution. The nuclear counter stain is DAPI (blue).
SPECIFICATIONS
Product Type
Recombinant Rabbit monoclonal primary
Product Name
p27 KIP 1 Recombinant Rabbit Monoclonal Antibody [SU37-04] (ET1608-61)
Positive Control
A431, MCF-7, human tonsil tissue, human colon carcinoma tissue, human breast carcinoma tissue, mouse lung tissue, mouse colon tissue, mouse cerebellum tissue, rat brain tissue, Hela.
PROPERTIES
Storage Condition
Store at +4C after thawing. Aliquot store at -20C or -80C. Avoid repeated freeze / thaw cycles.
Storage Buffer
1*TBS (pH7.4), 0.05% BSA, 40% Glycerol. Preservative: 0.05% Sodium Azide.
PURIFICATION
Protein A affinity purified.
TARGET
SYNONYMS
AA408329 antibody; AI843786 antibody; Cdki1b antibody; CDKN 1B antibody; CDKN 4 antibody; CDKN1B antibody; CDKN4 antibody; CDN1B_HUMAN antibody; Cyclin Dependent Kinase Inhibitor 1B antibody; Cyclin dependent kinase inhibitor p27 antibody; Cyclin-dependent kinase inhibitor 1B (p27, Kip1) antibody; Cyclin-dependent kinase inhibitor 1B antibody; Cyclin-dependent kinase inhibitor p27 antibody; Cyclin-dependent kinase inhibitor p27 Kip1 antibody; KIP 1 antibody; KIP1 antibody; MEN1B antibody; MEN4 antibody; OTTHUMP00000195098 antibody; OTTHUMP00000195099 antibody; p27 antibody; p27 Kip1 antibody; P27-like cyclin-dependent kinase inhibitor antibody; p27Kip1 antibody
SEQUENCE SIMILARITIES
Belongs to the CDI family.
TISSUE SPECIFICITY
Expressed in all tissues tested. Highest levels in skeletal muscle, lowest in liver and kidney.
POST-TRANSLATIONAL MODIFICATION
Phosphorylated; phosphorylation occurs on serine, threonine and tyrosine residues. Phosphorylation on Ser-10 is the major site of phosphorylation in resting cells, takes place at the G(0)-G(1) phase and leads to protein stability. Phosphorylation on other sites is greatly enhanced by mitogens, growth factors, cMYC and in certain cancer cell lines. The phosphorylated form found in the cytoplasm is inactivate. Phosphorylation on Thr-198 is required for interaction with 14-3-3 proteins. Phosphorylation on Thr-187, by CDK1 and CDK2 leads to protein ubiquitination and proteasomal degradation. Tyrosine phosphorylation promotes this process. Phosphorylation by PKB/AKT1 can be suppressed by LY294002, an inhibitor of the catalytic subunit of PI3K. Phosphorylation on Tyr-88 and Tyr-89 has no effect on binding CDK2, but is required for binding CDK4. Dephosphorylated on tyrosine residues by G-CSF.; Ubiquitinated; in the cytoplasm by the KPC complex (composed of RNF123/KPC1 and UBAC1/KPC2) and, in the nucleus, by SCF(SKP2). The latter requires prior phosphorylation on Thr-187. Ubiquitinated; by a TRIM21-containing SCF(SKP2)-like complex; leads to its degradation.; Subject to degradation in the lysosome. Interaction with SNX6 promotes lysosomal degradation (By similarity).
SUBCELLULAR LOCATION
Nucleus, Cytoplasm, Endosome.
FUNCTION
Cell cycle progression is regulated by a series of cyclin-dependent kinases consisting of catalytic subunits, designated Cdks, as well as activating subunits, designated cyclins. Orderly progression through the cell cycle requires the activation and inactivation of different cyclin-Cdks at appropriate times. A series of proteins has recently been described that function as "mitotic inhibitors." These include p21, the levels of which are elevated upon DNA damage in G1 in a p53-dependent manner; p16; and a more recently described p16-related inhibitor designated p15. A p21-related protein, p27, has been described as a negative regulator of G1 progression and speculated to function as a possible mediator of TGFβ-induced G1 arrest. p27 interacts strongly with D-type cyclins and Cdk4 in vitro and, to a lesser extent, with cyclin E and Cdk2.